Pumpkin Ridge Golf Club is a championship golf club in the northwest United States, located in North Plains, Oregon, northwest of Portland. The award-winning 36-hole club opened in 1992 and has hosted several major golf tournaments, including the U.S. Women's Open in 1997 and 2003 .
Pumpkin Ridge Golf Club is comprised of two championship style 18 hole courses; Witch Hollow and Ghost Creek. Witch Hollow is for members only and is a well known course on a national level. In 1996, Tiger Woods won his third and final US Amateur championship here, prior to turning pro and signing with Nike in nearby Beaverton. In 1997 & 2003, Witch Hollow hosted the Women's US Open.
Ghost Creek, Pumpkin Ridge's public side, rivals it's exclusive counterpart in most areas. There is no discernable difference in the level of quality and beauty between the two courses, only the perceived allure of Witch Hollow's storied past. Ghost Creek is carved into the same forested and wetland setting with the same vision and level of care. Every aspect of the course plays to the tune of the surrounding beauty and is wonderfully laid out amid it's natural elements.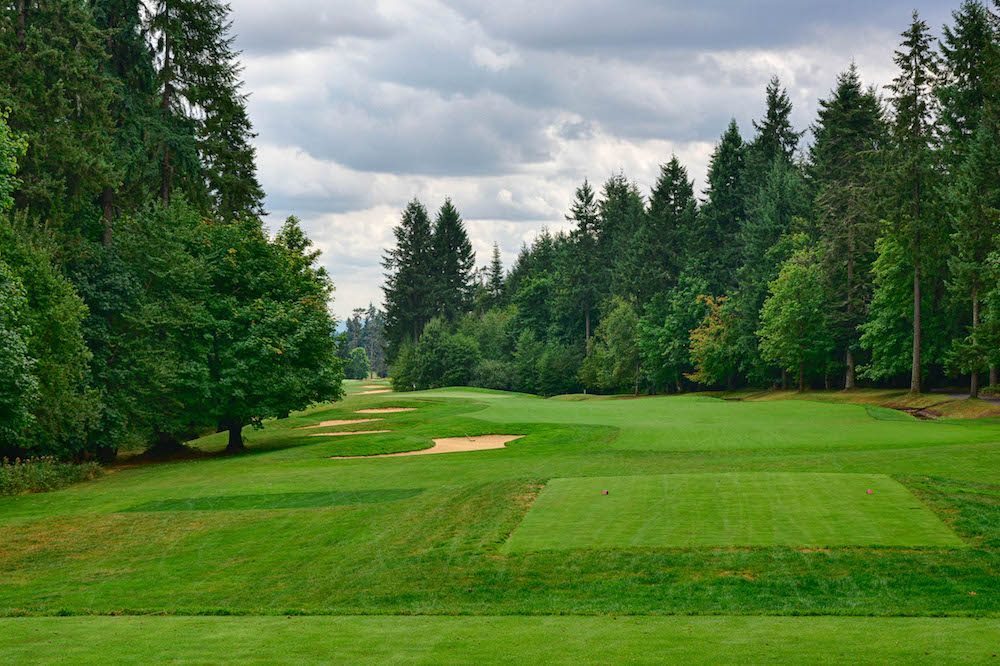 On Ghost Creek, the first hole begins the challenging front nine at Pumpkin Ridge. A straightawayand particularly open Par 4, the first hole may be the most scorable on the front. The 9th is possibly the toughest on the course as bunkers steer golfers to the left of the fairway, even though that's the side where wayward tee shots will end up wet. The average score on this hole for two years in the Nike Tour event was half a shot over par.
The back side of Ghost Creek begins with a Par 5 reachable in two for heavy hitters. Tall grass awaits stray balls to the left hand side, but overall the hole is fairly wide open.
At the 18th, water runs down the right side of the fairway and it takes two mighty blows for most golfers to get anywhere near the green. David Duval sank a 17-foot birdie putt to win the 1993 Tour Championship, one of three threes he recorded at the home hole during his four rounds.
Other holes of note at Ghost Creek include the par four 312-yard 7th (where greenside bunkers are located a good way in front of the putting surface in an attempt to fool golfers that the green is closer than they think) and the short par four 17th which Mike Schuchart double-bogeyed during the final round of the 1994 Tour Championship on his way to winning the event
Practice Facilities
Driving range
Putting green
Chipping area
Golf Club Amenities
Credit card accepted
Clubhouse
Restaurant
Proshop
Private events & Wedding
Rentals
Trolley for hire
Golf cart
Weather forecast