Crystal Downs Country Club was founded in 1927 and features a world renown golf course designed by Alister MacKenzie that opened for play in 1931. Some other courses in the U.S. that were designed by the good doctor and may be familiar are Augusta National, Cypress Point, Pasatiempo and The Valley Club of Montecito. That's a pretty outstanding group of courses ! Crystal Downs is the Top 1 golf in Michigan and in the top 25 golf courses in the world.
The course is short enough that you think you should be able to take advantage of it, but in the same vein as Merion, Crystal Downs golf course demands respect and wisdom in every shot to avoid being punished more harshly than you would imagine. The speed and slope of the greens command absolute precision and will quickly expose any shortcomings you have with your putter or wedges; more so than any other course you've seen. From the pro shop and first tee you have a view of the entire front nine coupled with views of Crystal Lake; it is truly one of the most impressive panoramas in all of golf. On the back nine you are afforded glimpses of Lake Michigan. Holes 5-9 can only be rivaled by Pebble Beach, #13 is one of the finest and most demanding two-shotters and #17 launched itself to the top of driveable par 4s.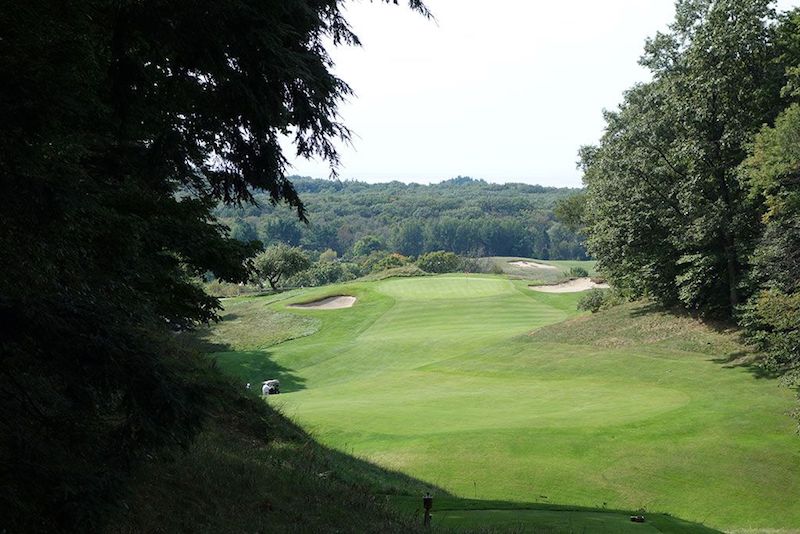 Signature Hole atCrystal Downs Country Club:  17th Hole – 311 Yard Par 4 – Crystal Downs lays claim to a handful of the finest golf holes on the planet and this is certainly one of them. The 17th at Crystal Downs is the most treacherous driveable par four you are likely to ever face. When the wind is in your face tunnelled through the trees the green becomes unreachable and players have to figure out a safe place to hit their tee ball. The fairway tilts severely from right to left and features limited good options. A tee shot that doesn't carry 180 yards will require hacking out of the junk into the fairway and effectively eliminating any birdie chance. A 200 yard tee shot will feed into a popular bowl to hit from although the angle leaves a limited view of the green. Tee shots that go deep up the left side are dead while a 250 – 280 drive towards the right greenside bunker will leave the ideal spot to hit from. 311 yards may look like a pushover on the scorecard but I have no doubt that this hole plays over par every single day of the year.
The course is a challenging walk given how hilly the terrain is and caddies are available through the main season though many players will elect to ride a cart. But if you want to play a round at Crystal Downs Country Club, you need be introduce and play with a member.
Practice Facilities
Driving range
Putting green
Golf pro
Golf Club Amenities
Credit card accepted
Clubhouse
Restaurant
Proshop
Rentals
Weather forecast