Penang Golf Resort in Malaysia is a 36-hole golf resort nestled within the master plan of a new township developed located in Seberang Perai Utara, Penang and 21 kilometers from Penang city center.
Designed by Graham Marsh, this large and expansive tract of former palm oil plantation has been transformed into two very similar championship layouts – the East and West Courses – promoted as Malaysia's Jewel in the North. The courses of Penang Golf Resort are in many ways identical.
Plenty of earth mounding, numerous stylishly designed bunkers, a handful of water hazards, contoured fairways and a light scattering of trees breaks up the essential flatness of the terrain. As you look across the open parkland, there are golf holes just about as far as the eye can see, although once on the course you'll be surprised how much space there is between them, and how "intrusions" from other fairways are rare.
The good-width fairways (sometimes generously wide) and light semi-rough give the course an easy-going feel from the tee, but care will be needed on the approach shots, particularly with water present at the close of both the front and back nine.
This course is an impressive display of fairways, roughs and tees turfed with fresh Zoysia, and Bermuda for greens. High playability is guaranteed at all times with the installation of a special drainage system on the course.
The 6324 meters East Course with long, wide fairways are a favorite with big hitters, while strategic play is required to make par for a number of holes. Water hazards are also relatively infrequent, although the green at the par-4 18th should be approached carefully, with water dangerously in play on your approach shot.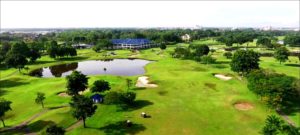 The par 72 West Course threatens the back nine as there are a number of lakes present. The short par 3, 8th hole at only 164 meters looks easy but teeing shot may prove a watery problem. As on the East course, a bit of traffic noise can be heard from the North-South highway, especially when it skirts alongside the par-5 13th. The heavily bunkered 17th is an excellent par-3, also protected by water on the right. Water also poses most of the questions on the left to right dog-legging par-5 18th.
The Penang Golf Resort offers an overall good golfing experience in Penang. The shared clubhouse includes a well-stocked pro shop as well as two restaurants. The local Penang food dishes and traditional Chinese fare are highly recommended. Setia Pearl Island Country Club is a golf course on Penang for Malaysia golf holiday makers.
Practice Facilities
Driving range (Partially covered)
Putting green
Short Game area
Golf Academy
Golf Club Amenities
Credit card accepted
clubhousel
Restaurant
Proshop
Swimming Pool
Rentals
golf cart for hire
Weather forecast