Carved from Michigan's legendary north woods, and just minutes away from sparkling Traverse Bay, True North Golf Club is a Private golf club in Michigan. This 18-hole resort championship-caliber golf course, designed by Jim Engh, Golf Digest's 2003 Architect of the Year, is a par-72 and features rolling terrain with dramatic elevation changes, valleys and towering strands of hardwoods and pines. In 2012, Golf Digest named True North on of the "Top 60 Golf Destinatins in America".
From the opening hole, which features a raised fairway and green complex that drop off sharply on both sides, golfers will realize that they are in for a different experience. The 472 yard par four second features one of the most spectacular downhill approaches one will encounter in Michigan – though this scenario is repeated a few times on this course. Some green complexes are reminiscent of Tullymore in Stanwood – with signature bunkering that is intricate in design and intimidating in nature. Absent are the many wetlands that grace Tullymore and present are the beautiful valleys and rolling terrain. Unique also are the frequent greenside ponds that require thoughtful shot selection and create great risk/reward opportunities.
There is one incredible golf hole after another on this spectacular design, with wonderful conditioning that includes finely manicured bent grass fairways and tees, and some of the most true-rolling putting surfaces in the state. The greens are large in size and gentle in undulation, and the mounds, bunkers and water hazards that form the complexes create a need for a great variety of approaches. Bump and run chips can often be used, but high arcing lobs will also be called for. Reaching these oversized greens will not be a problem on many holes, but the ability to lag long putts close to the hole is a skill that will be necessary if one is to score well here.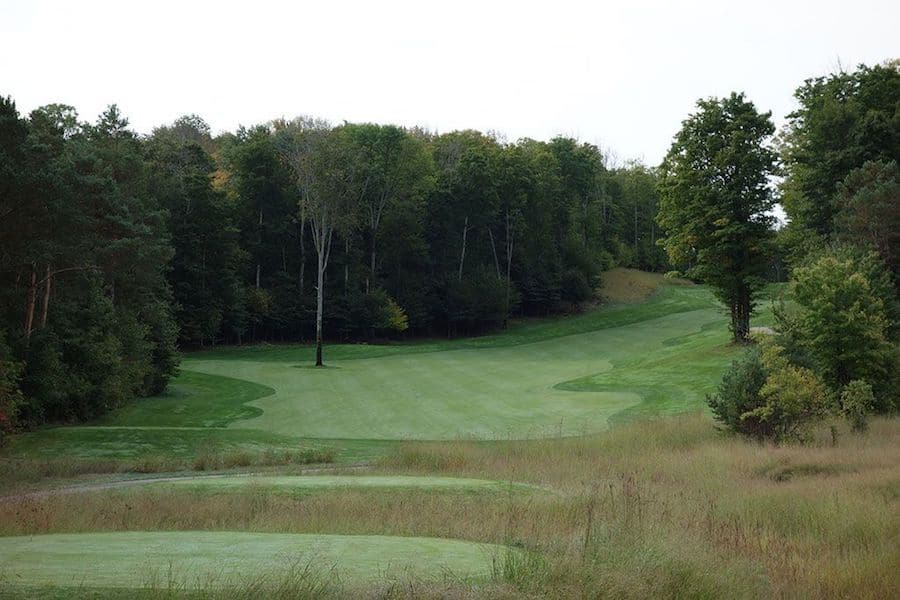 The short par four 11th is one of our favorite holes. The hole snakes downhill with a left to right shot shape laying up to the right side away from the greenside pond leaving a wedge approach to a well protected green. Golfers will encounter this type of shot often. Accurate lay-ups right in front of strategically placed water hazards will often create good scoring opportunities, if one is equipped with a good wedge game. Long hitters will have ample opportunities to go for the greens with aggression, which can result in low scores if successful, and double bogeys if not.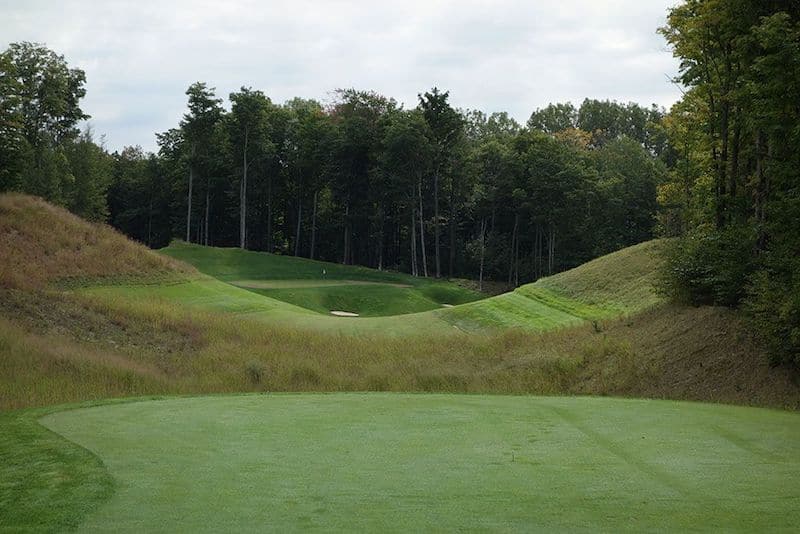 There are an abundance of elevated tees, and the overall topography is very rolling, but with a design frame that creates landing zones that feature relatively even lies. Golfers of all levels and abilities will enjoy this course. It can be a monster from the tips, which measure 7027 yards with a 148 slope rating. 3821 of these yards is on the front side, which includes 3 par fives ranging from 557 to 595 yards, and a pair of par threes measuring 199 and 230. The remaining sets of tees play to distances and slopes that measure 6350/135, 5597/121, (with a 141 slope for women looking for an outstanding challenge) and 4834/120 for ladies playing from the forward tees. The slope ratings may seem intimidating, but if you play from the whites you will able to score. Make it through the front nine (par 37) and the back is much easier, with some short par fours and 3 reasonable par threes.
Practice Facilities
Driving range
Putting green
Golf tuition
Golf Club Amenities
Credit card accepted
Clubhouse
Restaurant
Proshop
Rentals
Weather forecast