Ivoire Golf Club is a very nice walk, even if you don't play golf. Following the post-election crisis of 2010-2011, the Abidjan golf course was completely destroyed. A non-profit organization was created by enthusiasts to raise the funds necessary for its reconstruction. The work began in 2012 and the golf course today presents a beautiful course with all the international standards, even hosting punctually competitions such as the AS Ivory Golf Trophy and the Trophy of Champions.
The golf course is divided between a driving range, a hilly course of 18 holes covering an area of ​​about 7 km², and a 9-hole course a little less technical, spread over some 3 km² of greenery.
The 18-hole course, well maintained, unfolds in a varied and enchanting landscape, with a first part very wooded and a second section characterized by many water hazards (if you are lucky, you may see one or two crocodiles …). It also presents a good alternation between simple holes and more complex holes, and the bunkers are not very difficult to play. Some will be able to see in this beautiful green ground of more than 90 hectares the ideal decoration for a beautiful escape far from the toxic fumes saturating the city center, and force is to recognize that the panorama there is as soothing as spectacular.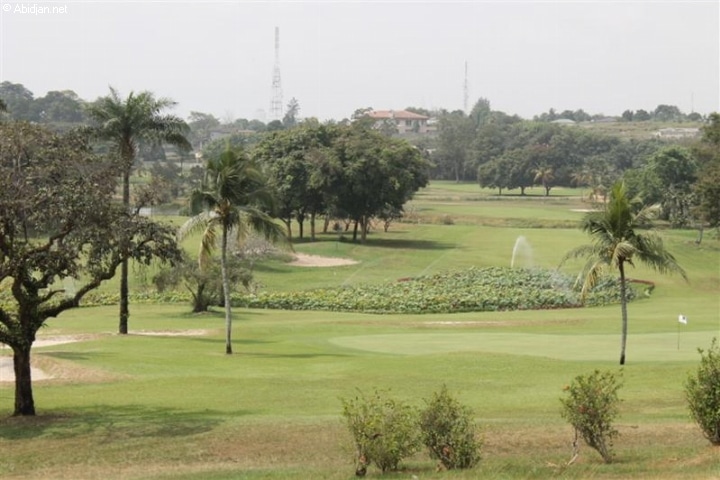 The clubhouse restaurant offers snacks and drinks at any time, and for refreshment or lunch on the terrace, offers an absolutely magnificent view of the golf course and the surrounding area. To avoid spoiling, the Ivoire Golf Club has one of the most sumptuous pools in the sub-region: its pool adopts the shape of a golf club head and measures nothing less than 60 m long by 25 m wide, for a depth ranging from 0 to 3 m of crystalline clarity, with a mini-sloping beach.
Also note: the hotel's spa, which offers a wide range of beauty and relaxation treatments at affordable prices, and was the pioneer of fish pedicure in Abidjan.
Practice Facilities
Driving range
Putting green
Golf lessons
Golf Club Amenities
Clubhouse
Restaurant
Squash
Swimming pool
Rentals
Club Rentals
Weather forecast