Deepdale Golf Club is a private golf club in Manhasset, New York, just east of New York City on Long Island. The club was founded by William K. Vanderbilt II in 1924, using part of his Deepdale summer estate at Lake Success. Charles B. Macdonald designed the course, assisted by Seth Raynor and Charles Banks. The Deepdale Golf Club was incorporated on 26 October 1924 as a private club with a strictly limited membership. Noted members in the past included the Duke of Windsor and President Dwight D. Eisenhower.
The course today is 6,623 yards (6,056 m) from its longest tees. Walking is allowed. It has a par value of 70, a rating of 72.6 and a slope of 135. Some celebrity players have included Bob Hope, Tom Brokaw and Sean Connery. More recent members include Sidney Poitier, Tiki Barber and Michael Bloomberg. As of 2006 the course was rated 36 in the list of America's "100 Most Prestigious Golf Clubs" published by Golf Connoisseur magazine.
The tree-lined fairways at Deepdale Golf Club – many of them tight and sharply doglegged – lead to famously fast, heavily contoured greens. Prominent holes include the 415-yard 8th, the 450-yard 11th and 425-yard 15th, all of which play to raised greens that are heavily protected by sand.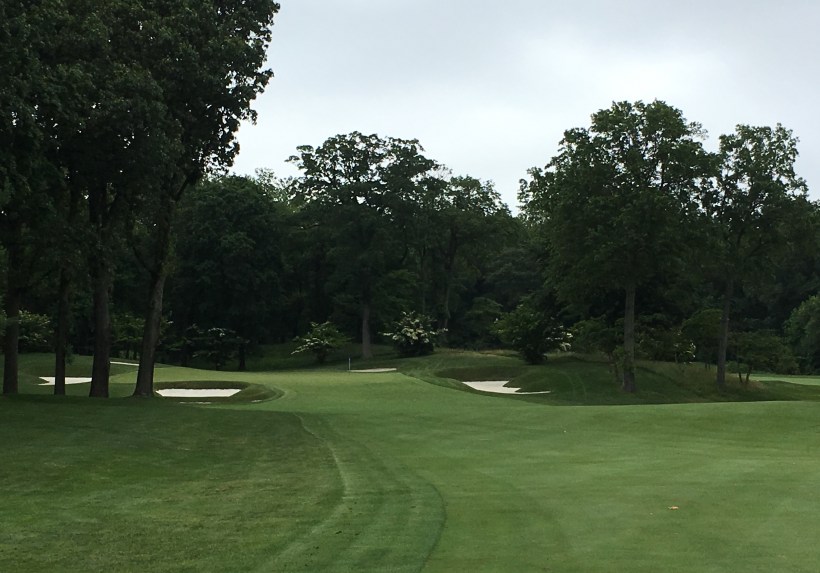 If Deepdale ever wanted to look for a new name for the club, it could appropriately be called "The Dog-Leg Left Golf Club." Charles Blair Macdonald was a famous slicer of the ball and when he designed courses, he is said to have favored designs with dog-leg right holes, which didn't penalize the slicer as much. Deepdale is the opposite. I don't know if Dick Wilson was a hooker of the ball, but he certainly appears to have liked dog-leg left par-4 holes. The first hole is a dogleg left par four, as is the third. The most acute examples are the seventh and eighth holes. The seventh is a 365-yard dogleg left par four. The eighth is a 415-yard par four. To give a sense of the severity of the dog-legs. The eighth green returns the golfer back to the seventh tee; thus, you play in a complete 360-degree loop in the space of two holes.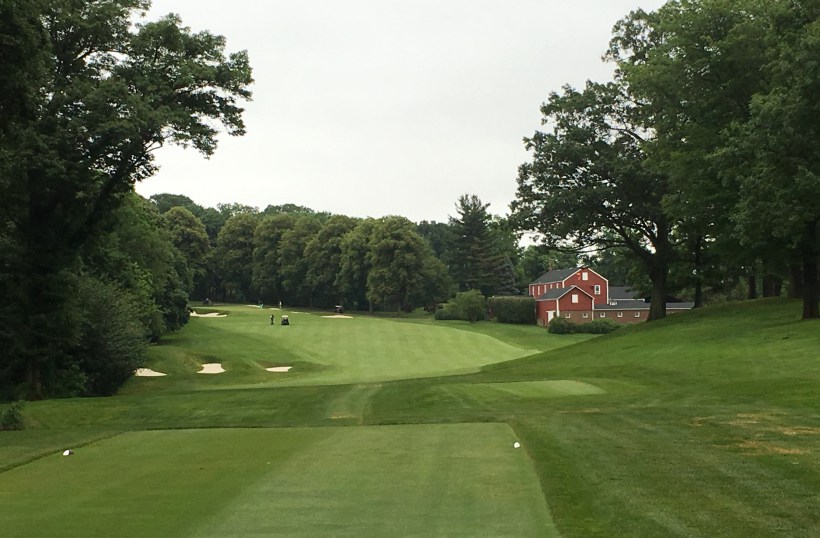 The ninth hole is a dogleg left par four as well, finishing off a sequence of three back-to-back dog-leg left holes. Holes fourteen and fifteen are also back-to-back dogleg left par fours. Eighteen is a dogleg left, and, you guessed it, a par four.
Deepdale Golf Club is in the top 30 golf courses in New York State, but very exclusive. It should be noted that the caddie corps at Deepdale is among the most experienced and proficient in the country.
Practice Facilities
Putting Green
Pitching Green
Golf tuition
Golf Club Amenities
Credit cards accepted
Clubhouse
Restaurant
Pitching Green
Rentals
Buggy available
Weather forecast