On 1.5 miles of pristine beachfront along the Pacific Ocean in Cabo San Lucas, you'll find one of the most spectacular golf course facilities anywhere in the world — Diamante resort Cabo San Lucas.
Diamante's two superb golf courses, the Davis Love-designed Dunes, ranked Number 38 in the World and its younger sibling, the Tiger Woods-designed El Cardonal are both private, with limited exceptions, so feel free to make an inquiry, especially if you're in the market for oceanside real estate. Also tucked behind locked gates are Jack Nicklaus' El Dorado and two Tom Fazio tracks, Querencia and Chileno Bay. Fortunately, Cabo is brimming with gorgeous, desert-style, public-access layouts.
Add to that an awe-inspiring 14-acre practice facility, clubhouse restaurants and bars, retail center, on-course comfort stations every three holes, and Diamante's signature service, and you've got an unforgettable golf experience.
The Dunes Course by Davis Love III at Diamante resort
Diamante's Dunes Course weaves its way through spectacular Pacific dunes and boasts amazing views of beach and ocean from nearly every hole.
Eighteen holes sit among some of the most dramatic sand dunes in the world. "You're either playing toward the ocean, along the ocean or away from the ocean," says course designer Davis Love III. "And then, at times, you're down in the dunes and you pop up and are surprised all over again by the incredible views of the ocean."
The Dunes Course has received many accolades since opening in 2009, including being ranked #38 in the world by GOLF Magazine in 2015 and the #1 course in all of Mexico by Golf Digest in 2016.
The Dunes is more than just a pretty course.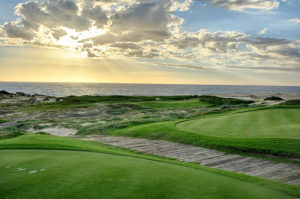 When Dunes Course designer Davis Love III first arrived on the Diamante site, he said, "It was like pulling up to St. Andrews." Golf on the Dunes does share some similarities with the classic links courses in Scotland and Ireland–but here, the weather is warmer, the sand is whiter, and the sea is bluer.
As part of the Dunes experience, players enjoy state-of-the-art practice facilities, a Slider Bar with mini sandwiches and refreshments before tee time, and additional small plates and libations at Diamante's signature course-side comfort stations. The golf is great, but the experience truly is something special.
TGR Design Golf Course: El Cardonal at Diamante resort
The Tiger Woods designed El Cardonal course is Diamante's second championship course and Tiger's first-ever golf course design. Influenced by the old-style courses of Southern California that he grew up playing, Tiger created a course that brings back the need for strategy in golf–with several options to navigate each hole. The result is a course that challenges expert players, but provides options for those with higher handicaps as well.
"I set up the golf strategy to make golfers think and make choices. Regardless of your handicap, there are going to be different ways to play every hole. Angles of approach are going to be very important and will dictate the type of shots you should consider. I love this kind of golf" – Tiger Woods.
With dramatic long-range views of the Pacific Ocean, natural arroyos, mature vegetation, native dunes and Diamante's signature service, this Tiger Woods designed course at Diamante is a challenging and rewarding golf experience that you'll want to play again and again.
Practice Facilities
Driving range
Putting green
Training bunker
Golf tuition
Golf Club Amenities
Creditcard accepted
Clubhouse
Restaurant
Proshop
Rentals
Buggy for hire
Weather forecast