Home to two Senior Slams and a host of other prestigious golf tournaments, the 7,037-yard championship Cabo Real Golf Course is situated midway along the coastal corridor between San José del Cabo and Cabo San Lucas. Cabo Real Golf Course ranks with some of the best in Mexico. This desert-style layout provides a wonderful test for your all-round game, with many attractive, skilfully crafted and challenging holes to enjoy. The layout traverses canyons, skirts the ocean and enjoys a mountain backdrop. Two oceanside holes provides the course with its signature stretch.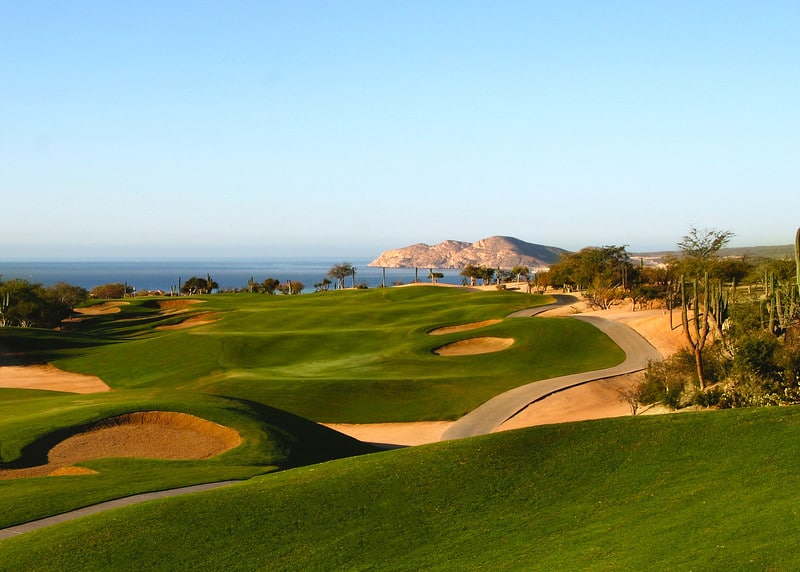 The opening six holes rise through a desert landscape at the foot of a rugged mountain range with the 454-yard 5th running along the edge of an arroyo to a green sited at the highest point on the course, some 450 feet above the coast. The par-3 6th hole, is propped up on a seaside bluff, which look-ing back will reward you with a view of endless palm trees and beautiful white sand beach.
With breathtaking holes chiseled into desert foothills at the foot of rugged mountain peaks, Cabo Real's longer back nine presents a great test of golf. Free-form bunkers and small, elevated greens combine with fairways that play along ridge tops, to provide an expansive feel. The 14th hole, at 454 yards, runs along the edge of a steep canyon to a green carved into a precipice at the layout's highest point—nearly 500 feet above the sea. The short par-4 17th hole is a study in clean lines. This right-to-left dogleg is punctuated by two large fairway bunkers, a sentinel cactus and a small green benched into the base of a hill. From an elevated tee, the brawny par-4 18th hole is a classic finishing hole that will force you to navigate the crossing arroyo on the right and the expansive lake on the left.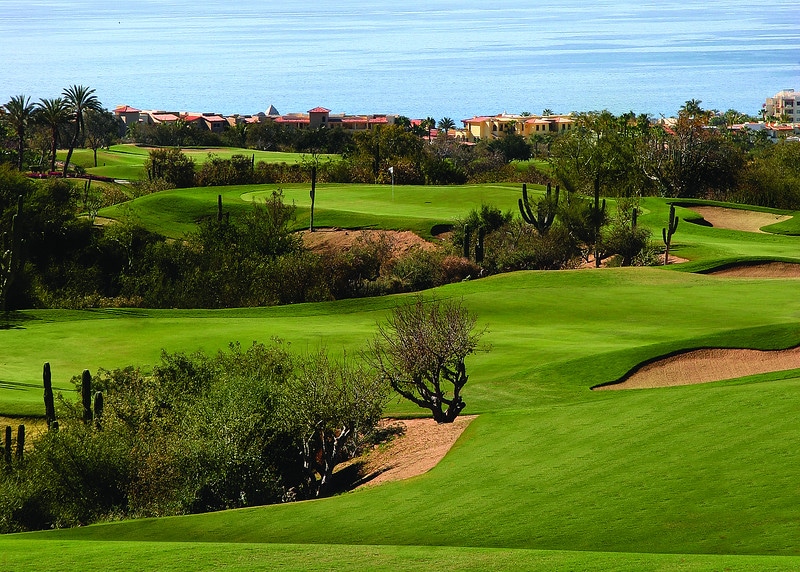 The task of laying out a course was originally allocated to another, lesser known, architect but when the developers discovered that El Dorado next door was to be a Nicklaus signature course, they employed another designer "name" to match their competitor – a case of keeping up with the golfing Jones's you might say!
Cabo Real is one of a trio of layouts managed by Questro Golf (Campestre and Puerto Los Cabos are the other two), meaning visitors can buy multiple-round passes good at any of the three area golf courses.
A must play if you are in the area.  At this Stay&Play venue, the on-site accommodations are located close to the golf facilities
Practice Facilities
Driving range
Putting green
Chipping area
Golf lessons
Golf Club Amenities
Credit card accepted
Clubhouse
Restaurant
Proshop
Rentals
Clubs for hire
Trolley for hire
Buggy for hire
Weather forecast