On a stunning, world-class site along the east coast of Mexico's Baja Peninsula near the historic town of Loreto, Rees Jones has crafted Danzante Bay Golf Course, a brilliant, multi-themed golf course accented by valleys, arroyos, dunes, and foothills. Danzante in one of the top golf in Mexico.
Danzante Bay Golf Course is truly magical experience that gently transitions from rolling desert terrain into the Sierra de la Giganta mountain range, distracting golfers with incredible ocean views from start to finish.
Rees Jones has designed an engaging, thoroughly enjoyable layout that features receptive fairways and greens presenting a true test without punishing golfers.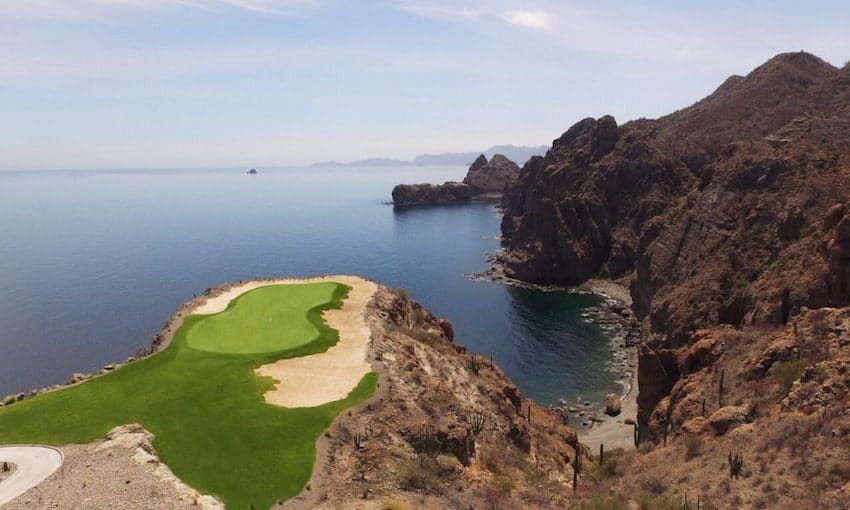 The par-3 17th hole quickly became one of the world's great destination par 3s, a hole so dramatic that golfers will come just to play its tee shot. The elevated tees on no. 17 look down upon an hour-glass-shaped green cut into seaside cliffs. The hole sits isolated from the rest of the course on the other side of the mountains. It was Perry who made the discovery and pushed for routing changes to accommodate its construction. The key to its addition was building two shorter par 4s that climb the mountainside without feeling overbearing. The just-as-scenic final hole, a stout par 4, tumbles downhill toward the resort.
Danzante Bay Golf Course is a pure natural beauty with the numerous ocean views, elevation changes, steep mountain canyons.
The 7,107-yard, par-72 course also features a nine-hole putting course inspired by the famed Himalayas Course in St. Andrews, Scotland, where families can enjoy playing together. And the practice facility is an unusual, uphill, reverse funnel into the mountain face.
Practice Facilities
Driving range
Putting Green
Golf tuition
Golf Club Amenities
Clubhouse
Restaurant
Proshop
Rentals
Club Rentals
Golf cart for hire
Weather forecast