Founded in 1923 in the municipality of Rhode-Saint-Genèse, Royal Waterloo Golf Club took up residence in Ohain, in the municipality of Lasne, in 1961. At the time it comprised the prestigious La Marache course (also known as "A-B") and two nine-hole courses known as "C" and "D", all designed by the famous British course architect Fred Hawtree.
In the 1980s, the "C" course was renamed Le Bois-Héros, while the "D" course was remodelled and an additional nine-hole course (the "E") added to it to create Le Lion.
Between 2003 and 2006, all the greens and bunkers on the legendary La Marache and Bois-Héros courses were redesigned and rebuilt by Martin Hawtree in line with USGA specifications.
The clubhouse was expanded and renovated in 2008.
As part of the club's ongoing quest for excellence, Martin Hawtree remodelled Le Lion in 2014 and 2015.
Royal Waterloo Golf Club offers 45 holes, 3 courses (two 18 holes La Marache and Le Lion, one 9 holes Le Bois-Héros), a pitch & putt (La Pépinière) and several training areas.
La Marache – a legendary course
A truly majestic par 73 course measuring 6,296 meters, La Marache was designed by Fred Hawtree in 1960 and ranks high with the experts.
The greens were completely renovated by his son Martin Hawtree in 2004 and 2005 to bring them into line with USGA specifications.
One of Belgium's true championship courses, it has played host to many leading names, among them Gary Player, Arnold Palmer, Nick Faldo, Severiano Ballesteros and Jose-Maria Olazabal.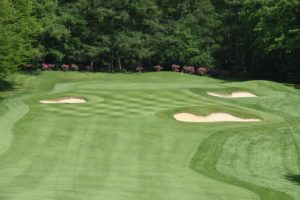 Le Lion
Built in 1980, next to the battlefield of Waterloo. The famous Lion's Mound overlooks several of the holes.
The 6,395 meter course, which has also hosted an Open Laurent Perrier, was entirely remodelled by Martin Hawtree in 2014 and 2015.
This very challenging par 72 tests shot-making to the full.
Le Bois-Héros
With its tree-lined fairways, this magnificent par 33 nine hole stretches for 2,160 meters across undulating terrain.
Originally designed by Martin Hawtree (then a 12 year-old under the tutelage of his father Fred) who redesigned the greens in 2003.
A true test for beginners and skilled players alike, Le Bois-Héros is a haven of tranquillity and a jewel of a course.
La Pépinière
This six-hole pitch & putt course is especially suited for young players learning the game. It is also ideal, however, for more experienced golfers looking to brush up their short game and take part in fun competitions.
Practice balls are not allowed on this course.
Practice Facilities
Driving Range
Putting green
Golf Club Amenities
Credit card accepted
Clubhouse
Restaurant
Proshop
Rentals
Trolley for hire
Buggy for hire
Weather forecast