Established in 1890, North Wilts Golf Club is one of the oldest golf clubs in Wiltshire. It is situated high on the downlands of the county, with spectacular views over the surrounding countryside. The chalk base allows for free draining and the 18 hole par 71 course offers a real test to golfers of all standards.
Just five minutes from the A4 or the A361 this is a wonderful example of a downland golf course. While it is relatively short by modern standards – 6414 yards off the white tees – the course tests even the lowest handicap golfer. Every hole poses a different question, a small green, an elevated tee and so on. While there is little or no water to contend with, the sloping fairways and strategically placed bunkers will give you plenty to think about.
At its highest point – the 6th hole – you are 700 ft above sea level and the views are awesome. The terrain ensures that the course drains well and very few golfing days are lost each year.
Visitors are welcome at all times on weekdays, but you have to ring the Pro Shop in advance to check the course availability.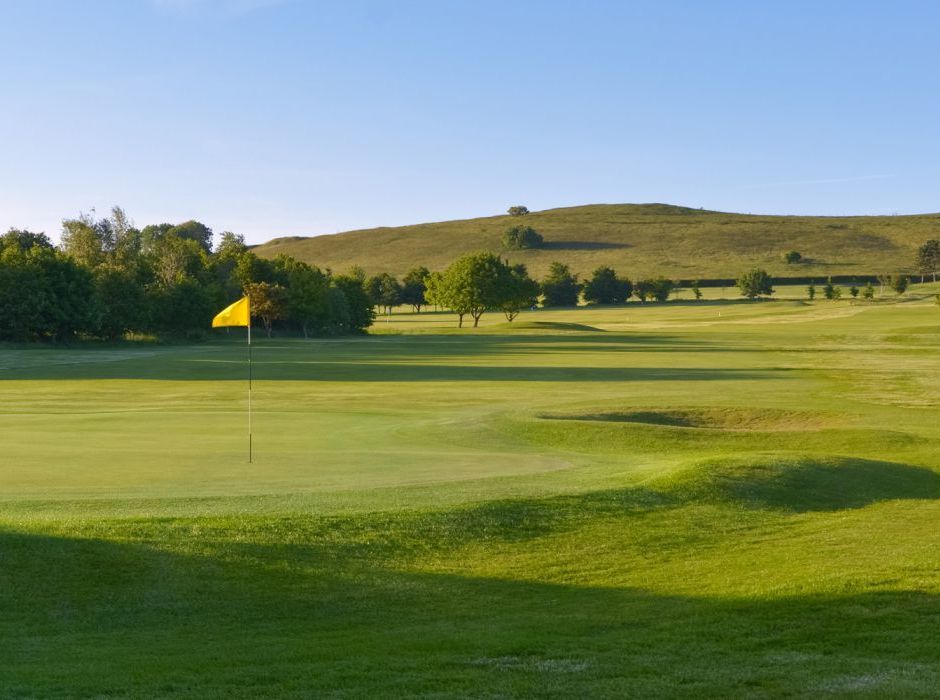 After an opening par five, which alludes to the kind of elevation changes you will encounter along the way, the first top class hole follows. The second hole is framed by a large, undulating green, featuring two tiers, with a huge slope to get to the pin, invariably set on the back tier. Take enough club to reach the correct tier, or four putts are more than possible.
The back nine is host to two of the signature holes on the course. Opinions will no doubt vary as to the star hole, however, the par three 13th must surely rank highly. From a high, elevated tee, the tiered green is captured by a bank at the back, sloping round to the right hand side, where greedy bunkers are placed. Short shots may be gobbled up by the ditch, running 40 yards from the centre of the green,  and meandering left. A par here is certainly a healthy score.
The 14th, and the pick for some members, is a challenging par four. Place your tee shot either side of the trio of trees down the middle of the fairway, aiming the second to an elevated green, which sits on top of a steep plateau; be short to take one or two more clubs to get the ball onto the short stuff. This green also frustrates, with two tiers.
North Wilts Golf Club is certainly a club to visit if touring Wiltshire. If you prefer long, championship style golf, then nearby Bowood may be more your cup of tea. However, if finesse is your thing, plump for a day at North Wilts.
Practice Facilities
Driving range
Putting green
Golf tuition
Golf Club Amenities
Junior discount
Credit cards accepted
Clubhouse
Restaurant
Proshop
Rentals
Set of Clubs with carry bag - £10
Push Trolley - £3
Buggy - £18
Weather forecast