Cleveland has long produced great wedges for professionals and amateurs alike, but arguably the company has never been more excited about a new line than it is about RTX-3. The Cleveland RTX-3 Wedge features three new wedge innovations that work together to create the most consistent wedge performance. Feel Balancing Technology, new V Sole Grinds, and a new Rotex Face each work to help get you closer to the hole, more often. The blade design is ideal for maximizing all-around wedge performance.
HOW DOES RTX-3 HELP GET YOU CLOSER?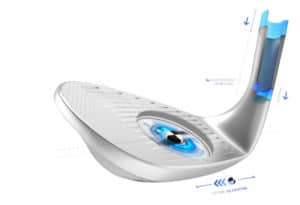 Feel Balancing Technology
This patent-pending technology shifts the center of gravity closer to the center of the wedge face – the impact zone – to decrease vibration and maximize head stability at impact. By adding a microcavity and shortening the hosel, 9 grams of mass are optimally redistributed in the head for a more centered CG location. This improves feel and tightens shot dispersion, giving you maximum control.
V-SHAPED SOLE GRINDS
Three tour-proven grinds feature a V shape with more leading edge bounce to help get the club head through the turf faster at impact. This promotes crisper feel and more consistent head speed for increased spin and control.
Comparing Cleveland RTX-3 to 588 RTX 2.0 with Cleveland Golf's proprietary turf interaction software shows 23% better speed retention.
Since the sole moves through the turf more quickly, there is less turf that comes up onto the face at impact, meaning improved contact for better friction and more spin.
NEW ROTEX FACE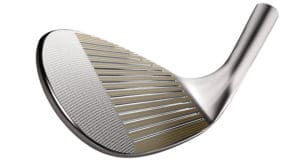 Three innovations combine to maximize spin with more consistency. New Tour Zip Grooves have a deeper, narrower U shape with a sharp edge radius in all lofts to enhance contact across a wide variety of conditions. The advanced, 2-pass micro milling pattern increases friction and is directionally enhanced by loft: low lofts (46°-52°) have a straighter pattern to accommodate full shots and high lofts (54°-64°) have a more angled pattern to optimize open-face shots. Laser Milling precisely roughens the face surface to the conforming limit.
CUSTOMIZE YOUR CLEVELAND RTX-3WEDGE
Your short game is personal, your Cleveland RTX-3 wedges can be too. You can personalize your RTX-3 wedge with an array of colors, skins and your initials.