Where to golf in Hawaii, The Aloha State
The Aloha State of Hawaii comprises of hundreds of volcanic islands in the Pacific Ocean situated around 2,000 miles to the southwest of the North American continent. The 50th state to be admitted to the Union in 1959, Hawaii has since capitalised on its diverse natural scenery and tropical climate by promoting itself as a popular tourist destination for visitors.  And with more than 70 golf in Hawaii, you will find your happiness whatever your level.
If your goal this winter is to take in amazing beaches, sugar-cane and pineapple fields, waterfalls and active volcanoes, Hawaii is totally worth the journey.
With breathtaking scenery, one-of-a-kind signature holes and championship-caliber course designs, Hawaii attracts golfers of every level from around the world. Discover a variety of unforgettable courses throughout the islands—from greens lined with black volcanic rough to stunning seaside water hazards. And with more than 70 golf courses at your fingertips, it won't be difficult to find the perfect course for you.
The only problem is to choose the island to spend your holidays to golf in Hawaii.
First thing to think about : your flight.
Yes if you want to travel to Hawaii, you need to take a plane. Of Hawaii's five islands with golf courses – the Big Island, Maui, Oahu, Kauai, Lanai – only Lanai does not have a commercial airport with nonstop flights from the West Coast. But if you're looking for nonstop flights to Hawaii from cities like New York or Chicago, you'll have to fly to Honolulu and go from there, if your destination is one of the other islands. Numerous airlines serve the Hawaii's airports from the western half of North America, including Alaska Airlines, which is often overlooked in favor of the bigger airlines but is a great option, especially if you're traveling to Hawaii from the West Coast.
Golf in Hawaii, on Island of Hawaii, The big Island
When people call it "the Big Island," they're not kidding. Not only is it larger in land area than all the other Hawaiian Islands put together, it also features the biggest diversity of scenery and climate on any of the islands. That includes snowy mountain peaks, like that of mighty Maunakea. Hawaii Volcanoes National Park is here as well.
You'll find a superb array of resort and public courses on the island of Hawaii. Lush, cliffside fairways that slope through prehistoric lava fields make these courses both uniquely challenging and visually stunning. The world-renowned Kohala Coast resorts of Waikoloa, Mauna Lani and Mauna Kea feature courses that will linger in your memory long after the game.
Another must play : the Four Seasons Resort Hualalai course is player-friendly—especially on the minimally contoured greens—where highlights include the jaw-dropping par-3 17th, its putting surface jabbed into black lava rock and backdropped by the Pacific.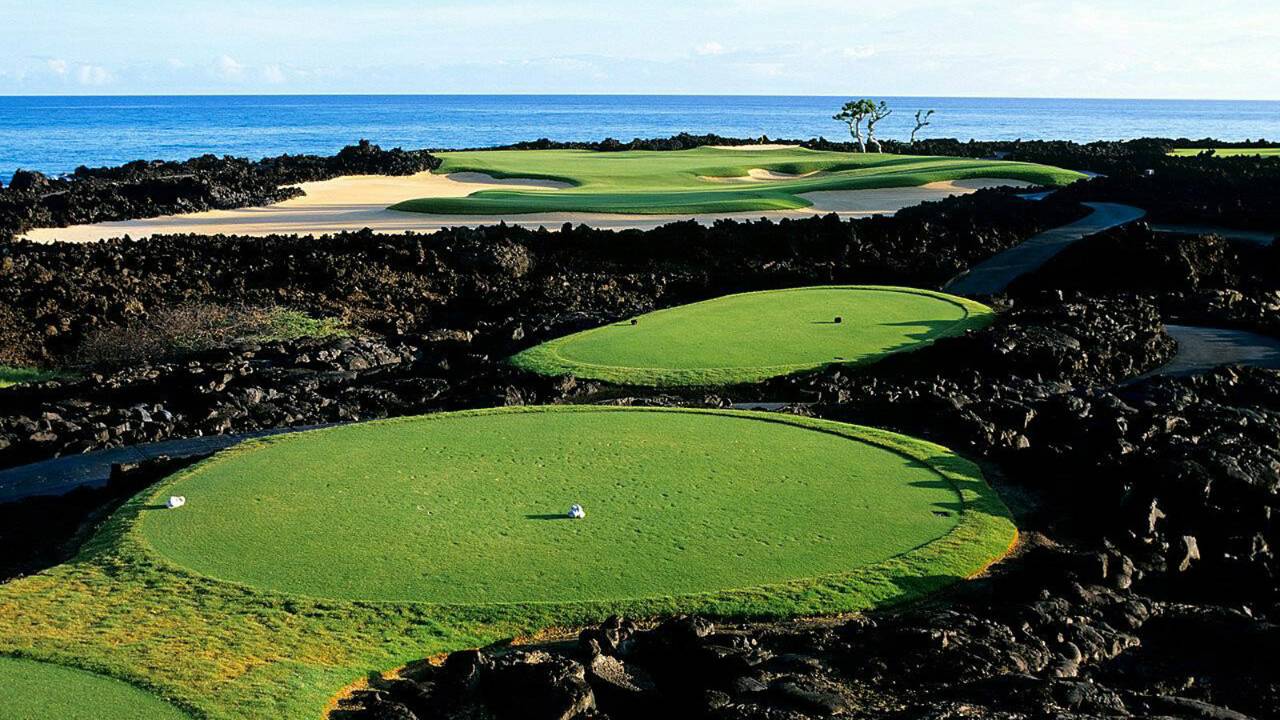 Golf in Hawaii, on Maui
Maui is beloved for its beauty, and so are its golf courses. Known as "The Valley Isle," Maui is the second-largest Hawaiian Island, but with a population around 130,000, it is more sparsely populated than bustling Oahu. Still, its extensive array of luxury resorts causes some visitors to remark that it has a somewhat "touristy" feel. That said, it is home to Kapalua's Plantation Course, the Bill Coore/Ben Crenshaw layout that hosts the Hyundai Tournament of Champions each year. And for aficionados of building architecture, the Frank Lloyd The course features extra-wide fairways, jungle-strewn canyons and stellar views of the Pacific Ocean. Crisscrossed with lava chutes and punctuated with ocean vistas, Wright-inspired clubhouse at the private-but-accessible King Kamehameha Golf Club is a pilgrimage destination.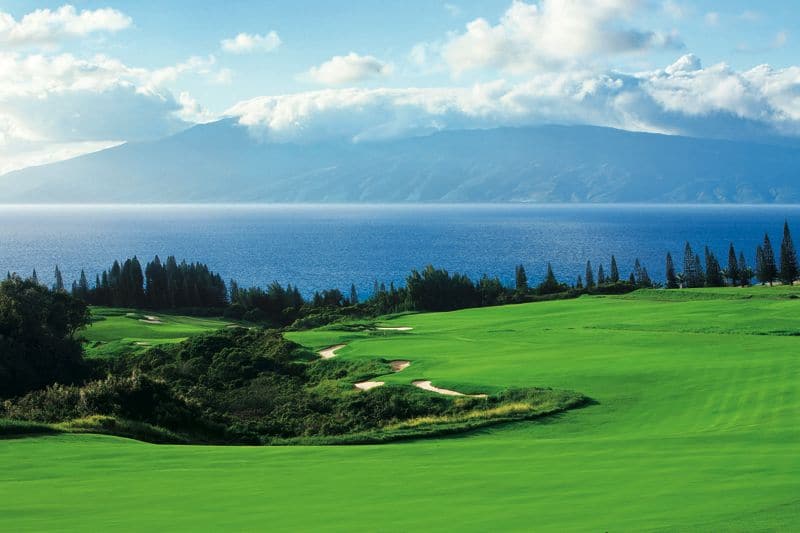 Golf in Hawaii, on Oahu
Home to capital city of Honolulu, Oahu is the third-largest Hawaiian Island but home to about two-thirds of the state population. It's perfect for those looking for a cosmopolitan experience in Hawaii, and is the place to find a huge variety of off-course experiences and activities, including the must-visit Pearl Harbor remembrance site. The golf is not the highest-quality in the state, but for those not looking to lay out too much cash, it is probably the best option due to the convenience of Honolulu's airport relative to the others in Hawaii. But if you are looking to be swallowed up by the jungle and sand in Hawaii, you will no doubt find Oahu a bit jarring.
Oahu is home to many of the state's top-ranked and historic courses. Among them is Hawaii's first golf course, the semi-private Moanalua Golf Club built in 1898. There are also luxurious golf resorts that play host to the PGA, like Turtle Bay Resort on Oahu's famed North Shore. While experts call this a surfer's paradise, fans of this coastal creation state that it's a golfer's Garden of Eden as well, provided you can navigate a layout studded with bunkers, wetlands and water hazards, notably at the 452-yard, par-4 17th, its green practically set into the beach. Other great courses to play: Ko Olina Golf Club, which curves along the Leeward Coast. And the Greg Norman-designed Royal Hawaiian Golf Club, located 20 minutes from Waikiki in a valley so lush it has been nicknamed "Jurassic Park."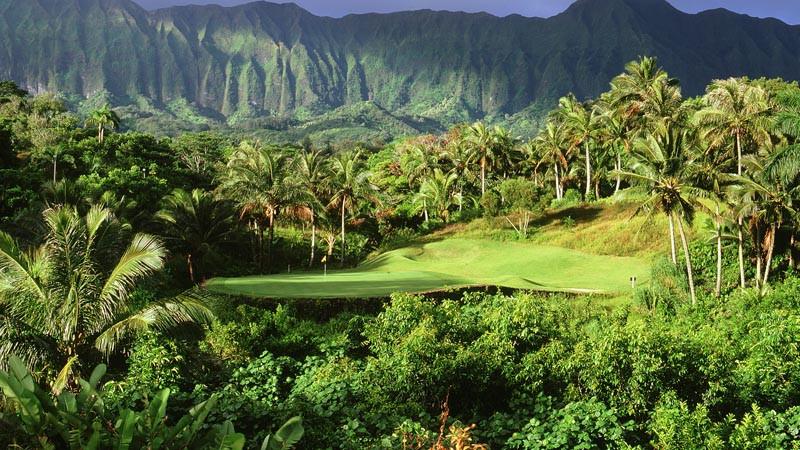 Golf in Hawaii, on Kauai
Known as "The Garden Isle", Kauai is the destination for those looking to explore Hawaii's rainforests. Indeed, some part of the island receive more than 400 inches of rain per year. However, some of the western coastal portions of the island receive less than 20 inches. For golfers, this means lush turf year-round, and a solid roster of courses, even if the island's highest-rated layout, Princeville's Prince Course, is now going private. However, Wailua Golf Course, a municipal layout with numerous holes with ocean views, remains one of the best values in golf.
If you in Kauai, you must play :  Wind-whipped, boldly bunkered Poipu Bay dishes out an exclamation point-filled back nine, notably at the cliff-top, oceanside trio of holes 15, 16 and 17. Tiger Woods won the PGA's Grand Slam of Golf here seven times in its 13-year run, while Phil Mickelson once shot 59 in winning the 2004 event.  One of Robert Trent Jones Jr.'s earliest and most spectacular creations, Makai at Princeville sports risk/reward options, lush landscaping and Pacific encounters. Hokuala's Ocean course features four consecutive oceanside holes and a Jack Nicklaus design.
Golf in Hawaii, on Lanai
If Oahu is Hawaii's party central, Lanai is the polar opposite. Formerly the pineapple-growing domain of Dole, it is now owned almost entirely by tech company Oracle CEO Larry Ellison. Lanai is accessible by fast ferry from Maui.
On this intimate island, you'll find one of the best-ranked golf courses in the world. The 18-hole Manele Golf Course at Four Seasons Lanai is one of Jack Nicklaus's crowning masterpieces. With three holes built into seaside cliffs, this target-style course roams across natural lava outcroppings on Lanai's South Shore, delighting players with dazzling views of the Pacific Ocean. But if you want to play you need to stay at the Four Seasons.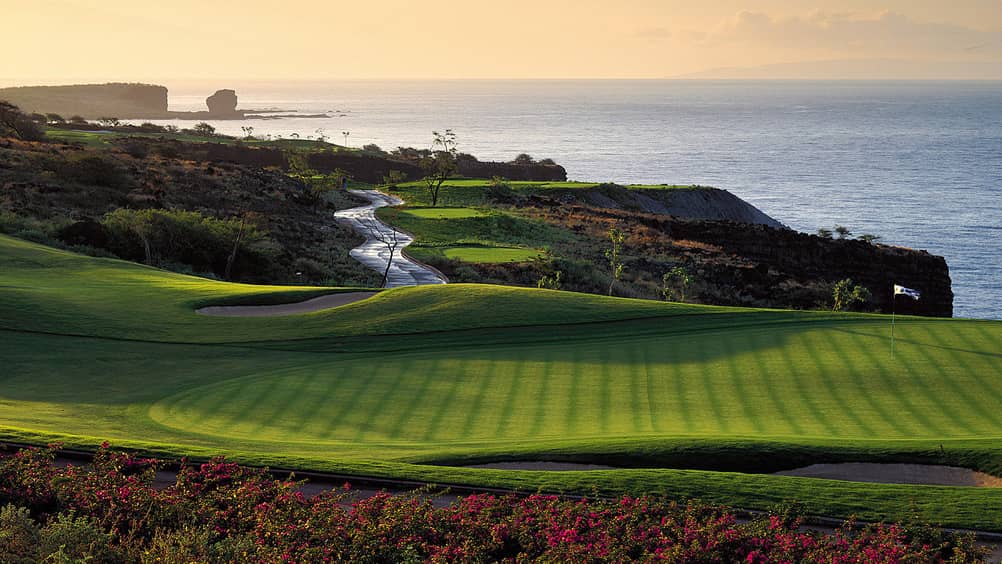 Golf in Hawaii, on Molokai
The golf on Molokai is as relaxed as you might expect it to be. At the lovely Ironwood Hills Golf Course, it's okay to just show up for a tee time. There are no golf pros—not even a clubhouse—just 3,088 yards of upcountry pasture with splendid views.
Molokai is not the destination you will enjoy if you're looking for great 18 hole golf courses.
And if you want to explore all the golf courses in Hawaii, Click here.