Seven Canyons Golf Club lies in a stunning setting on the central Arizona plateau in the middle of Sedona's red rock landscape where its location has been described by one commentator as "like playing classic golf in the basin of the Grand Canyon."
Opened in 2003, Seven Canyons is one of the best new designs to have come out of the Copper State in recent years – and there have been plenty of very good ones to choose from – so credit to Tom Weiskopf for creating such a wonderful layout, despite the course having to compete for attention with its dramatic backdrop!
Sitting at 4,500 feet above sea level, with around another 300 feet in elevation change over its 6,746-yard length, the course plays to a par of 70. Big hitters will be forced to lay up a lot off the tees as many of the fairways have narrow landing areas. And with smallish greens placing a premium on accurate approach play, Seven Canyons is a course for shot-makers from start to finish.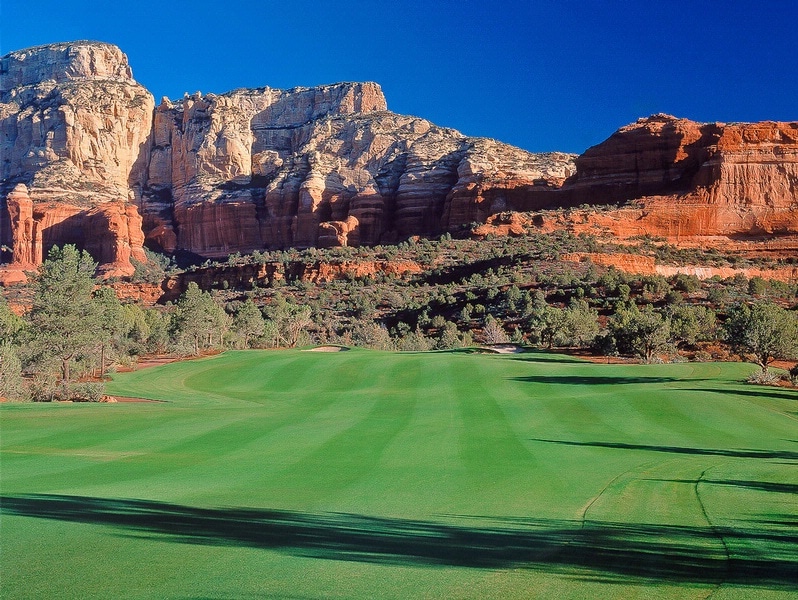 Signature hole at Seven Canyons Golf Club
4th Hole – 175 Yard Par 3 – You are sitting on top of the world on the 4th hole at Seven Canyons. Perched on a tee box on the side of a red rock hill, your shot will plummet 65 feet enroute to the green below that is surrounded by bunkers and demands accuracy and distance control to avoid a sandy finish. With view literally for miles and and ego boosting tee shot, the 4th is an early climax to enjoy.
The most difficult hole of the course is certainly the 17th Hole – 246 Yard Par 3 – On a course that tips out at 6746, a 246 yard par three is an unexpected challenge. A wash fronts the green so you have plenty of carry to contend with to reach the putting surface safely while also managing to avoid the trio of bunkers that are in play. This will be by far the longest approach shot you have into a green you are trying to hit in regulation and the extra trouble surrounding your target simply adds insult to injury. Take your four here and move on.


Practice Facilities
Driving range
Putting green
Golf tuition
Golf Club Amenities
Credit cards accepted
Clubhouse
Bar & restaurant
Proshop
Rentals
Buggy for hire
Weather forecast