The history of The Links at Union Vale golf course starts with golf in the New York City area. Some New-York Irish golfers got tired of the long wait for tee times and decided to build their own course in nearby Dutchess County.
About 500 golfers from the Irish Golf Association – and 16 other golf societies in the New York area – formed a corporation, and traveled north to find their course. They looked at several properties before finding 200 acres of cattle farmland that presented the opportunity for the kind of course they wanted — links style, with lots of grassland. The golfers purchased the land and hired Stephen Kay, the renowned New York designer, and his partner, Doug Smith, to build the course. It opened in 2000 as a semi-private course, open to the public.
Though the Irish golfers may no longer be the most frequent players, they have left their legacy at Union Vale, an Irish links layout faithfully recreated just north of New York City.
The first nine holes are not too long. They were designed to emphasize tactics and course management to allow a player to find their game and rhythm.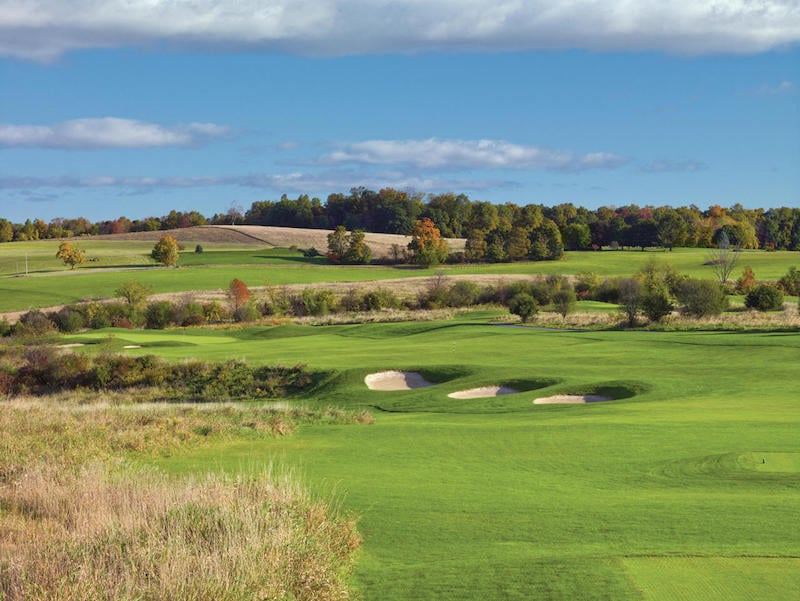 The first four holes on the second nine, including two par 3's, offers the best scoring opportunities. Teeing up on the 14th though, a player realizes that they need to bring one more thing to the Links, a strong long game, and accurate approach shots.
Golfers will find some course enhancements at The Links at Union Vale this year. The newest addition is the fifth set of tees. Playing at 5740 yards, they are intended for the shorter hitters among us
The Links at Union Vale is also a regular stop on the Golf Channel's "AM Tour." Organizations like the USGA, the Metropolitan Golf Association, and the Dutchess County Amateur Golf Association regularly select The Links at Union Vale to host their amateur tournaments.
Practice Facilities
Driving range
Putting Green
Pitching Green
Practice bunker
Golf tuition
Golf Club Amenities
Junior discount
Credit card accepted
Clubhouse
Restaurant
Proshop
Weddings and special events
Tennis
Rentals
Clubs for hire
Trolley for hire
Buggy for hire
Weather forecast