Lahinch Golf Club is a links golf course in the village of Lahinch on the northwest coast of County Clare, in northern Munster, Ireland. It is situated approximately 20 miles northwest of the town of Ennis. In 2016, Golf Digest ranked the Old Course at Lahinch #65 on their list of the world's greatest golf courses.
Established in 1892, the Lahinch Old Course is frequently referred to as the "Saint Andrews of Ireland" as it looks out on the ever-changing Atlantic Ocean and is subject to all its mood swings. It has an abundance of exceptional golf holes, where the natural terrain is utilised to optimum advantage. Lahinch proves that the best architect will always be Mother Nature. It hosts the south of Ireland Amateur Golf Championship annually and should be on every golfer's itinerary.
Two of the most famous and unusual holes sit back to back at Lahinch; the Old Tom Morris designed Klondyke 4th hole and Dell 5th hole. Klondyke, a short par five with a blind approach, features a 35 foot dune in the middle of the narrow fairway with a man holding a red flag and a green flag that will signal you when you are clear to take a blind rip at the green on the other side. The blindness continues on the next hole with Morris' famous Dell design, a short par three with a long shallow green wedged between towering 30 foot dunes with a white rock placed in the side of the dune to give players an indication of where the middle of the green is. These are two holes that would never be designed today which makes them all the more fun and unique to enjoy. Lahinch goes on to deliver a fine collection of holes with incredible variety, great memorability, and favorable course conditioning that all adds up to being one of Ireland's elite level courses and one of the great links in the world. It should also be noted that Lahinch is a walking-only course with trolleys/pull carts available for hire if you don't want to carry your bag or you can employ a caddie to loop for you.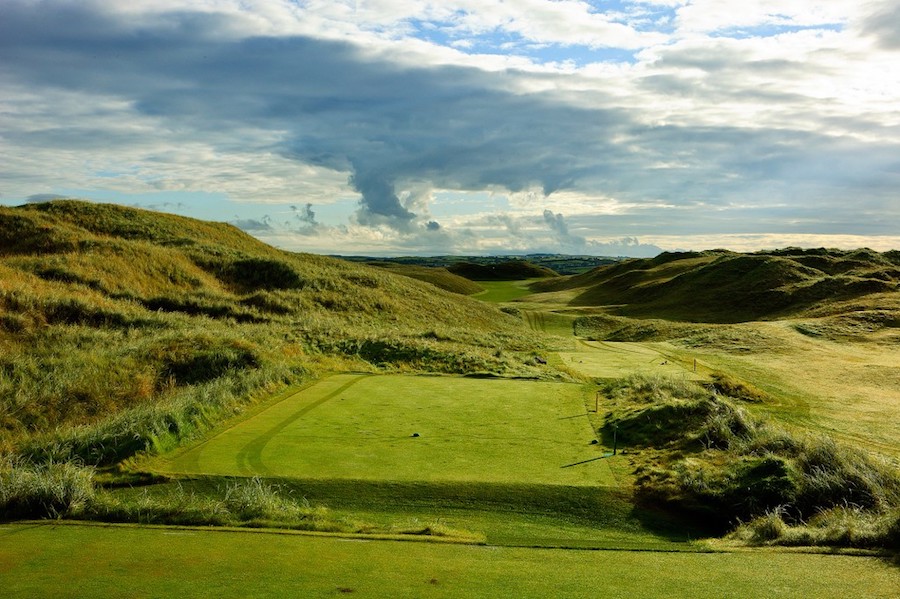 Signature Hole:  4th Hole – 475 Yard Par 5 – One of the most famous holes in Ireland is MacKenzie's unique Klondyke hole which is followed up by the equally famous, and unusual, Dell hole. Klondyke features a tight fairway that players should favor the right side of to utilize the slope and bring their tee ball back to the center of the short grass. The blind approach plays over Klondyke Hill where a flag man will be signaling players when it is clear to hit (red means wait; green means play). An approach shot that sails over the 'V' in the hill will be on an ideal line to reach the putting surface and perhaps enjoy an eagle opportunity. No matter what you do, make sure you take enough club to clear the Klondyke Hill because failing to do so will almost surely result in a bogey or worse. If built today the hole would be criticized mercilessly, but fortunately MacKenzie design this treasure at a time it was more acceptable and you get to be the benefactor of enjoying such a memorable offering.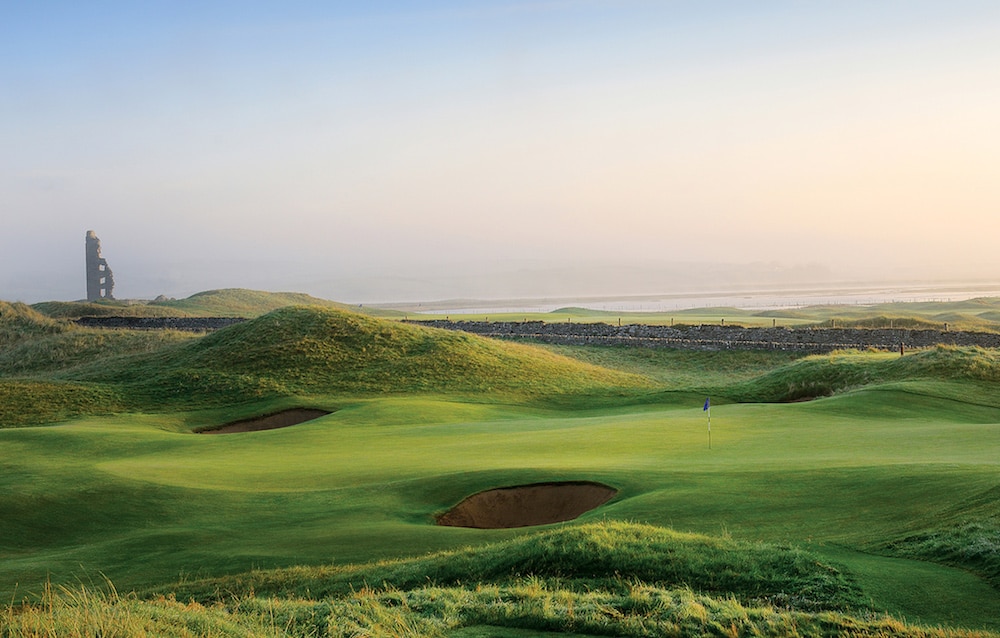 Lahinch Golf Club also offers a 2nd course since the 70's. The Castle course at Lahinch Golf Club was fashioned in the mid 1970s by Commander John D. Harris and is located on the opposite side of the road to the Old course, on land that was earmarked by George Gibson – the professional of Royal North Devon Golf Club – on his visit the early 1900s to re-vamp the original links.
The Castle is shorter, more forgiving and less undulating than the Old, but it is worth a look in its own right and is a course to be sampled by any links aficionado.
Conclusion : Natural, scenic, and quirky all wrapped into one is what you'll find at this iconic Alister MacKenzie track. With blind shots, ocean views, and incredible memorability, Lahinch offers an authentic Irish links experience that shouldn't be missed. A perennial Top 100 ranked course (old course) in the world and with good reason.
Note that The Old Course & Castle Course are both walking courses and golf carts/buggies are not available for hire.
Practice Facilities
Driving range
Putting green
Golf tuition
Golf Club Amenities
Credit card accepted
Clubhouse
Bar & restaurant
Proshop
Rentals
Club hire (Taylormade) - 50€
Weather forecast