Located a couple of miles outside the state capital Bismark, the course at Hawktree Golf Club burst onto the golf scene at the end of the 1990s, quickly vying with The Links of North Dakota at Red Mike Resort as the number one course in the Roughrider State.
Words don't come easy when trying to describe this jewel of a golf course. Not many things man does with the land actually improve it. Hawktree Golf Club is a rare exception to that notion. Featuring an open, links-style design with a mere 80 acres of irrigated turf grass, the eco friendly course is framed by hills planted in native grasses.
Jim Engh was the architect behind the contemporary design at Hawktree, weaving eight of the fairways in and around Burnt Creek with another three holes constructed around three man made lakes.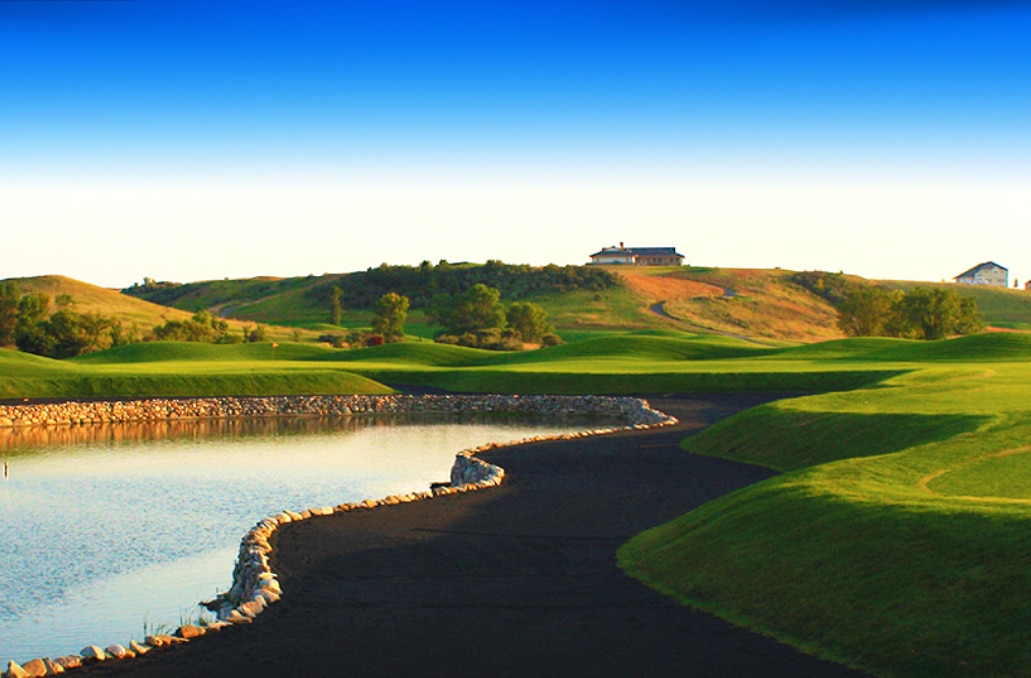 Elevation changes in the routing – such as at the par three 3rd and the par five 18th – offer some wonderful panoramic views of the local landscape but the abiding feature here is one rarely found on a golf course – black sand!
No club will go unused on this picture perfect course sculpted from land nearby the Missouri River. There's so much spectacular scenery, folks often don't even notice Burnt Creek as it meanders through the course. The most difficult and challenging hole, without a doubt, is #18, a long par 5 that finishes with a 150-yard uphill flourish. If the wind is against you that day, you will have your hands full!
An 80-foot elevation change from tee to green presents challenges on Hole #3. You can reach the green two ways – on the cart path or by skillful rope climbing. Most folks choose the cart path, and rightly so. Walking the course is permissible, however, due to the elevation changes most players choose to utilize a golf cart.
Practice Facilities
Driving range
Putting green
Golf tuition
Golf Club Amenities
Junior discount
Club accepts credit cards
Clubhouse
Bar & restaurant
Proshop
Rentals
Clubs for hire
Trolley for hire
Buggy for hire
Weather forecast