Nestled in the hilly region of Dolenjska, close to the flowing waters of the River Krka, the Golf Grad Otočec is the result of a collaboration between Howard Swan and local architect Peter Škofic, with fairways set out within a heavily forested 185-acre property. Otocec Castle is situated nearby, on an island within the river, and it offers visiting golfers the opportunity to "stay and play like a king".
The fairways toss and turn across a rolling landscape and the tight playing corridors afford golfers a feeling of almost total isolation as they work their way round the course. Highlight holes on the front nine include the 496-metre 3rd, a right doglegged par five that plays to a sunken, blind green and the 352-metre 6th, a par four which swoops down from the tee then swerves left to a sand-protected plateau green.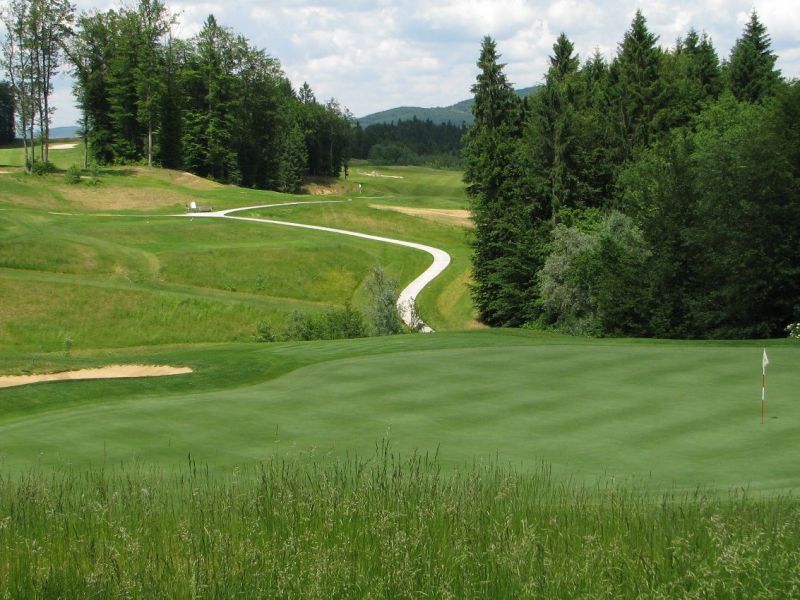 On the inward half, the 568-metre 12th is one of the longest holes in Slovenia, and it requires three long, straight blows to get close to the green here as a very tight, slightly kinked fairway allows little room for error. The course opens up over the last two holes, allowing a little more latitude off the tee. However, if you've been too wayward over the preceding holes, then you might not have enough ammunition left to finish your round!
The closing hole is par 5, 468 meters long. Teeing ground is slightly raised so we need be careful with out of bounds area on both sides of the clearing. On the right side are two sand hazards. From here for players with long shots  green is reachable with only two shots. The last green has the biggest surface (960 m2), so the final putt or shot on the green can be very long – up to 35 meters.
Golf Grad Otočec was designed by Howard Swan
The state-of-the-art golf course was designed to the highest industry standards by the renowned British architect Howard Swan and the Slovene architect Peter Škofic, who exhibited a keen sense of the game and the natural scenery. Swan Golf Designs has been seen within the golf industry for over 50 years. The company is committed to producing golf courses of the highest quality through innovative design and a creative appreciation of the natural landscape setting.
Practice Facilities
Driving range
Putting green
Golf lessons
Golf Club Amenities
Credit card accepted
Clubhouse
Restaurant
Proshop
Rentals
Trolley for hire
Buggy for hire
Weather forecast