Alboran Golf course was built and designed by Ramón Espinosa, one of the most prestigious spanish golf architects. It is now run by Almería City Hall. The Club has a 6,278-meter long, 18-hole par-72 Championship course, an extensive practice range, and different training areas. Alboran is a really good choice to golf in Andalucia
The designer successfully created an important balance between the holes, as regards the length, the orientation and location of the elements that make up the course (bunkers, streams, lakes, etc…), offering an enjoyable golf game on a challenging course where each and every one of the holes will put us to the test. The course has 66 bunkers strategically placed around each hole, meaning that the golfer will have to keep his wits about him at all times.
This course hosted in 2005 the Almeria Mediterranean Games in which the Spanish team won the day and collect all the medals.
Best holes :
Hole #6- Par 3
This par 3 is one of the most difficult holes on the course due to its length and the lake to the right. The large bunker on the left will collect the balls from those who miscalculate in their haste to avoid the water.
Hole #7 – Par 4
This is where the course really puts you to the test with an out-of-bounds area to the left and a natural water course to the right. It is necessary to hit the ball straight ahead and you will need two too long shots to reach the green which, that is well-defended by sand.
Hole #18 – Par 5
This hole, which brings us back to the club house, has a watercourse to the left and a bunker where the ball drops, apart from an out-of-bounds area to the right. Take care choosing the club you use for the second stroke, as you may end up in the sand. Also you shouldn't overshoot, as the green emerges majestically on the other side of the watercourse, which means a high approach shot is necessary. There are also sand traps to be avoided.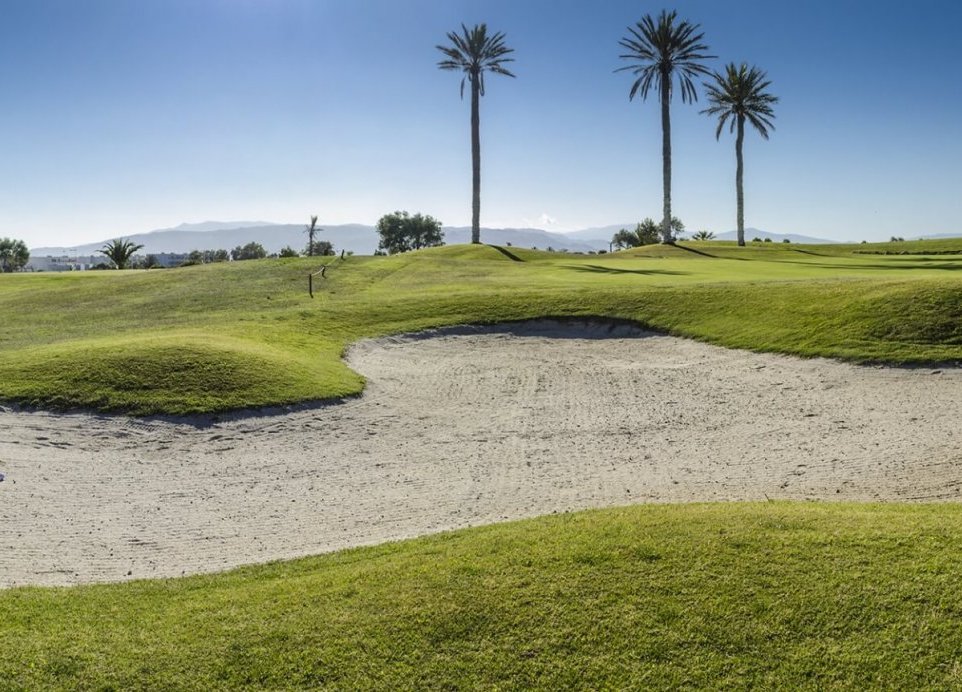 Due to the mild climate, the Alborán Golf is open year-round. The training area consists of a driving range and different practice greens (putting, pitching and chipping green). Those interested can improve their handicap or take intro classes at the golf school. Equipment can be rented on site. It only takes 15 minutes to reach Alméria by car. The nature park and beautiful beaches are also in close proximity so that golfing and other spare time activities can easily be combined. Guests are always very welcome, and a registered handicap is not required.
Practice Facilities
Driving range
Putting green
Short game area
Golf tuition
Golf Club Amenities
Junior discount
Credit cards accepted
Clubhouse
Restaurant
Proshop
Rentals
Full set of Clubs - 12€
Trolley for hire - 2€
Buggy for hire - 20€
Weather forecast