In the southwest of Mallorca, in the resort of Camp de Mar, Golf de Andratx is a beautiful 18-hole course, inaugurated in 2000 and designed by Gleneagles Golf Development. It's a popular venue for tournaments organised by some prestigious companies.
The course attracts a number of celebrity golfers, including the likes of Michael Douglas, Catherine Zeta-Jones, Claudia Schiffer and Boris Becker, who have played here regularly during their stays on the island. It's definitely a course for more experienced players, and considered one of the most challenging in the Mediterranean. The golfer is tested from the opening hole. Hole 6, at 609 metres from the championship tee, is one of the longest hole in Spain, and relished by keen golfers. On hole 6th, your drive has to be long and placed a little towards the left half of the fairway. The second shot has to avoid two large trees on the right and left. Even the approach shot to the green is steeply uphill and often still very long. Scoring par here feels like a birdie.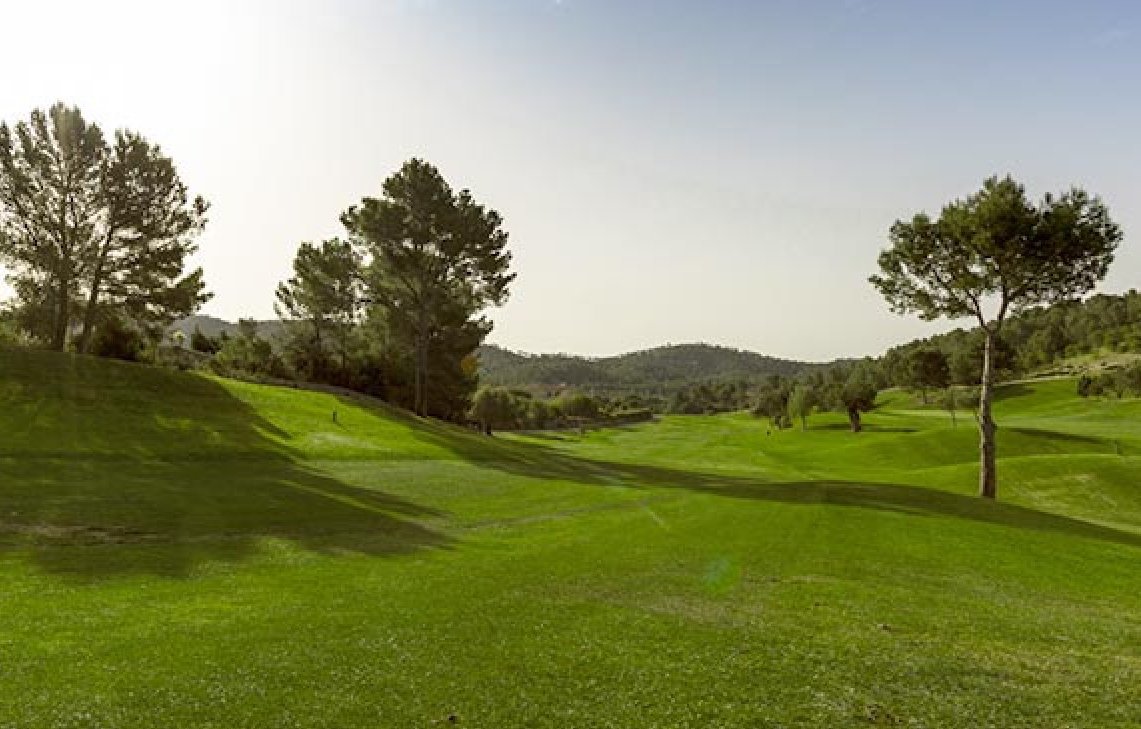 In particular, the back nine holes are deep in the countryside with typical Pine trees and inidigenous flora especially noteworthy. Moreover, a grand total of seven ponds/lakes and sixty sand traps provide the abundant obstacles
Golf de Andratx is spectacular, challenging and a complete golfing one-off with blind shots galore, unfeasibly elevated teeing positions, dramatically doglegged fairways, ponds, bunkers and stone walls that regularly come into play. Little wonder the name of the first hole as you set out on the round is called "Heaven Help Me"!
Aesthetic features of the course include old olive groves, almond trees and traditional Mallorcan stone walls, as well as seven ponds and lakes. Several extremely raised tees offer magnificent views of the coastline. There are some 60 bunkers, and some very narrow fairways.
There's an excellent Pro Shop, stocking the latest golf fashions and equipment, and 300-metre driving range along with pitching, chipping and putting greens, and three practice bunkers.
Note that, the use of buggies here is only compulsory until mid afternoon – thereafter, the really adventurous golfer can walk the course!
In common with many courses in Mallorca, which attempt to be as eco-friendly as possible, Andratx is irrigated with recycled water that collects from rainwater gathered in tanks. Finally, the course even has its own desalination plant to help protect the surrounding environment.
Practice Facilities
Driving range
Putting green
Practice bunkers
Golf tuition
Golf Club Amenities
Junior discount
Credit cards accepted
Clubhouse
Bar & restaurant
Proshop
Rentals
Clubs to Hire - 40€
Buggy rental - 40€
Weather forecast