Golf Son Gual Mallorca is the realisation of Adam Pamer's dream ( a german businessman). After purchasing a holiday home on Majorca, Pamer, a golf mad double-glazing magnate, grew frustrated by the poor condition of the island's courses and decided he'd remedy the problem by building his own. The earth definitely moved for Pamer – 1.4 million cubic metres to be precise – and soon afterwards a bland 175-acre slice of former agricultural land was transformed into an imaginative, sweeping golf course. Throw in a few acres of vibrant wild flowers, 800 mature olive trees, expansive bunkering.
Two loops of nine fit easily into the 175 acres of land and an extensive earthmoving process has shaped a natural-looking, spectacular course. To add to the visual aspect a collection of large lakes, primarily constructed as irrigation reservoirs, 66 bunkers, 800 newly planted olive trees (some over a thousand years old) and a special mix of wild flowers in the rough areas have been put into place. Another special feature, and one that will bear fruit – quite literally – in a couple of years, is the incorporation of vineyards around the course. Visually it looked impressive – though slightly daunting. On an initial tour of the course the sand and water catch the eye a bit too readily but once you get round to playing the holes for real, it is remarkably fair and nowhere near as terrifying as it first appeared.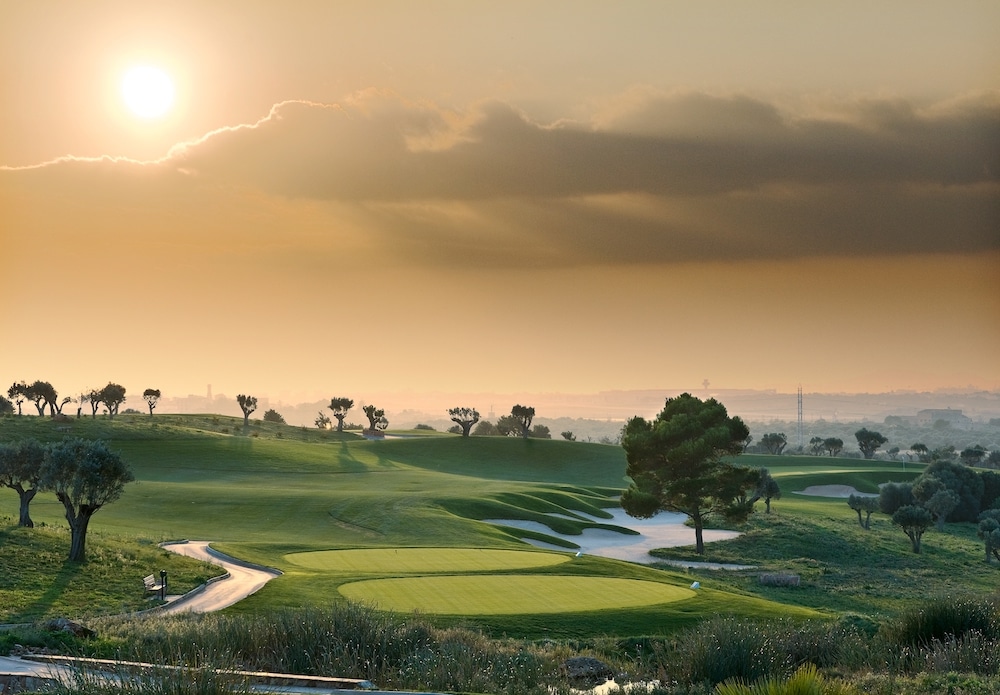 Son Gual's 1st tee, perched at the highest point of the course, offers spectacular views to make up for any missed fairways and you are quickly into the leisurely pace of things. Fifteen-minute starting intervals are set out to ensure there won't be any waiting around on the tee, and this is just as well as there might be the occasional reload, with water playing a leading role on four of the first nine.
The two par-5's are both just about reachable, but the 4th will require a very precise fairway-wood approach, while at the 6th it is far too easy to get carried away and try to cut off too much from the tee. Nevertheless, it is good fun attempting it. As is the case from start to finish, most of the greens are cleverly angled to encourage good shot-making and there are generous, and beautifully manicured aprons, to allow the choice of a putt, rather than a forced one-dimensional succession of testing chips. With the 9th, a superb long par-3 over more water dealt with, half an hour is set aside for relaxing and a generous tapas, and maybe even a beer. As halfway huts go, the clubhouse terrace is up there with the very best.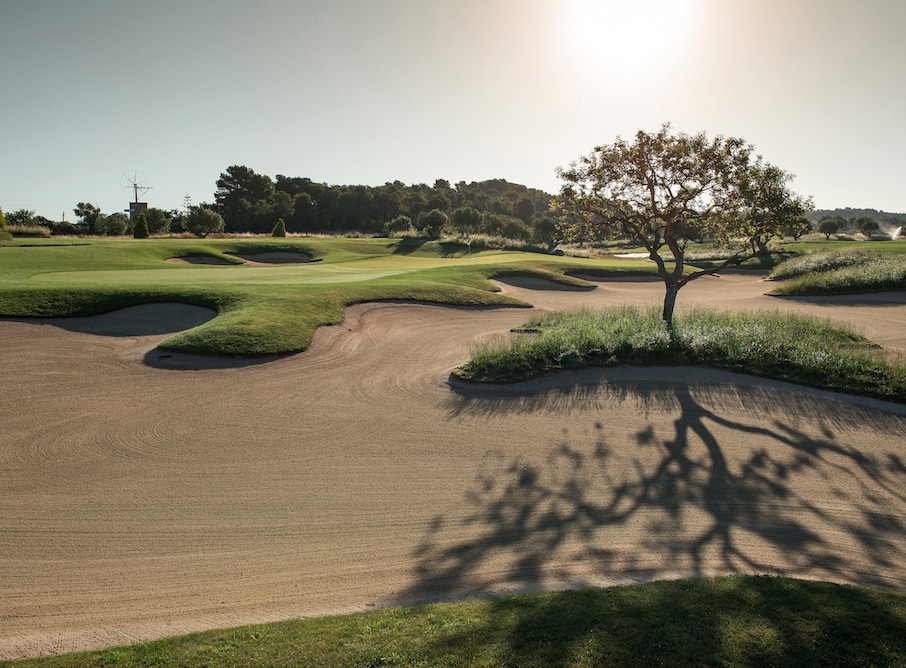 The back nine follows a similarly impressive theme, with intelligent routing offering a variety of choices for both tee shots and approaches. Par-5's and shortish par-4's tease and tempt, and the round gently builds up into a simmering crescendo. The 15th – take a note here of the size of the tee – is played out in front of a 'palacio', which dates back to World War One, and is now possibly the grandest building to house manure in the world. More water could easily be the undoing of plenty of medal and strokeplay rounds at 16 and 17 and the last, a par-5 that will only tempt the monsters and the clinically insane, is a fitting finish. A stream will catch anything hooked off the tee, and the same stretch of water will do likewise with anything pushed with the second or third (or even fourth!) shots. And if you think your problems are over once you have reached the green, then think again, as there is a real likelihood that your round will end up with three jabs. From one end to the other, this is a demanding closing hole.
A round at Golf Son Gual Mallorca will challenge anyone and satisfy everyone. It is easy enough to walk, with the next tee never too far away. And as befits most memorable rounds the clubhouse offers the perfect place to unwind and reminisce about the last few hours.'
Golf Son Gual Mallorca is in the top 10 golf courses in Spain.
Practice Facilities
Driving range
Putting green
Short game area
Golf tuition
Golf Club Amenities
Twilight discount
Credit cards accepted
Clubhouse
Bar & restaurant
Proshop
Swimming pool
Rentals
Clubs for hire
Trolley for hire - 8€
Buggy for hire
Weather forecast