Formby Golf Club was founded in 1884 as a nine-hole course open for just the winter months. Willie Park extended it to 18 holes around the turn of the century. The closing four holes were lengthened in the 1920s under the supervision of James Braid.
More recently, Formby has not been immune to the impact of modern technology. In addition, the club also has had to cope with coastal erosion. The sea is encroaching at a rate of two meters a year—a miserable fact of life for Burgess and his predecessors, who have been forced into some radical surgery.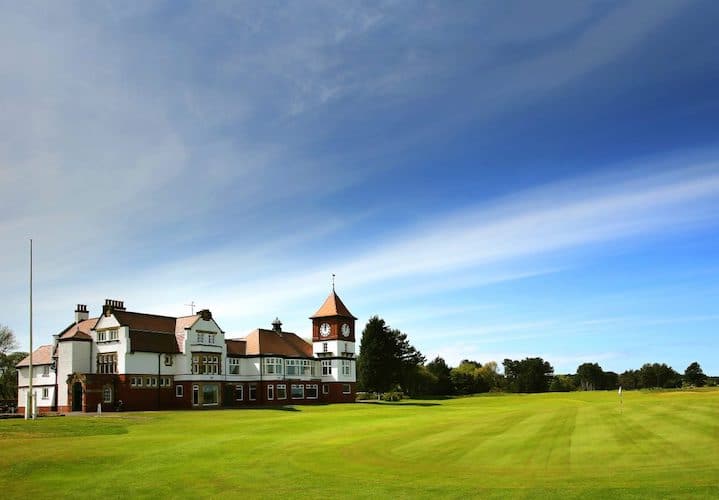 New holes at 7, 8 & 9 were designed by Donald Steel of Frank Pennick & Partners, and a new 10th Tee playing to the existing 10th Green turned this into a short hole. These holes came into play in the early 80's and were used for the 1984 Amateur Championship.
Geography dictates that Formby be called a links. It's close to the sea. It has dunes and beautiful, sandy turf. Yet stand on the 1st tee and you could be fooled into thinking you are looking out on one of England's great heathland courses, with tree-lined fairways and gnarly heather just off the fairways.
Like most great courses, the opening hole at Formby Golf Club offers a gentle introduction. The real business of the day begins on the 538-yard 3rd, a gentle dogleg; a definite birdie chance, this hole, provided you can hang on to the rock-hard fairway, avoid the trees, rough and steep-faced bunkers, then hole a snaking 60-footer across a green that holds more secrets than a CIA operative.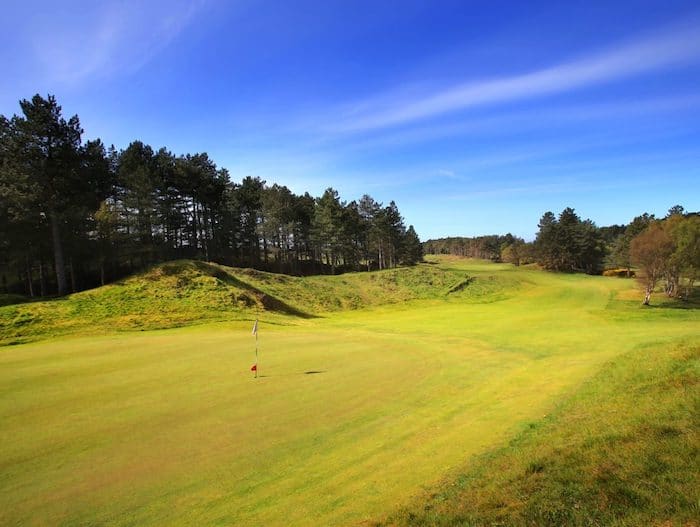 The back nine is almost a different course, as the pines give way to a more open, traditional linksland. But it isn't any easier than what has gone before. The wind comes into play; so does the bunkering. Take the 12th hole, 421 fearsome yards into the breeze. The green is guarded by a solitary bunker that, although relatively modest in size, seems to have a catchment area roughly the size of Greater Merseyside. It is a place where hopes of reviving the round go to rest in peace.
Unlike Royal Liverpool, which has some great holes but also a few bad ones, Formby Golf Club is without a weakness.This is a relatively unknown course, primarily because many golfers head in droves towards the three big Royals in this area (Liverpool, Birkdale and Lytham St Annes). If you are planning a trip to the northwest and haven't already played Formby, we thoroughly recommend that you do. You will get a warm welcome and a unique and exciting experience.
Formby Golf Club has hosted the Palmer Cup in 2016. In 2018 the Palmer cup will be at Evian Resort Golf Club in France.
Note that visitors are requested to produce a current recognised handicap certificate when registering to play at Formby Golf Club. Maximum handicaps: Gentlemen 28 and Ladies 36.
Practice Facilities
Driving range
Putting green
Chipping area
Golf tuition
Golf Club Amenities
Credit cards accepted
Clubhouse
Bar & restaurant
Proshop
Rentals
Clubs for hire
Trolley for hire
Weather forecast