The brief from the Russian client when European Golf Design worked on the Zavidovo PGA National course was to produce an 18-hole layout capable of hosting professional events so this track offers golf on a big scale.
Developed by the giant AGRANTA conglomerate and managed by industry specialists, Braemar Golf, the Zavidovo PGA National Russia course was constructed by local contractors GeoKam, working to the plans of architect David Sampson.
Situated just over an hour's drive from Moscow, beside a tributary of the River Volga and enclosed within a forest of pine and birch trees, the course was designed with wide, mainly doglegged fairways, reasonably contoured greens and extraordinary heather-fringed bunkers. </p><p>Opened in late 2012, Zavidovo has been described as having the look and the feel of a traditional Scottish layout, with a blend of heathland and links features and a few water hazards thrown in to add to the challenge.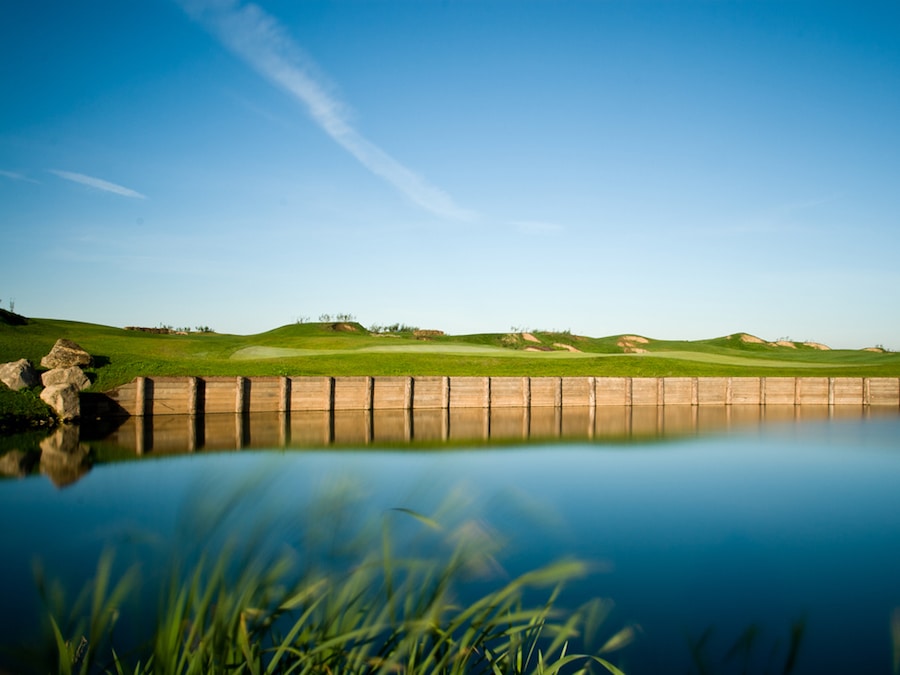 Notable holes include the right doglegged short par four 6th and the 142-metre 7th, labelled in the course guide as "petite but perplexing". On the back nine, the heavily contoured green on the par three 12th demands respect, as does the pair of strong par fours at holes 15 and 16, which are more than capable of derailing a good score.
The most enthralling hole on the card arrives late in the round at the par three 17th, where a nerve jangling tee shot must carry a sizeable body of water to reach the safety of the green. Designer David Sampson described the hole to us as follows:
"The final short hole and probably the most 'picture postcard' hole on the course. A tee shot, which suits a left-to-right shot, will require some form of carry over the large water hazard; the amount of carry lessening the further forward the markers are located. The short approach fairway is set on a diagonal, affording golfers the option of playing away from the lake, but the largest bunker on the course set right and back-right will likely ensnare the overly cautious. Each and every time, it's wise to aim for the plateau ridge which dominates in the higher middle portion of the green. Avoid taking the direct route to the small back left pin and rather choose to use the contours to coax it close. The hole really is a truly beautiful and dramatic one-shotter, coming late on in the round, to test those nerves."
Practice Facilities
Driving range
Putting green
Golf pro
Golf Club Amenities
Credit card accepted
Clubhouse
Restaurant
Proshop
Rentals
Buggy for hire
Weather forecast