Rated #1 in Texas by The Dallas Morning News, you will quickly see how Whispering Pines Golf Club ® will provide you with an unforgettable golf experience. The 7,480 yard Nicklaus Group designed Championship Course is located on a spectacular 400-acre property bounded by creeks and lakes that offers beautiful shoreline vistas, abundant wildlife, and a risk reward golf challenge that is hard to match. Whispering Pines also boasts a beautiful driving range, short game practice facilities, and a three-hole par three course.
With a mere 160 members playing Whispering Pines in spring, early summer and autumn, the course hardly gets overplayed. The 7,480-yard Whispering Pines course is set within a 400-acre property bordered by lakes and meandering creeks. It was a Nicklaus design project led by Chet Williams and he used the natural lie of the land to great effect, especially the last six holes which play alongside Caney Creek and Lake Livingston.
Our favorite hole, The 7th.
This hole was one of my favorites at Whispering Pines . . . it also happens to be the toughest hole on the course according to the handicap ratings. A long drive down the middle will give the best chance at making par. The second shot is not for the faint of heart. Any shot that is struck even a little fat has a very good chance of getting rinsed in the lake. This shot is going to be long for most players so it is intimidating to have to carry water on the second half of the shot.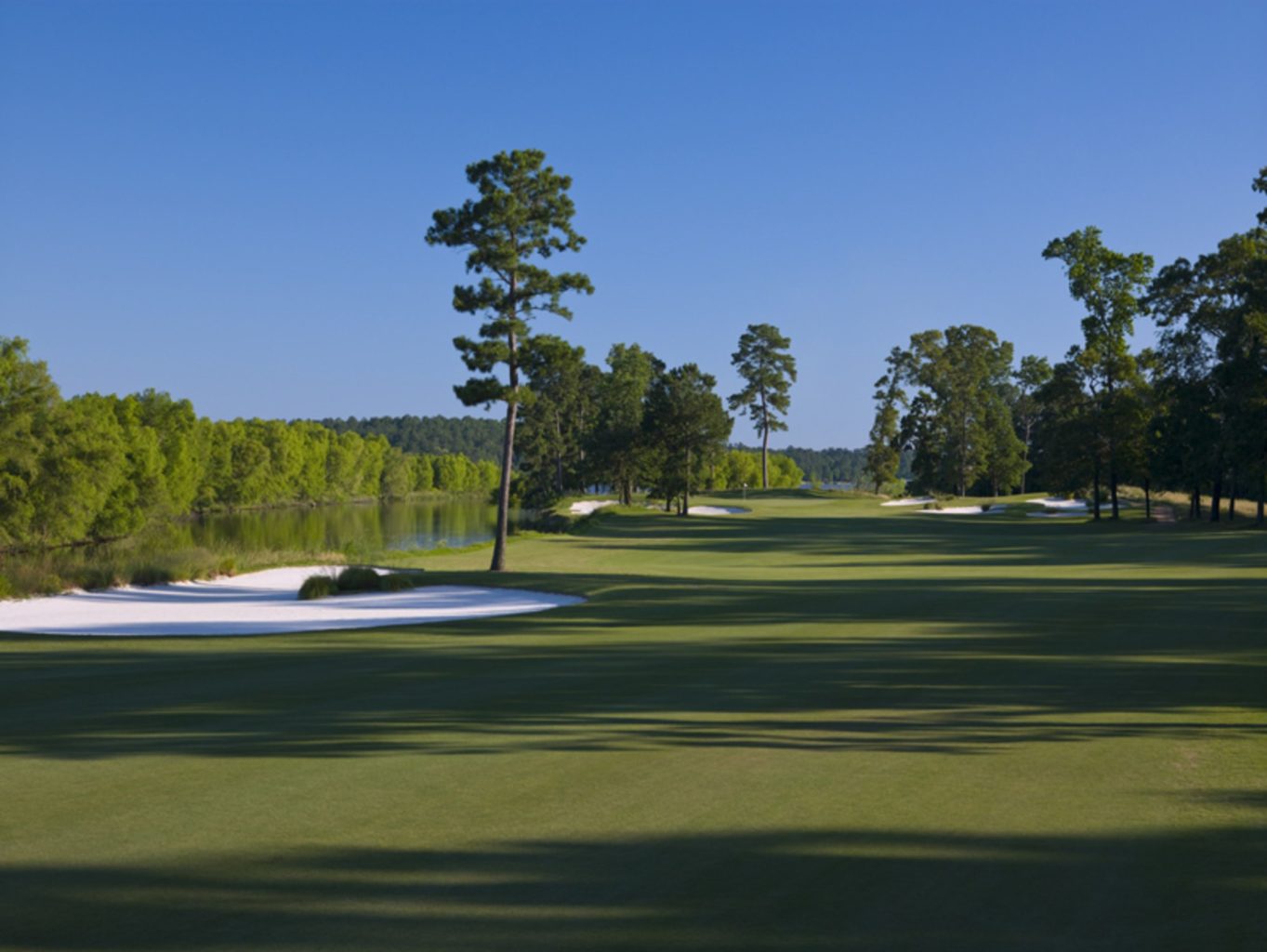 Home to the Spirit International Amateur Golf Championship, Whispering Pines is rapidly gaining a reputation for turning amateur golfers into professionals. In its short history, the championship has hosted more than 300 amateur golfers, of which 54 went on to play professionally for the PGA, LPGA and Men's and Ladies European Tour.
It's hard to understand how the club make ends meet as half the membership fees are benevolently donated to charity.
The Club is open on a seasonal basis for 15 weeks each in the Spring and Fall seasons. In season the club operations are Tuesday thru Sunday, which provides every member and their guest the best possible guest service and course conditions.
Practice Facilities
Driving range
Putting green
Pitching green
Bunker training
Golf lessons
Golf Club Amenities
Credit card accepted
Clubhouse
Restaurant
Rentals
Weather forecast