Olivas Links is a 18-hole championship golf facility owned by the City of Ventura in California and designed by Forrest Richardson. The 6,818-yard Olivas Links features a rolling links-style layout defined by seaside grasses and natural habitat and is one of Southland's most unique and challenging golf courses. Olivas Links also features a large practice facility. The course couldn't be more than half a mile from the Pacific Ocean and is bordered by farmland and the Santa Clara River.
As the name indicates, Olivas Links is links style with very few trees coming into play. The course has an open feel to it with very wide fairways. There are some monster fairways here, a handful of which are probably 40+ yards wide. Some could say that a good drive isn't needed to score, and I wouldn't argue.  There aren't a bunch of hazards and just some minor undulation in the fairways There is a chance to play well and recover.
The biggest challenge is going to be trying to get a handle on the severely sloping greens, both from the fairways and around the green complexes. Because the course is so flat the smallest rise in a fairway, a bunker, or a slightly elevated green can block the view of a green.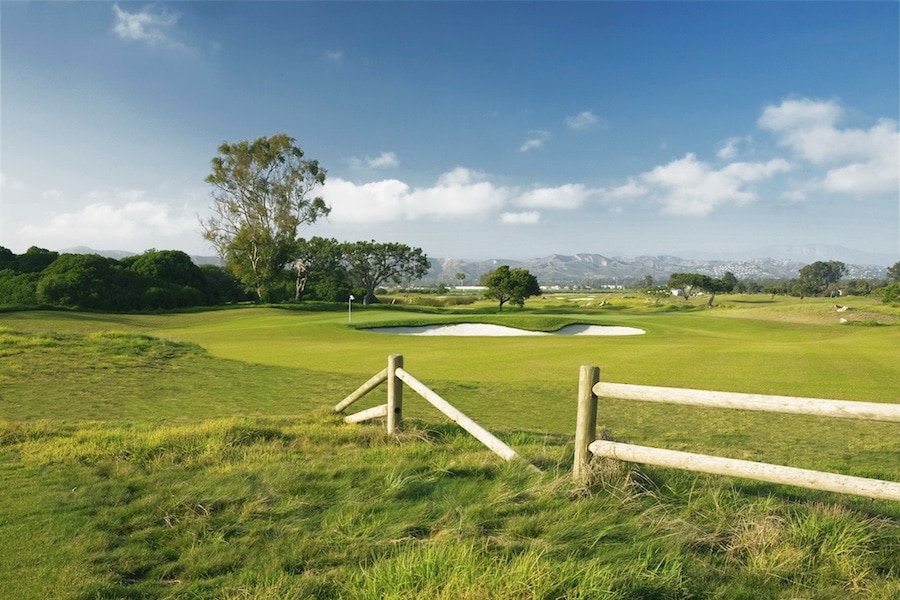 There are any crazy memorable holes at Olivas Links, but there are a couple holes on the back nine that will require some strategy. The 15th is a short par 4 with a green that is almost at the golfer's 12 o'clock. But, an out of bounds fence pinches and pushes the fairway to the left. The left side of the fairway is best for a clearer view, but it narrows the farther you hit it so driver might not be the play. There is more rough short of the green than you'd expect while in the fairway. The next hole, the 16th, is the longest par 4 on the course with another green that is straight ahead. There are some trees that encroach the fairway after the drive and before you get to the green. Because of those trees, you will want to challenge the left fairway bunkers on the drive. If you are hitting the second shot from the center or right side of the fairway then you could have to carve a shot around the trees or try to carry them. There is a hazard to the left ~250 yards off the tee which needs to be avoided too. It is a demanding hole!
Practice Facilities
Driving range
Putting green
Golf tuition
Golf Club Amenities
Junior discount
Clubhouse
Bar & restaurant
Proshop
Rentals
Rental clubs - $49
Weather forecast