Since its opening in 2002, DarkHorse Golf Club in Auburn, has raced to the top of the golf world with surprising speed. Award after award has been showered on this course, designed by Keith Foster, on a site that lies in the gorgeous Sierra Nevada foothills in California.
From the first tee shot, DarkHorse Golf Club requires attention. This is not a course suited for casual approach while you wake-up on the opening holes. No, this course starts with challenges and continues throughout, some varying in degrees of difficulty but all resplendent in natural beauty.
This Keith Foster-designed course, located ostensibly within the city limits of Auburn, sits amidst oak- and fir-laden hillsides about 40 miles northeast of Sacramento. It is a golf course where a cart is mandatory to traverse some large transitions from hole to hole as well as the dramatic forced carries on holes such as the par-4 10th.
The 319-yard, par-4 second climbs like an elevator shaft (add two clubs on the approach), and the 220-yard (or so) downhill par 3 must avoid a gaping maw of a bunker that sits well short of the green. And in that example, Foster's design can be extra punitive for the lesser-skilled golfer. A poor tee shot here leaves a 30-yard shot over a flared bunker wall to a green rippled with subtle ridges. It's an easy double-bogey or worse.
Then, the tee shot on the par-5 fourth must avoid the wetlands on the right side. The eye ventures left where another large bunker stands. In fact, there is more room for a straight tee shot, but that's seems to be Foster's intent: Make you overcome your fears. Early in the round, it can drain confidence before you hit.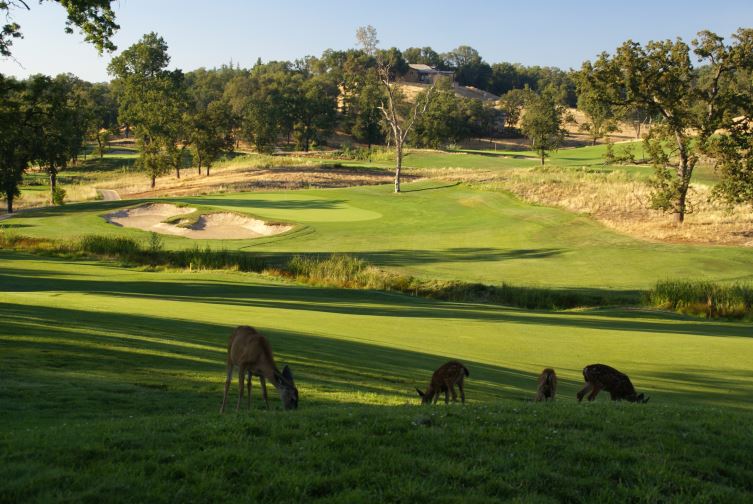 DarkHorse Golf Club's seventh, 517 yards from the blues, stands as a classic woodlands par 5 that brings great risk-reward benefits. The dogleg left offers a wide landing area, but the aggressive second shot to green must avoid water on the left. Foster, as devilish as ever, puts an angled bunker in the perfect layup area about 100 yards short of the green.
The front nine closes with two uphill par 4s, and the cart then climbs up to the 10th tee, which sits about 100 feet or more above the fairway. The forced carry isn't long, but it is scary.
The 11th rises 559 yards in a double-dogleg (first left, then right) whose perched green is guarded by a deep front-left bunker. A killer drive followed by a killer 3-wood might, just might, leave you with a short iron into the green.
From there, the course calms down some, with the 287-yard 14th enticing long hitters to get some revenge by going for the green. The par-4 17th also offers more physical beauty as the large oaks and deep bunkers mesmerize golfers with its beauty.
Practice Facilities
Driving range (closed monday afternoon)
Putting green
Golf tuition
Golf Club Amenities
Credit cards accepted
Clubhouse
Bar & restaurant
Proshop
Rentals
Buggy for hire
Weather forecast