The Alotian Club Overlooks Lake Maumelle near Little Rock, Arkansas, a golf enthusiast's private course and club lies nestled in the Quachita Hills. This highly exclusive course, which is owned by the billionaire Warren Stephens who is the son of a onetime Chairman of the Augusta National, offers the finest amenities and is of course immaculately maintained. It is said that the club takes its name from a band of players, among them the billionaire owner, who embarked on a pilgrimage to play the top courses in the US, which they dubbed "America's Lights Out Tour."
Designed by Tom Fazio and measuring a hefty 7,405 yards from the back tees (there five separate teeing areas on some tees) and featuring 100-foot elevation changes, this is a course and property to rival Augusta. Ironically Stephens is a member at the famous Augusta National and we suspect Alotian is his Arkansan nod to the most famous course in America. The course rewards repeated visits, and can be extremely hard on first-timers.
The Alotian Club gives us a hint of what Augusta National would have looked like had Bobby Jones established his dream course on even hillier terrain than Augusta. The first tee shot drops 70 feet to a fairway below, with the approach playing back uphill. The tee on the 205-yard par-3 sixth sits 85 feet above the green.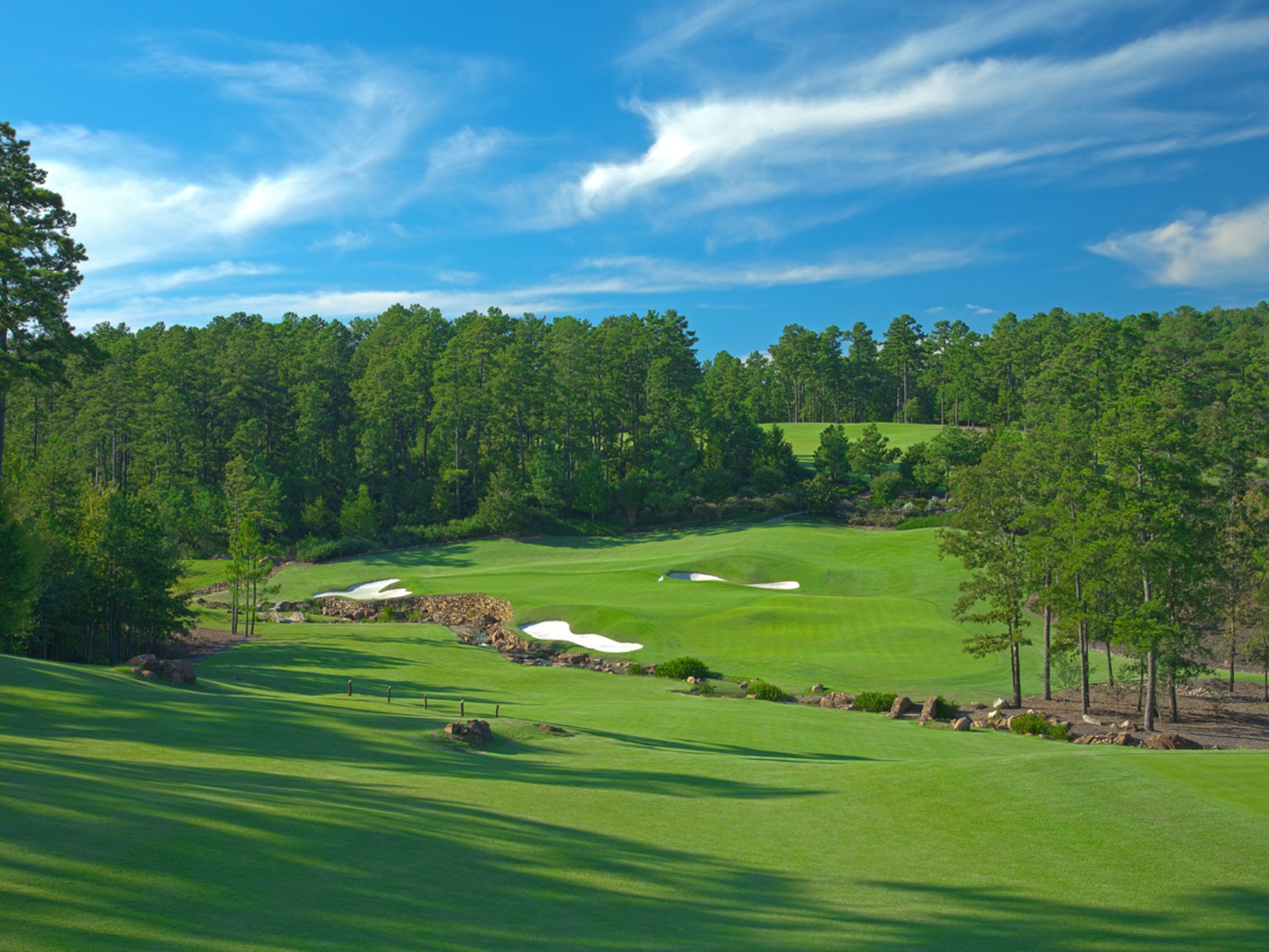 Little Rock is the name of the signature hole at Alotian Club. The 6th is distinctly reminiscent of Juniper (Augusta's par three 6th). Little Rock measures 210 yards from the back plate and the tee shot must carry across a rock-strewn valley to an offset green that is cut into the hillside some 60 feet below the tee box. It's a cracker.
Some comments we found about The Alotian Club golf course :
"It is an absolutely eye popping collection of holes. Every hole seems like a picture from a golf course calendar."
"Just an incredible club and course. Visually, absolutely stunning. Huge elevation changes both up and down, sometimes both ways on one hole. Running fast and firm, and in great shape. Greens are also mystifying."
If you want to play Alotian golf course, don't think you just have to call… the Alotian Club is VERY private.
Practice Facilities
Driving range
Putting green
Golf tuition
Golf Club Amenities
Credit card accepted
Clubhouse
Restaurant
Proshop
Rentals
Golf cart
Weather forecast