Shadow Creek is an 18-hole golf course in North Las Vegas, Nevada, designed by Tom Fazio and built by Las Vegas casino magnate Steve Wynn in 1989.
Shadow Creek is unlike any course in Las Vegas, or the entire state of Nevada for that matter. Huge pine trees line the fairways, crystal clear lakes and streams dot the fairways, and on a busy day, you might see 30 other golfers.
Shadow Creek was once only accessible by a privileged few, but is now open to guests in one of many MGM Resort hotels in Las Vegas. The fee to play Shadow Creek is $500 per golfer Monday through Thursday and only open to invited guests Friday through Sunday.
Green Fees include, caddie and round trip limo transportation from MGM Resort hotel. Caddie and Drivers tip are not included.
Your entry to Shadow Creek begins when you register as a guest of an MGM Resorts International™ destination – the finest resorts Las Vegas has to offer. A private limousine will transport you to and from your appointment and upon arrival, your personal caddie will greet and guide you through a golfing experience you will never forget.
Every hole at Shadow Creek could make a signature statement at most golf courses throughout the world. Sparkling creeks, towering waterfalls and lush gardens are framed by commanding mountains. Shadows slide across dramatic landscapes, changing shape and contour from dawn to dusk.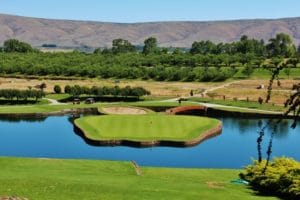 But for us the best one is the  17th – 154 Yard Par 3 . The most attractive hole in the Vegas desert bar none! When you are the signature hole at a course full of signature holes, you know how special this one-shotter must be. A virtual island green, the backdrop is an impressive waterfall that tumbles down the rocks and into a pond that front the putting surface. A variety of trees and vegetation help create this oasis environment in the middle of the desert, a sight to behold for sure.
Finishing hole at Shadow Creek
In a way, the 18th hole is a combination of every golf shot, every design treatment and every setting created on the rest of the holes at Shadow Creek. Alternate tee positions are set into a high ridge to offer various angles on the tee shot. Water on the right flows from the green toward the tee into three lakes which are broken by three waterfalls.
A long, high-ridge line travels from the tee up the left side and then the hole doglegs at the landing area, which is about 25 feet above the water. Playing safely to the left will bring golfers to a second dogleg, just short of a bend in the lake. Then it's an approach across water and bunkers to the long narrow green that's framed by steep hills, dense trees and flowers.
The finishing hole was purposely planned as a par five so that we would have room to reprise as many design elements as possible. This hole calls to mind the environment surrounding the entire property and, we hope, the exhilaration of playing golf at a place as special as Shadow Creek.
Practice Facilities
Practice
Putting Green
Pitching Green
Golf Club Amenities
Credit card accepted
Clubhouse
Rentals
Weather forecast