Royal Zoute Golf Club, located in Knokke-Heist on the coast, is one of the oldest golf clubs in Belgium, and has two splendid 18-hole courses.
Belgium's Royal Zoute Golf Club is situated on the North Sea coast close to the Dutch border. It lies at the heart of an upmarket seaside resort called Knokke le Zoute (in French) or Knokke-Heist (in Dutch). Golf was first played here in 1899 as an offshoot of the Bruges Golf and Sports Club. Harry Colt redesigned the course in 1907 and the club then became known as the Knokke Golf Club in 1909. Royal title was granted in 1925 and, in the process, the club became known simply as Royal Zoute.
No trip to Belgium would be complete without playing the country's premier golf course. Fortunately, visitors are warmly welcomed and the Club President, also the mayor of the town, is renowned for his cordiality. In addition to the main Championship course, there is also an 18-hole par 64 called the Executive course with small and tricky greens which simply adds to the enjoyment of Royal Zoute.
Nested in a slightly wild landscape, the Royal Zoute Golf club offers two courses :
Championship Course Par 72, with its reputation for being selective, particularly in high winds. The minimum to play is Hcp 24
Executive Course Par 64. The course is challenging and offers plenty of variety with some surprising par 3s, such as hole 8, where you have to hit over the trees.
Greens noted for their quality and a comfortable clubhouse are just two of the attractive features of this golf club.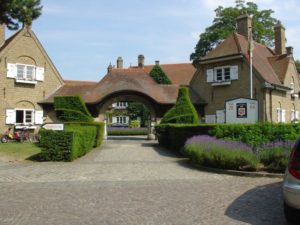 The beautiful, traditional clubhouse of the Royal Zoute Golf Club radiates class and distinction, and hosts a bar, a restaurant and a magnificent terrace. In the guest department, you can stay in one of the 7 deluxe rooms with a unique view over the fairway. Enjoy this top course, which always dominates lists of the best courses in continental Europe!
Practice Facilities
Driving range (Partially covered)
Putting Green
Pitching Green
Golf academy
Golf Club Amenities
Credit card accepted
Clubhouse
Restaurant
Proshop
Tennis
Rentals
Trolley for hire
Electro-cart for hire - 40€
Weather forecast