PRESTWICK GOLF CLUB,
is located in the town of Prestwick, South Ayrshire, Scotland. It is approximately 30 miles (50 km) southwest of Scotland's largest city, Glasgow. Prestwick is a classic links golf course, being built on the rolling sandy land lying between the beach and the land further inland. The course is located near the Prestwick airport, and some holes run along railway tracks on the eastern side of the course
Prestwick Golf Club has always had fierce critics, but atmosphere, ambience and renewed appreciation of its historical features have finally nudged Prestwick into the ranks of the elite. Its opener is one of the strangest in golf, with a stone wall and railway flush along the right side.
Unlike so many golf courses in the USA which are built in the countryside, Prestwick Golf Club, like so many other famous golf courses in Scotland, is situated in the city. You will be reminded of this on the first hole (a 346 yard par 4 named RAILROAD) when you see the entire right out-of-bounds is a railroad line with trains rattling by on a regular schedule. (In fact the story goes that once a year or so a golfer hits a ball that lands on a passing frieght train and carries 100 miles or so.) If you can manage to keep your drive straight you are in for a relatively easy par and a three to four hour treat because Prestwick is so challenging and so much fun to play.
Number 2, a short par 3 will further ease you into the day's play. All you have to do is hit the ball 167 over a deep bunker and two putt. What's so hard about that? Now that you're feeling so good about yourself–having parred the first two holes–have a go at THE CARDINAL, a 482 yard, dogleg right, par five. You have to see this monster to believe it. It's rated the number one handicap because of the strategic placement of gigantic sand areas and a creek running down the entire right side from tee to green. Plus, the second shot is filled with danger. Oh, you can go for the green in two but you'd better be long and accurate because the rough and the sand will cost you dearly if the creek doesn't gobble you up.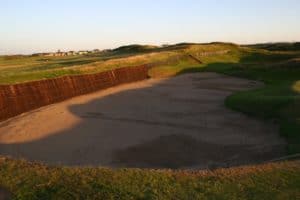 Slicing today? Then you'll hate number 4 because it's another dogleg right with the same creek on your right all the way from tee to green again. Then it's on to holes with names like HIMALAYAS and ALPS. (Guess why?) Or how about a hole called NARROWS that has two humongous greenside bunkers and a fairway so narrow you feel you'r foresome has to walk through single file! Then there's the number 2 handicap hole, ARRAN. At 454 yards it is filled with bunkers and rough.
Prestwick Golf Club is open for play to everyone but the minimum handicap is 24 for men and 28 for ladies.
The club house at Prestwick Golf Club
Rich in character, the famous clubhouse is as much part of the Prestwick experience as the celebrated course over which the Open Championship was first played. Here prized golfing memorabilia adorn aged wood-panelled walls with infectious laughter wafting through the corridors. This is a place where history brushes shoulders with unreserved fun.
Practice Facilities
Driving range
Putting Green
Golf academy
Golf Club Amenities
Credit card accepted
Clubhouse
Restaurant
Proshop
Rentals
Trolley for hire £6
Weather forecast