In the tranquil Kingdom of Fife ( Scotland) lies an enchanting, sandy tract of land where the whin, heather and pine smells divine. The Howe of Fife provides Ladybank Golf Club with a natural shelter in the valley of the River Eden between Strathmiglo in the west and Cupar to the east. Ladybank is one of those courses that really should be a Top 100 regular, because it is one of Scotland's very best inland courses. Clearly it's up against some serious competition in Fife, but mix in this peaceful heathland surprise, alongside the more famous links courses in and around the Home of Golf, and we guarantee you will not be disappointed. You'll certainly be less windswept!
In 1879, Old Tom Morris was charged with laying out a six-hole course. The layout was extended to nine holes in 1910, and in 1962, to 18 holes.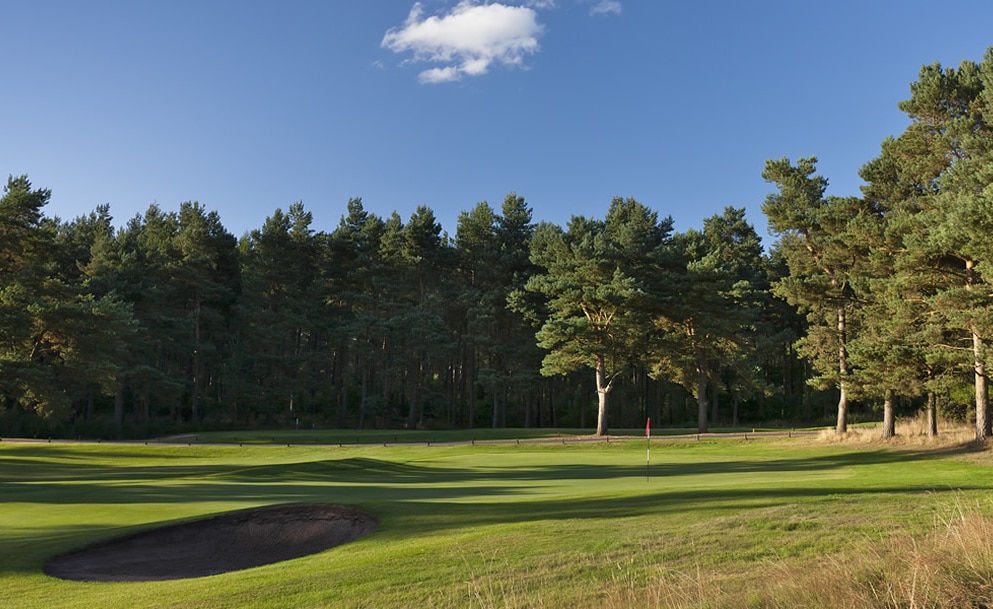 The smallish greens are always in outstanding condition but your iron play will need to be on song to find the firm and fast putting surfaces. The crisp fairways are relatively flat and even – it is very rare to get an uneven stance. Measuring over 6,800 yards, it's a seriously challenging course – keeping the ball in play will pay dividends and save you from losing loads of shots and balls. The problem is that Ladybank teases and cajoles you into hitting a long ball – if you're accurate, you'll be rewarded handsomely. It's a tricky call.
The drive at the dogleg 3rd and 9th holes requires extreme care, as do the 15th and 16th on the back nine. The greens are compact and your approach shot requires precision to find the putting surface. The fairways are predominantly flat leaving you invigorated from the exercise with a surfeit of energy to meet the excesses of the 19th hole.
Most difficult hole Ladybank Golf Club
Note that the hole 9th is also the most difficult. A great dog-leg from right-to-left with magnificent old trees all the way down the fairway. A big hitter needs to pick a line off the tee carefully – you can run out of fairway on the right-hand side. A tee shot beyond the last tree on the left gives a clear view to the green. Two natural hazards sit between you and the pin. A low ridge runs across the fairway from left-to-right at 73 yards from the green. Just short of the green there is a pronounced grassy hollow and anything short will roll into it. This is a large green with two levels from front to back and has wonderful contours.
Practice Facilities
Driving range
Putting green
Golf tuition
Golf Club Amenities
Club accepts credit cards
Clubhouse
Bar & restaurant
Proshop
Rentals
Clubs for hire
Trolley for hire
Buggy for hire
Weather forecast