Peachtree Golf Club is a very exclusive classic Robert Trent Jones and Bobby Jones design in northeast Atlanta that enjoys large pine and dogwood trees, Augusta-like bunkers, and rolling terrain with azalea flowers. When Bobby Jones was involved in creating Peachtree Golf Club he stated that he wanted to build a course as near like Augusta National as possible, if not better. A visit to Peachtree will quickly unveil the parallels to Augusta with the same bunkering style, immaculate conditioning, rolling undulations, and tree species (magnolias, pines, oaks, azaleas, and dogwoods) that have become so well known over the years while watching the Masters. The original 9-hole course was completed in October 1947 but the following year, Bobby Jones was diagnosed with syringomyelia, a spinal condition that first caused him pain, then paralysis. Sadly, he would never play the completed course at Peachtree Golf Club.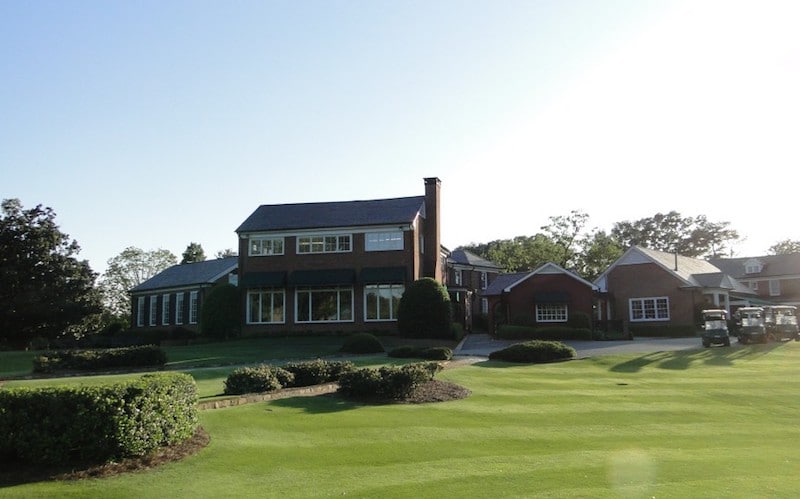 Beyond the similarities to Augusta, Peachtree stands on its own as one of the best clubs in America. While some courses are fun to play once or twice, Peachtree is an understated layout you can enjoy over and over again and never tire of its greatness nor get frustrated with its design. As a pure golf club it has few rivals, and despite its prestigious status, its greatness may be underrated due to the similarities shared with the famed Augusta track. Bottom line, Peachtree is an absolute must-play for anyone fortunate enough to get an invite.
There are only five fairway bunkers found on the course paired with the comfortable driving corridors combine to create Peachtree's reputation as a very playable course. Hundreds of trees have been removed from property which has opened up the feel of the interior holes and delivered some welcome vistas across the course. The tips play more than ten strokes stiffer than the forward tees and delivers a stout, but fair, test to any golfer.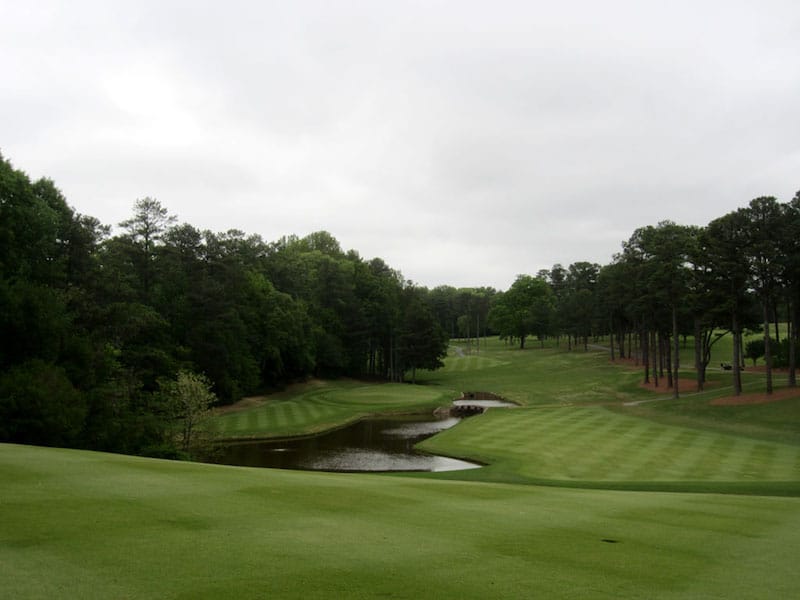 Our team really likes the par five 2nd hole. It gives an early indication of what lies ahead during the round, setting out along a ridge before it falls over a creek to a split fairway that leads to a pond-protected green. On the back nine, the par five 10th plays to one of the largest greens in the country when originally built. A renovation program has improved the course immeasurably in recent years. Fairways were converted to zoysia grass and tree pruning has allowed old vistas to be enjoyed once again.
The final road home is one of the toughest in the nation, beginning with the roller-coaster 448-yard, par-four 15th and the dramatic 528-yard, par-five 16th, which features a lake, creek and bunker that play havoc with lay-up shots. But the gem is No. 17, a brutal par-4 that relentlessly climbs 439 yards straight uphill to a green protected in front by two huge gaping bunkers. The course finishes in strong fashion with a 413-yard par-4 that features a fairway bunker on the left, which was added before the Walker Cup, and an elevated, two-tiered green. According to Dick Murphy (head professional) , "The fairway bunker on No.18 took a mediocre finishing hole and made it into a great one."
Signature Hole:  4th Hole – 166 Yard Par 3 – Anyone that is familiar with Augusta National will see similarities to it at Peachtree throughout their round and the 4th hole is one of the strongest similarities. As you step on the tee you can almost envision yourself on Golden Bell, Augusta's famous 12th hole. Playing over water to a wide but relatively shallow green protected by a series of bunkers, this beautiful hole located in the northwest corner of the property certainly drew inspiration from its Amen Corner counterpart. In the springtime, azaleas and dogwoods come in full bloom behind the green.With attractive landscaping behind the green and a tree amphitheatre setting, Peachtree's 4th hole is an absolute gem early in the routing of North Atlanta's famed club.
Note that Peachtree is a private golf club in Atlanta with only 225 members. Peachtree is ranked 43 among the top 100 golf courses in America.
Practice Facilities
Driving range
Putting green
Golf Club Amenities
Club house
Restaurant
Rentals
Weather forecast