National Golf Links Of America was founded in 1908 under the leadership of Charles B. Macdonald. The golf course was constructed with the assistance of Southampton engineer, Seth Raynor. After studying many of the courses in Scotland and England, Mr. Macdonald set out to build a first class course in the United States which would incorporate many of the better qualities of golf courses in the British Isles.
The course remains relatively unchanged from its original layout. National Golf Links has never had the pressure to adapt the course for professional tournaments, since it has never hosted a US Open or the like. The only major changes were a new set of tees added for a recent Walker Cup. Like many MacDonald courses, the layout is comprised of template holes from Scotland. However, at National Golf Links, they seem to fit the landscape better than nearly anywhere else in the US. This private club offers 18 hole course covering 253 acres is located on Peconic Bay in the Town of Southampton, New York.
The course begins with a short par 4 that could be drivable for long hitters when teeing off with a favorable wind. The bunker in the distance is in play for those who elect to hit driver here, but can easily be avoided by making a safer play and hitting a 200 yard shot. The 1st green is wildly undulating which means that there are no easy two putts unless the approach shot finds the right section of the green.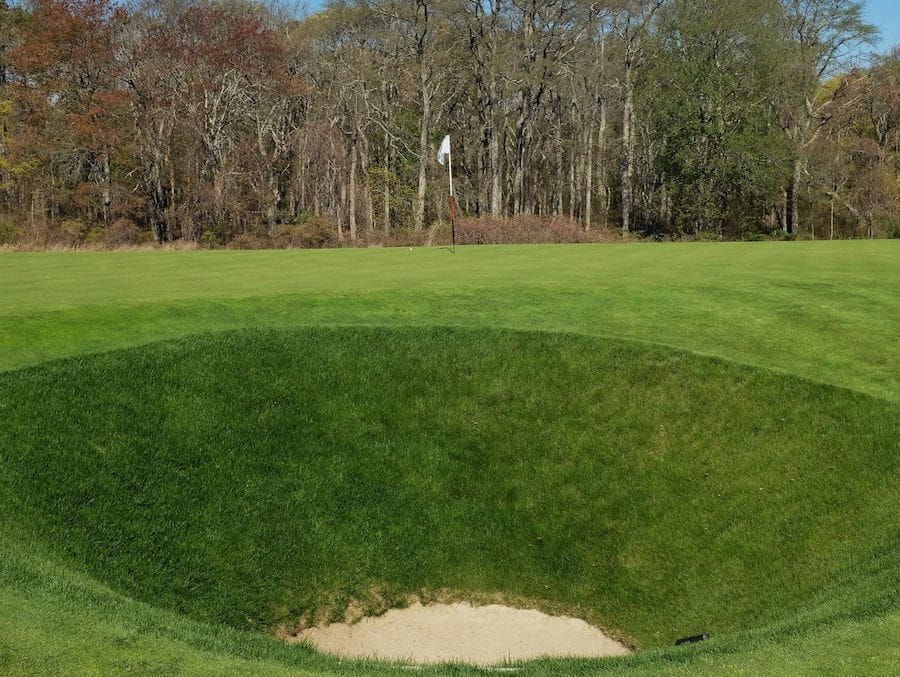 This is a golf course of monumental historical importance. Each hole at the National is named and the 2nd, called "Sahara" is based on the 3rd at Royal St George's. The 3rd, called "Alps" replicates the challenging blind approach shot taken from the brilliant 17th at Prestwick, where a confrontational hill and a huge bunker protecting the undulating green front must be carried. The 4th, called "Redan" copies the 15th at North Berwick where the long green is set at an angle. The 7th, called "St Andrews" uses features of the famous "Road" hole and the 13th is indebted to the "Eden" hole of the Old course. The 13th is a mid-length par 3 with a large green and a long bunker that wraps around the putting surface from the right hand side across the back as well as three other bunkers on the left and front of the hole. The green slopes from back to front which makes reaching a hole location at the back of the putting surface a very difficult shot.
The home hole is a shortish par 5 that looks to be reachable in two based on the yardage but plays straight uphill which makes it significantly longer. Its difficult to see with the sun setting, but the bunker on the left is in play off the tee.
Note that National Golf Links Of America is a private club and it's REALLY hard to find someone to invite you.
Practice Facilities
Driving range
Putting Green
Golf tuition
Golf Club Amenities
Clubhouse
Restaurant
Rentals
Clubs for hire
Trolley for hire
Buggy for hire
Weather forecast