Hardelot Golf Club: Two magnificent courses set amidst the Pines and the Dunes
With it's 2 classic golf courses, Hardelot Golf Club has one of the most  beautiful  golf settings in Europe. Just 2 kilometres apart, each with their own clubhouse, bar, restaurant and pro shop. Set within wonderful wooded surroundings, the Pines and the Dunes, distinct in their difference, each preserve their unique identity.
The 18-hole Pines Course, built in 1934 by the famous British Architect, Tom Simpson, is recommended to golfers in France and abroad. Set out in a superb pine forest, it's magical style has survived throughout the generations. Hardelot brings to mind the classical era of British golf architecture and Les Pins has a very similar feel to the Red course at the Berkshire. An additional benefit at Hardelot is the climate, which is warmed by the Gulf Stream. This ensures enough rain to keep the fairways and greens in glorious condition, but enough mild weather to ensure enjoyable golf all year round.
Dutch architect Frank Pont and Patrice Boissonnas spent three years reworking the course at Les Pins, using old photographs and drawings to breathe new life into this Tom Simpson design. More than three thousand trees were removed, greens were enlarged to their original dimensions, fairways were widened and all the Simpson bunkers rebuilt to "honour the artistic vision of the great architect and create a stronger, more strategic defence," according to Patrice Boissonnas.
The course now plays to a par of 71, after the 2nd and 16th holes were reduced to par fours, though a more subtle change sees the short holes now play longer as the round progresses: the downhill 5th measures 120 yards, the 7th is a bit longer at 150 yards, the downhill 12th now requires an exacting 160-yard tee shot, the beautiful 14th is a strong 175-yard par three and the 17th requires a hybrid or wood to carry the 180 yards from tee to green.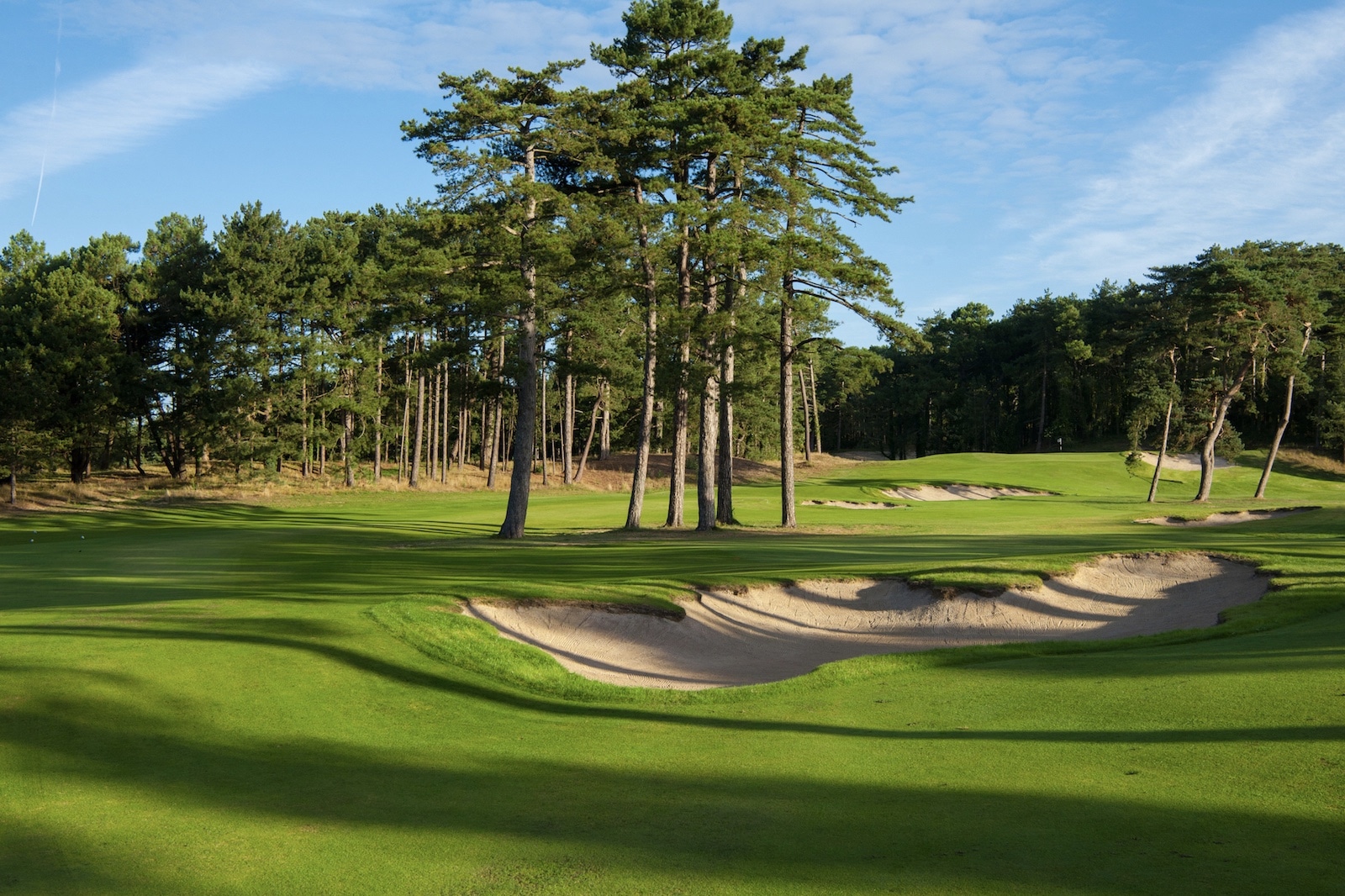 Les Dunes is the younger of the two courses at Hardelot. The 18-hole Dunes Course, which opened in 1991, offers breathtaking surroundings amidst lakes, dunes and undulating landscape. It's modern design and unique environment  have contributed largely to it's reputation.
To practice: Practice on grass and carpet, 23 positions including 11 covered, Putting green, pitching green.
To relax: After golf each course a comfortable "club house" with terrace and fireplace decorated with a view of holes #1 and #18.
A high quality restaurant is located in a very friendly club house, located in the heart of the course in a wooded area.
You can also enjoy the bar, the pro-shop, the comfortable locker rooms and the reception room for your seminars, weddings and receptions.
Practice Facilities
Driving range (Partially covered)
Putting Green
Chipping area
Golf academy
Golf Club Amenities
Credit card accepted
Clubhouse
Restaurant
Proshop
Private & Corporate events
Rentals
Trolley for hire
Golf cart for hire
Weather forecast