The beauty of Rio de Janeiro, with its hills, sea and amazing vegetation is unique, and these are the ingredients that make Gávea Golf and Country Club one of the most beautiful golf courses in Brazil. Located between Pedra da Gávea and Tijuca Forest, it is the most central golf course in the city – a few meters from São Conrado beach.
The club was formed in 1923 by a group of Scottish and English golfers with the course laid out by Arthur Morgan Davidson, a young assistant professional from Peterhead, who carried on as the club pro for another twenty years. Stanley Thompson and Robert Trent Jones modified the Gávea course in the early 1930s.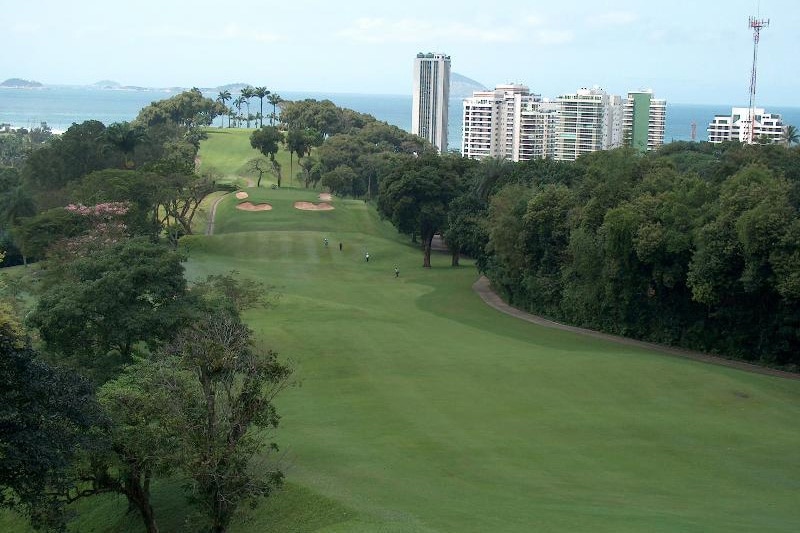 The course is located in the shadow of Pedra da Gávea – an enormous rocky outcrop that looms over the property – and it's a short track, extending to just over 6,000 yards from the back tees. It may not be long but distance from tee to green is not important on such a strategic little charmer.
The front nine of Gavea is on the mountain with elevated greens and downhill fairways that require a lot of concentration from those who venture into the course. The postcard is the 6th hole, nicknamed wedding cake, a 167 yard par 3 uphill, where any mistake could mean a total disaster in the game. The green is small and surrounded by bunkers. Another rather dreaded hole is the 4th, also a 178-yard par 3. The sight of green is fantastic, it is possible to see much of the course, the ocean and the whole neighborhood. In both holes, the best tip is to hit the middle of the green, regardless of where the flag is.
The outward half twists and turns over hilly terrain before crossing a main road to begin the back nine. Holes 10 to 13 are laid out on a small parcel of land adjacent to the São Conrado beach and a sizeable lake comes into play on three of these holes. The highway is crossed again to complete the round adjacent to the fairways of holes 1 to 9.
All six of the par three holes on the scorecard are located in the undulations to the north of the main road and they are typical Thompson designs, characterized by raised greens and sand traps aplenty.
Casual visiting golfers staying at accredited local hotels may play between Tuesday and Friday during the week. On weekends, it is restricted to members.
Gávea Golf and Country Club is in the top 10 golf in Brazil on the Golf Digest ranking.
Practice Facilities
Driving range
Putting green
Golf tuition
Golf Club Amenities
Credit card accepted
Clubhouse
Restaurant
Proshop
Rentals
Trolley for hire
Weather forecast