The Iguassu Falls Golf Club is near the city of Foz do Iguaçu in the southwest of the Brazilian state of Paraná. It lies amid a rainforest on the border between Brazil, Argentina and Paraguay, only a few kilometers away from the famous Iguaçu waterfalls. The Iguassu Falls Golf Club, which belongs to the Wish Resort Golf Convention Foz do Iguaçu, can be reached from the city center of Foz do Iguaçu in about 20 minutes via the Av. das Cataratas.
The golf course architect Erik Larsen was responsible for the design. He created the 18-hole Iguassu Falls Golf Club Course in American style with par 72, which was reopened in 2015. The 6,473-meter-long course has wide fairways but there are several bunkers strategically placed to make the golfer think twice before giving the kick in several holes. The greens are small, which, at the same time, increase the need for precision in approaching strokes, avoiding the infamous "three putters", something hated by most golfers.
The opening hole is easy. The challenge begins at hole 2, a short par 4, but with the green protected by a large lake. Hole 3 is a strategic par-4, featuring high-riser benches and a double fairway, allowing the player to opt for the Fairway on the right-hand side in order to get the bunkers out of the way for the putting green. The 4 is a long and beautiful par 5, with water protecting almost all of the Green.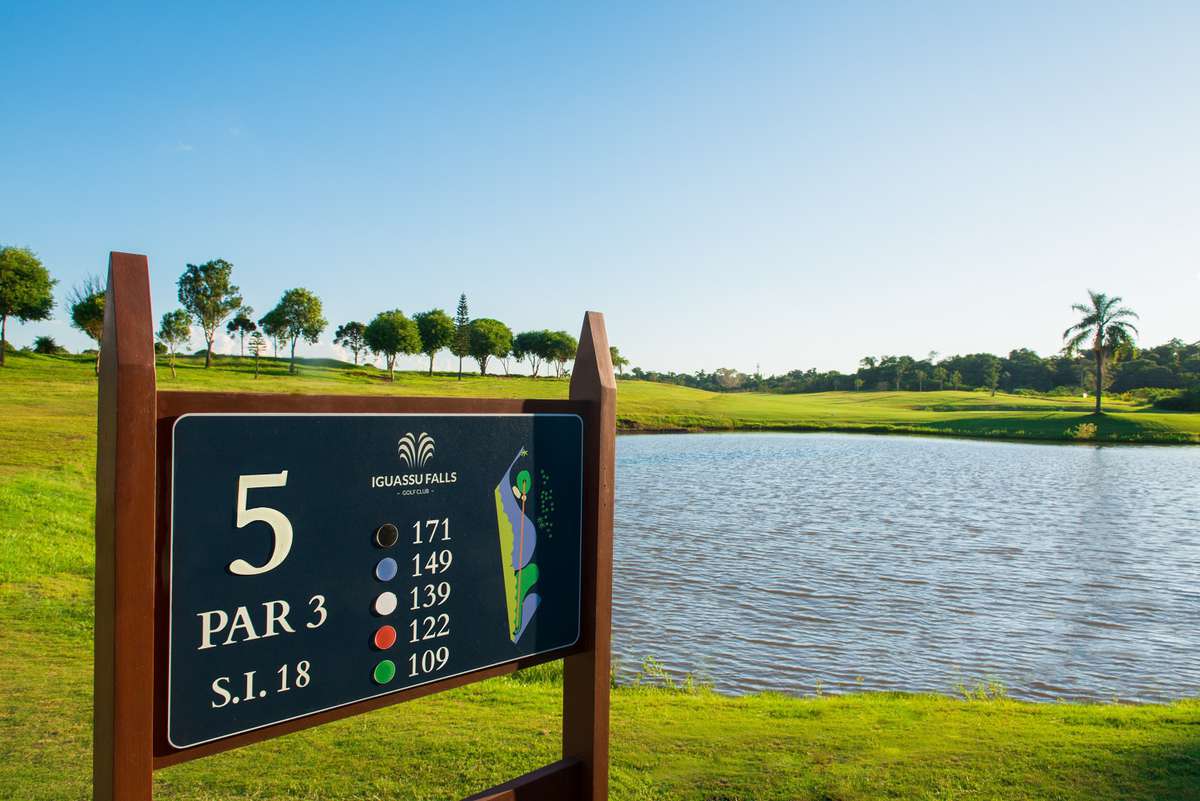 The 7 is a par 3 challenging downhill, with 266 yards of the longest tee. Hole 8 is a par-5 uphill with off-field left and with an increasingly narrow fairway upon reaching the green fenced-in bunkers. The hole 11, par 3, has the green near the large central lake of the land, with a fountain that values the whole landscape.
From 12 to 14, there are 4 pairs that have a wide range of distances, especially 12, a 495-yard par 4. The 16 has another narrow streak on the way to a high green and 17th is a short par 4 but a dog-leg up hill, with well-placed stalls and a row of palm trees on the right side of the green. The 18 is a short par 5, with a privileged view of the Clubhouse and which gives you access in two strokes.
Practice Facilities
Driving range
Putting green
Golf tuition
Golf Club Amenities
Junior discount
Credit cards accepted
Clubhouse
Bar & restaurant
Proshop
Rentals
Full set of clubs - R$ 90
Trolley for hire
Buggy for hire
Weather forecast