Founded in 1914, Crosland Heath Golf Club sits on the hills above the old Industrial town of Huddersfield enjoying panoramic views over the Colne Valley. Despite its lofty Pennine position it is a flat, easy walking course measuring just over 6100 yards
'The Heath' has retained it's classic MacKenzie design. The first four holes following four differing points of the compass, this is also true of the par 3 and 5 holes which all play in a differing wind direction, a Mackenzie design trait. Whilst the course is being constantly upgraded this classic design has altered little since Dr Alister MacKenzie's first design layout.
Crosland Heath Golf Course is now over 100 years old, it's centenary year was 2014. Established as a heathland course now prepared as a mix of heathland and parkland holes. The par five start is one of the best opening holes in Yorkshire if not farther afield. Four of the five par three holes are played onto island greens over old (now grass and heather covered) quarries, characteristic of the land the course was first built on.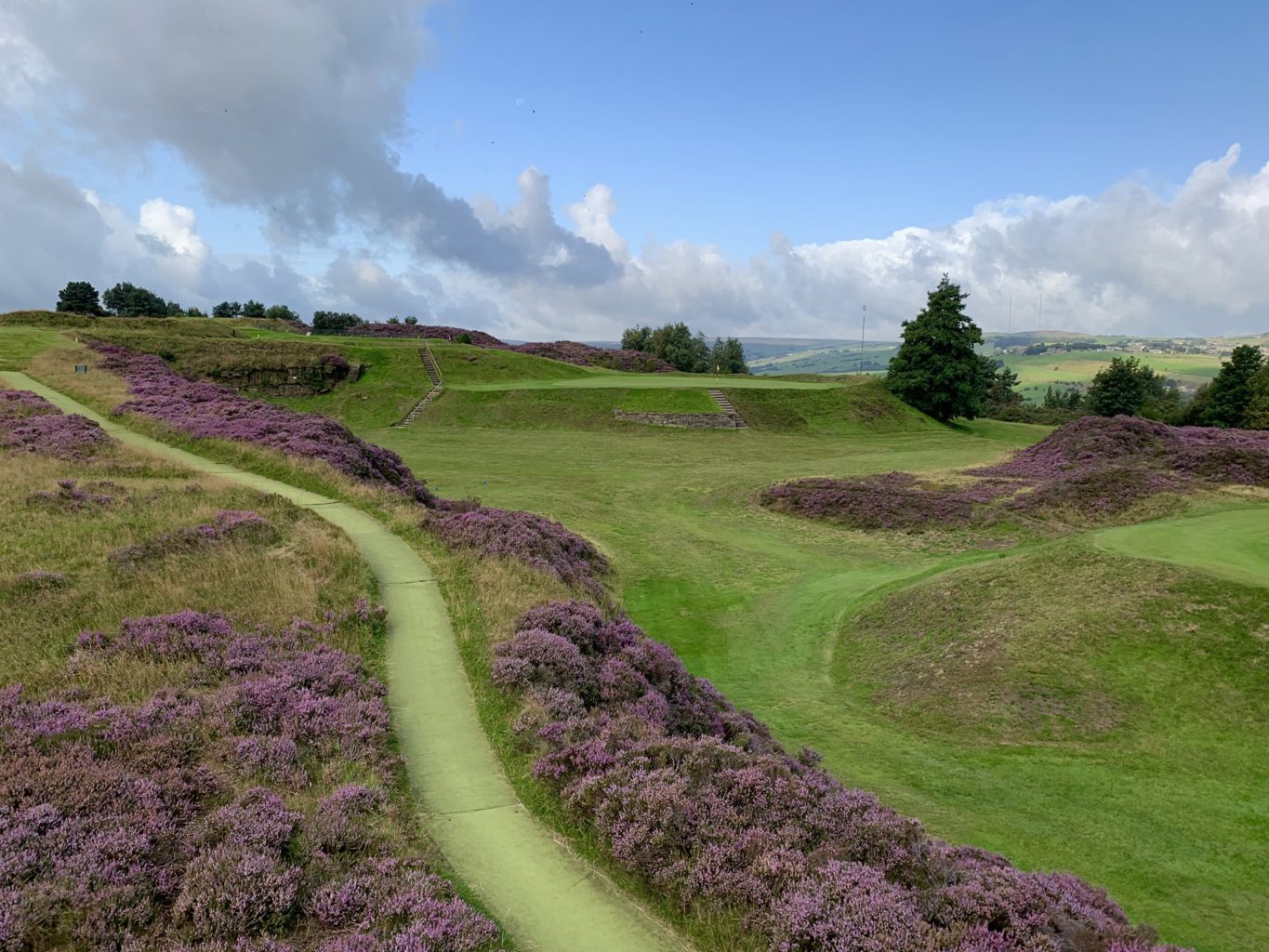 The best hole at Crosland Heath Golf Club is the 16th. Arguably the best hole on the course. A par 4 with a rolling fairway where the second shot plays uphill. Heather right off the tee and rough left mean hitting the fairway is a priority. Your second is played to a green that sits in a bowl and it narrow and sloping. If the flag is to the right of the green stay away from it and hot your second to the middle. If the flag is at the front you are best being in the front fringe and putting up the slope.
The closing hole is also a great one. A strong that plays downhill. Out of bounds left off the tee has to be paid attention to as do 3 copse of trees down the right. A downhill second plays shorter that its yardage but bunkers all around the green mean accuracy is paramount. The green like many before it needs reading carefully if you are to hole your birdie putt.
Crosland Heath Golf Club welcomes visiting parties and offers a great range of golf packages to suit all your golfing requirements.
Practice Facilities
Driving range
Putting green
Golf tuition
Golf Club Amenities
Credit card accepted
Clubhouse
Restaurant
Proshop
Rentals
Trolley for hire
Buggy for hire
Weather forecast