Alpine Golf & Sports Club is one of Thailand's top-rated courses, and one of the best in Asia. The layout created by one of America's leading golf course architects, Ronald Garl, was the venue for the 2000 Johnnie Walker Classic PGA tournament won by Tiger Woods and again hosted the same event in 2004.
The 18 holes at Alpine golf make up the best layout and most challenging golf course not far from Bangkok. In addition to the superb hole routing, this member's only golf club 's maintenance is to the highest standards and features lightning fast greens and undulating fairways.
Large stately trees, bushes, and shrubs flourish within the undulating parkland layout. In fact, it is hard to imagine that Alpine sprung up from flat rice paddy fields. The changing elevations are more characteristic of golf courses in Hua Hin or Phuket, instead of Bangkok.
In addition to significant elevation changes and a wonderfully rolling undulating design, water is also much in evidence, along with beach-style bunkers, which most notably protect the front of the par-3 3rd and 12th holes. Alpine is not a Bangkok golf course for the faint-hearted.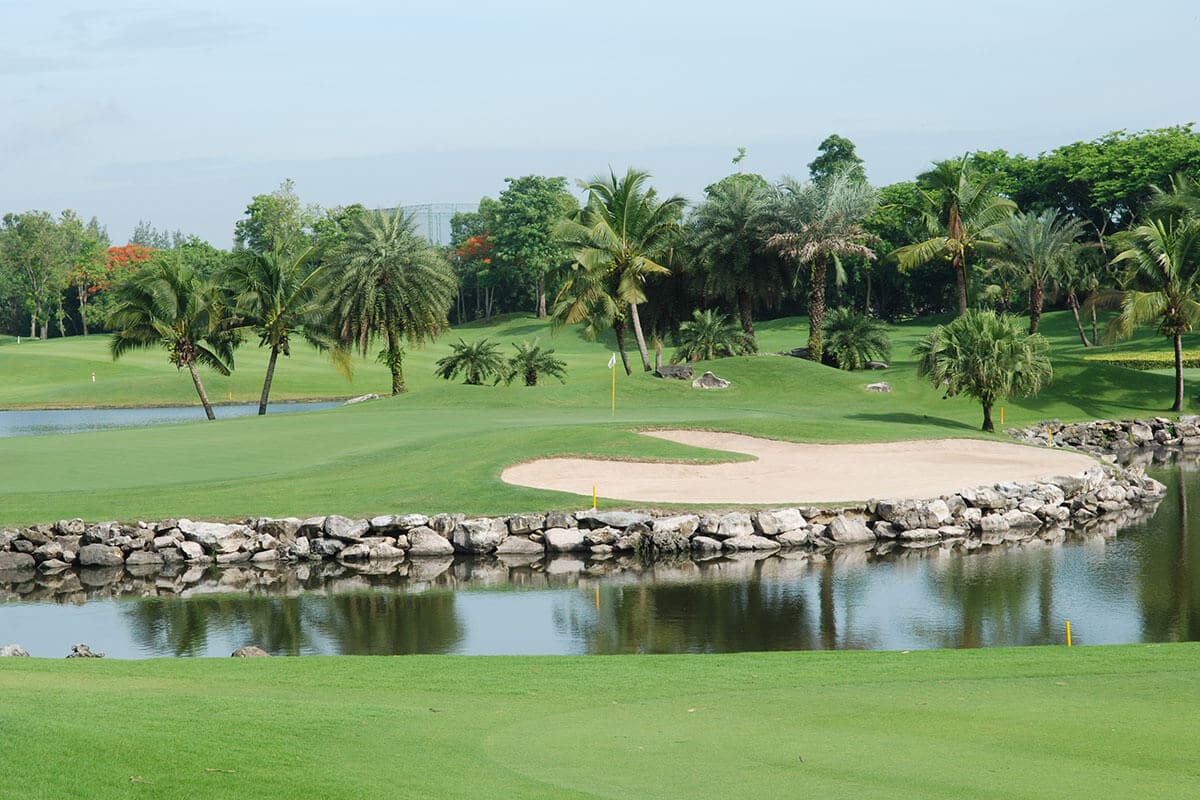 The island green at the par five 7th is a memorable feature
Some of the drives require straight shots to avoid winding up in the jungle lining many of the holes. Finding the often water protected greens is also no easy achievement. For example, the 7th and 11th holes are both played to what in essence are island greens, connected to each other by a small sliver of land. With these relatively small putting surfaces to aim at, one is left mesmerized to discover that Tiger Woods eagled the 555-yard par-5 7th on his way to winning the 2000 Johnnie Walker Classic. Alpine is a layout that will test the best, but also one that is full of wonderfully picturesque holes, lots of lush vegetation and, for the Bangkok area, an extravagance of undulations and earth mounding.
A player's tip to note is that most of the greens slope from back to front, so keeping the ball below the hole makes scoring much more manageable. Conservative fairway and approach shots will reward while poorly placed shots held subject to costly penalties.
In conclusion, thailand golfers privileged to play at Alpine Golf & Sports Club will have an unforgettable experience of having their golf skills challenged. The clubhouse facilities, locker rooms, and two restaurants (a coffee shop and gourmet Chinese restaurant) are all excellent with service to match.
Practice Facilities
Driving range
Putting green
Golf tuition
Golf Club Amenities
Club accepts credit cards
Clubhouse
Bar & restaurant
Proshop
Locker rooms
Rentals
Clubs for hire
Buggy for hire
Weather forecast