Red Mountain Golf Course opened in 2007 and is now considered Phuket's most spectacular golf course. The course was designed to take advantage of a huge variety of landforms and dramatic elevation changes, making it Phuket's hilliest course. The golf course is also in the top 10 in Thailand.
The entire Red Mountain site is an abandoned tin mine. The hole routing explores the four corners of the former tin mine property representing a memorable tour of Phuket's historical landscapes. Cliffs and gullies etched in sandy tailings over the years by storm waters feature on several holes. Towering cliffs cut out of the hills and flooded canyons frame several other holes. Golfers face the full range of natures hazards; wind, water, slopes and elevation changes. This is the highest golf course on Phuket Island and dramatic views are realized from many of the points on the golf course.
The concept of variety has been carried into all areas of Red Mountain. There are large and small greens; some with subtle breaks, some with wilder contours. Bermuda grass is used on the greens which make for fast but smooth putting surfaces. Fairways and tees are grassed with Seashore Paspalum; a popular turf being used at other Thailand championship courses like Amata Spring and Thai Country, both in Bangkok. Wild, local grasses have been preserved in some rough areas to complete the natural look.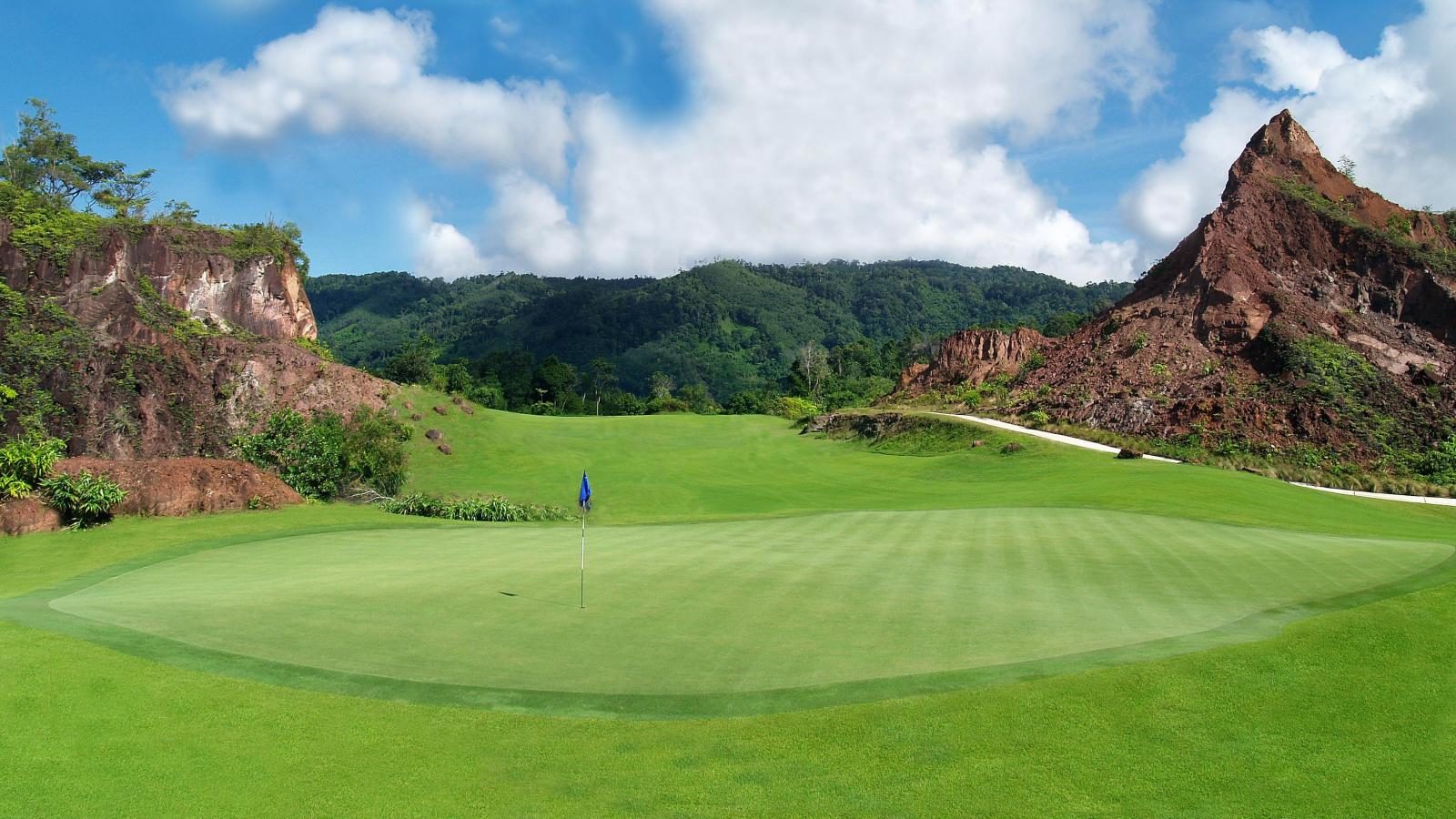 Best holes and playability
Regarding playability, the closing six holes- and final stretches don't get much tougher. The elevation changes, red rocky cliffs and dense tropical vegetation combine to make these six holes some of the most spectacular in Thailand. A truly breathtaking panorama awaits at the back of the 16th green. The short par-3 17th is a dramatically plunging downhiller: hitting a postage stamp in the jungle-filled depths below has never been more fun! The subsequent downhill par-5 requires strategic placement from tee-to-green, and can easily add double-figures to an otherwise respectable scorecard.
Prior to this magnificent closing six, the rest of the course contains its fair share of undulations, rocky outcrops, wonderful risk-reward holes and liberal array of water hazards. To avoid your immensely scenic Red Mountain round turning into a rocky horror show, the advice is simple – carefully consult your caddie on club selection, take dead aim and trust your swing. The par five 2nd (where the fairway narrows as it swings right towards a hidden green) and the short par four 8th (which has water lying in wait on either side of the fairway) are perhaps the best during the front nine.
Located in the center of Phuket
Red Mountain Golf Club is located almost in the exact center of Phuket Island which makes this course one of most accessible to those staying on the poplar Patong and Karon beaches. Only 15 minutes is needed to get to/from the course which makes it a real possibility for those with non-golfing families to spend the better part of the day with their family after a quick early morning round.
For golfers wanting to spend more time at the course, there are excellent practice facilities, a grass driving range, as well as a fully stocked modern club house for 19th hole formalities. Golf carts are compulsory at Red Mountain and it's a good thing as anyone who opted to walk this layout would surely regret it.

Practice Facilities
Driving range
Putting green
Golf Club Amenities
Club accepts credit cards
Clubhouse
Bar & restaurant
Proshop
Locker rooms
Rentals
Clubs for hire
Caddy available
Buggy for hire
Weather forecast