Founded in 1920, Kirtland Country Club quickly engaged Harry Colt's associate, C.H. Alison, to design a new golf course on an attractive, 260-acre property to the north east of Cleveland. Within a year, the architect duly delivered when his new 18-hole layout was unveiled to an expectant membership.
The Kirtland Country Club has done a remarkable job of preserving the original design of Mr. Alison rather than allowing various tweaks that would demean his originally conceived work which results in a pure golfing experience highlighted by impeccable conditioning, great strategy, and unquestionably one of the best back nines in the country.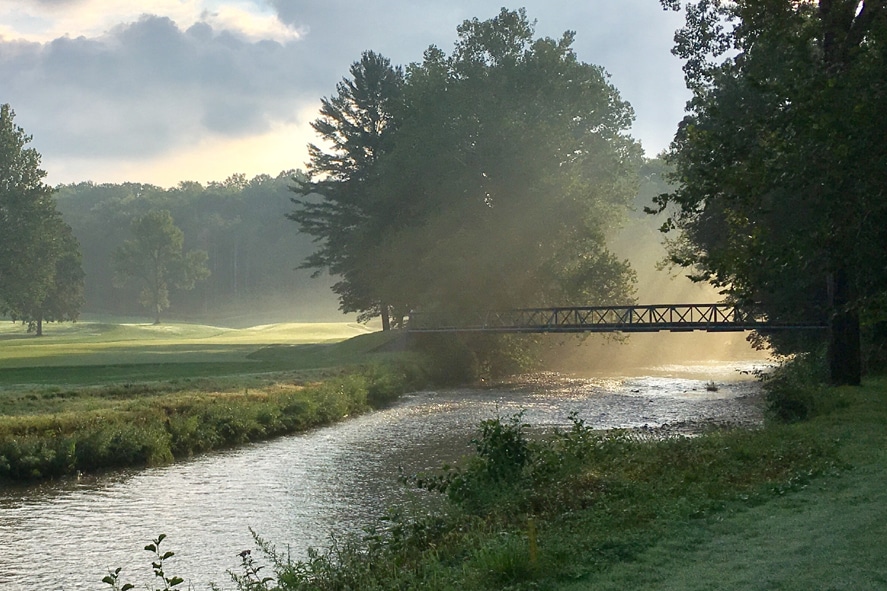 The greatness of the back nine cannot be overstated which isn't to say the front nine is good, but it is quite good with the closing holes on the front being outstanding. Golfers can enjoy the course by walking or riding a cart over the rolling terrain of the front nine and across the impressive river-side topography of the back nine, and a fleet of caddies are ready to accompany you under either scenario if you wish. Kirtland Country Club represents one the finest courses constructed during the golden age of architecture and is one of the most underrated tracks in America.
Signature hole at The Kirtland Country Club
The 10th Hole – 515 Yard Par 4 – If you know anything about Kirtland Country Club before going to play it, you probably have heard about the 10th hole. This jaw dropping par four (par five for ladies) drops 150 feet from the back tee to the green which creates a thrilling tee shot with a stunning backdrop. The bunkers visible from the tee are not reachable until the approach shot is executed with one bunker sitting 60 yards off the green and the other being greenside.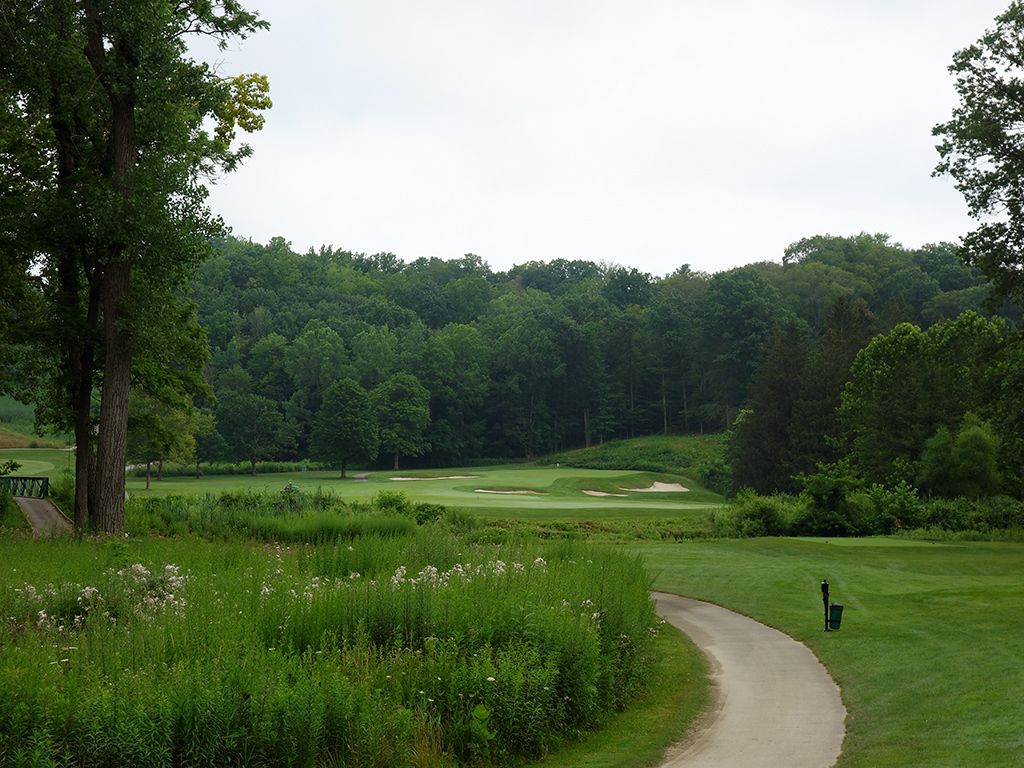 After playing a solid front nine, standing on the 10th tee makes you quickly realize that the back nine is going to be a different experience altogether. The 8th and 9th holes are great holes that build up the anticipation before reaching the climatic start to the back nine. Without question, the 10th hole is one of the best and most memorable holes in Ohio.
Most difficult hole
The most difficult hole is certainly the  12th Hole – 449 Yard Par 4 – The 12th plays back over the river out of a chute that can cause confidence to flee from your swing. The demanding approach plays to a raised green that is protected by four bunkers that are mostly on the near side of the green where most people will land when they underestimate the distance required to hold the putting surface. The sloping in the green creates a fascinating surface to roll the ball on and can quickly yield some three-jacks. A fine golf hole, the 12th gets appreciated by players more and more over time as the presentation of setting and subtleties take full stage.
Practice Facilities
Driving range
Putting green
4-Hole Junior Course
Golf academy
Golf Club Amenities
Credit cards accepted
Clubhouse
Bar & restaurant
Proshop
Tennis
Swimming pool
Rentals
Buggy
Weather forecast