Sheringham Golf Club is located high on the clifftops on an undulating thin sliver of land, which is wedged between the North Sea cliff edge and the North Norfolk Railway. Steam trains and vintage diesels occasionally rattle past the course, which is set within an Area of Outstanding Natural Beauty. The club was originally founded in 1891 and Tom Dunn laid down nine holes, returning in 1898 to extend the course to its present 18 holes.
Many major course alterations have been made over the last 70 years. The first was the building of a new 17th green into the slope of Skelding Hill near the 18th tee, thus extending the length of the hole. The green of the short 3rd was so close to the cliff path and a public road it posed real danger to the public from wayward balls, so in the 70's the hole was taken out of use and the opportunity taken to move the 2nd green further down. A new short hole, the 8th, was constructed at the extreme western end of the course and opened on 28th July 1974. The tee to the 8th was later adjusted to accommodate a southerly extension to the 7th green. Cliff falls alongside the 5th green made it necessary to rebuild the green further inland in 1979.
In 1987, to accommodate legal agreement for the Norfolk Coastal Path, this was again moved further south. In the 1920's, flint workings had encroached on land by the sixth green and, over the years, the green was moved southwards in small stages to deal with the needs of access and cliff erosion.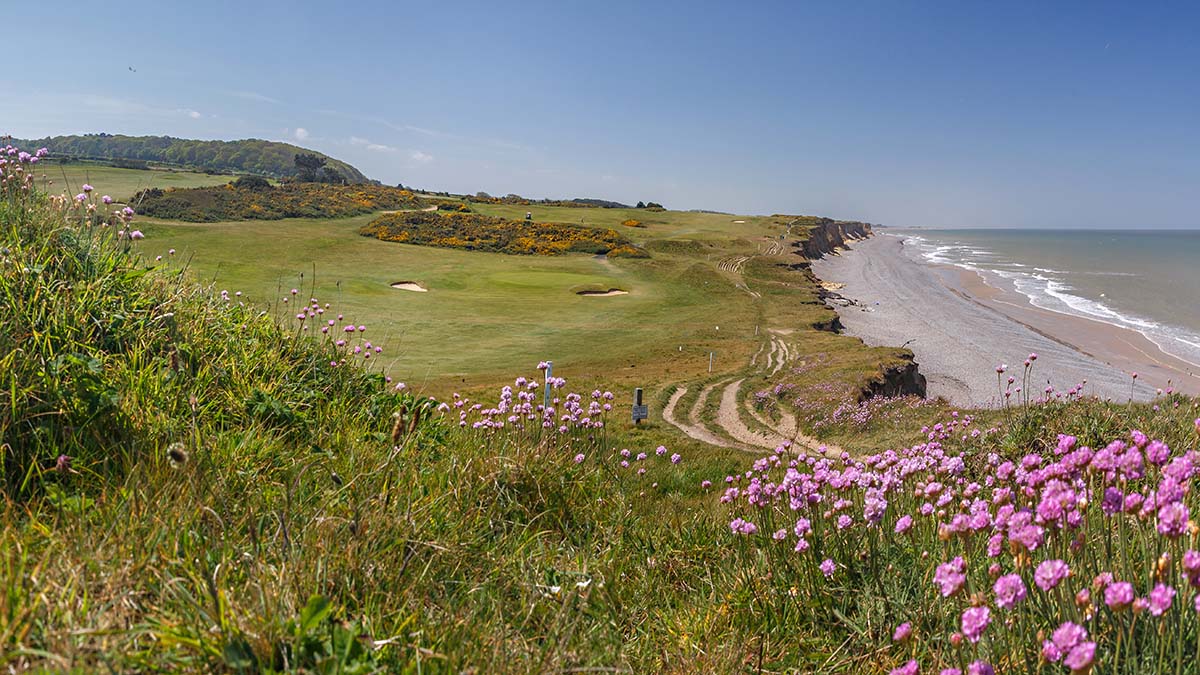 The best holes at Sheringham Golf Club are undoubtedly those that run close to the edge of the cliffs. The 6th, "Old Hythe", is a short hole with its green opposite the lowest point on the cliffs, where the old lifeboat house once stood. The 7th, "Pop Shop", is the last of the cliff top holes, named after a non-alcoholic drinks stand that used to sit behind the green.
In conclusion, Sheringham Golf Club is a gem of a course, kept in excellent condition, offering the golfer not only an excellent test of their skills but treats them to some of the most remarkable landscape views you will find on any English course.
Practice Facilities
Driving range
Putting green
Golf tuition
Golf Club Amenities
Credit cards accepted
Clubhouse
Bar & restaurant
Proshop
Rentals
Trolley for hire
Weather forecast