Opened in 1990 Sapey Golf Club has matured into one of the outstanding courses in the area. Sapey Golf Club is set high in the rolling hills of the Herefordshire and Worcestershire border – the same countryside that inspried Elgar to such greatness.
Wildlife abounds at Sapey, finding refuge in the surrounding woods, cornfields and pastures and all observed from on-high by Sapeys family of resident buzzards.
Since completion in 1990, a policy of continual improvement has been implemented and several new water features have added to the interest and challenge of the course.
Sapey is becoming one of the most demanding, as well as beautiful, venues in the area. The golfing facilities were further enhanced in September 1999 when the 9 hole par 27 course was opened. Built to the same high specifications as the original 18 hole course, The Oaks proves a stern test for anyone's short game. Whilst the golf facilities continue to flourish, the friendly nature of the club remains.
The main course :
The front nine runs all around the perimeter of the course, so out of bounds is a constant threat. And then there's a pair of short holes that spell danger, and both are tricky club selection tests too.
The eighth is the signature hole, the water at the rear of the green is an unmistakeable sight, but don't underestimate the threat of the little rocky brook that runs in front. The 11th is more obvious and this time the water is all below the green, but it's all open to the elements and that's where the issue is. It was a two club wind when I played it, I only allowed for one. Three from the tee!
But I got round ok in the end and there's a lovely closing stretch of longer holes to look forward to as you head back to the clubhouse, separated by one last short one at 17, a little friendlier than before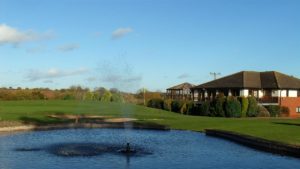 The club-house boasts an excellent main dining room and lounge with a separate spike bar together with patio area. At the 19th hole the club has built a reputation for fine food and a warm welcome and we are confident that a visit to Sapey Golf Club will not leave you disappointed.
Practice Facilities
Driving range
Putting Green
Golf academy
Golf Club Amenities
Credit card accepted
Clubhouse
Restaurant
Rentals
Weather forecast