The Royal Golf Club de Belgique  – "Royal" since its foundation in 1906 by decision of King Leopold II – is laid on land belonging to the "Royal Donation". The Ravenstein Manor Farm owes its name to its first owner, Philippe de Cleves, Squire of Ravenstein. The royal Golf Club de Belgique is also know under the name : Ravenstein.
In 1990 the main course underwent a 10 years modernising programme by another brillant architect, Martin Hawtree, in order to make it a more challenging test.
The Royal Golf Club de Belgique has 2 golf courses : Old course and New course laid out in 1951 by Philip Mackenzie Ross, shortly after he had put the finishing touches to the wonderful Ailsa course at Turnberry.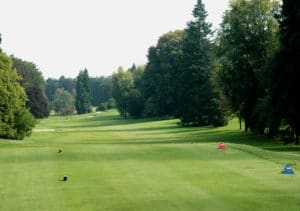 The Old Course is one of Europe's most attractive parkland courses, a classic old-style layout that winds through tall oaks, birch, blue cedar, elms and willow trees. The best stretch here is the 9th through 11th which occupy the prime real estate, the 9th and 10th both clever short par fours across beautiful ground – the 9th bending right with the slope and well bunkered around its landing area and the 10th sweeping dramatically down and across a slope then rising into a ridge-top green. As with other holes, the greens here are quite flat and most of the greenside traps are shallow so one of the primary criticisms of Ravenstein is that it is too easy, many of these short par fours they lack fiendish targets or the hazards required to create strategic risk/reward choices from the tee.
After the game, you will enjoy the nice clubhouse.The bar is open from 09h30 to 18h00 and the restaurant from 12h00 to 15h00.
As a private members club, the courses are restricted to Members and their guests at weekends and on public holidays.
On weekdays, all reservations must be confirmed by the office in advance.
Practice Facilities
Driving range
Putting Green
Pitching Green
Golf Club Amenities
Junior discount
Credit card accepted
Clubhouse
Restaurant
Proshop
Rentals
Trolley for hire (free)
Weather forecast