Makalei Golf Club is a breathtakingly beautiful golf course on the Big Island of Hawaii. Designed by Dick Nugent & Associates, the course reflects the raw, natural beauty of the Big Island, incorporating native forests, mountain slopes, and unique volcanic features such as lava tubes and cinder cones.
Malakei Golf Club wanders through a colorful landscape of indigenous flora and fauna, providing a home to a variety of wildlife including peacocks, pheasants, and wild turkey. Situated in the Kona region of Hawaii, which is widely renowned for its coffee farms, the course offers dramatic elevation changes that range from 1,800 to 2,850 feet.
Makalei offers challenging play for golfers of all levels, with multiple tees that can extend the course from 5,242 yards to a championship length of 7,091 yards. Bent grass, unusual in Hawaii, is featured on all Makalei's tees and greens, and high-grade sand from Idaho is used in the bunkers.
Signature hole at Makalei Golf Club is the Hole 8th.
Perhaps the most visually stunning of our beautiful par-3s, the 8th Hole is truly Makalei's signature hole, thanks in no small part to the view of 10,000-foot Mount Haleakala on Maui some 90 miles across the ocean. Be sure to consider the wind and elevation change on this hole. There's trouble on the left and the right. The ideal shot is a mid iron to the front portion of the green, although leaving it short of the green is not all that bad, as many a par has been made here with a one-putt. The green moves your ball left, towards the pond. The 8th presents your best chance at a hole-in-one.
Note that on July 30, 2006,  Makalei's own "Eddie,"  scored a hole-in-one using his 6-iron. He did it right after Brian, owner of Big Island Auto Parts in Kona, rolled in his hole-in-one with his 7-iron. We mean right after. The odds of back-to-back holes in one on two consecutive swings of the club in the same foursome? 225 million to one, we are told.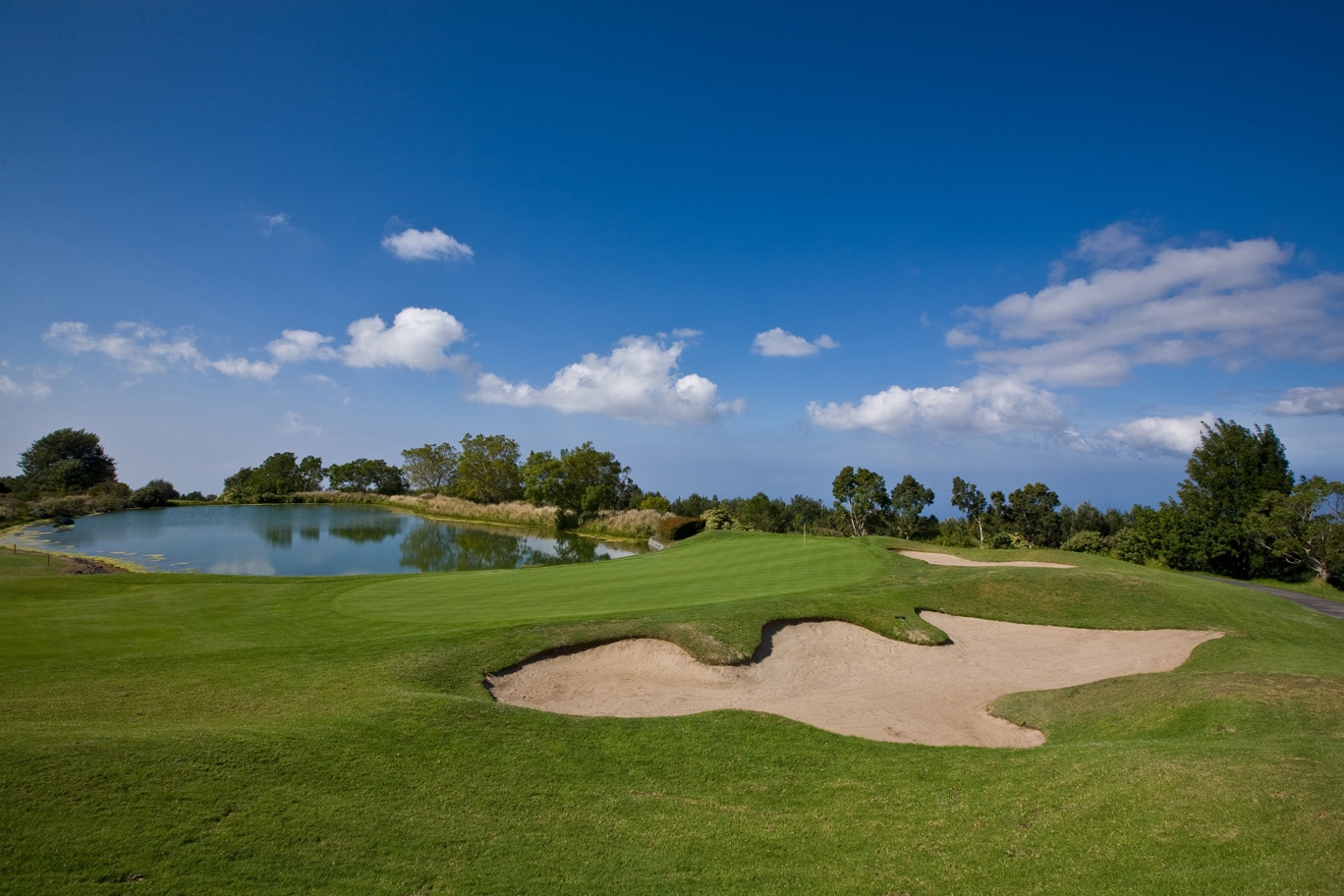 The closing hole 18th is also amazing. Like a great wine, this hole–considered the toughest on the course–offers substance in a simple presentation. This straight-away par four requires a solid tee shot that finds the short grass. Normal humans can't reach the green from the left rough. No human can reach the green from the trees right of the fairway. Nail your yardage on your approach and have a go at birdie on this treacherous, undulating green. Sounds simple, eh? Come springtime, the jacaranda trees will redefine the color violet for you on this hole.
Practice Facilities
Driving range
Putting Green
Golf tuition
Golf Club Amenities
Credit card accepted
Clubhouse
Restaurant
Proshop
Rentals
Trolley for hire
Weather forecast