Kerteminde is a small harbour town known for its red-roofed merchants' houses. It's located on the northeastern corner of Funen, Denmark's third largest island. With a population of only 6,000, Kerteminde might seem like an unusual place to build an upscale golf resort. However, the town is a very popular summer destination with many holiday houses and summer villas.
Upon arrival at Great Northern, the bonsai-like tree in the centre of the courtyard is framed by the stylish gables of the ultra-chic clubhouse and the infinity waterfall in the reception area, embossed with the club logo, oozes class. One can immediately sense the attention to detail that has gone into the development of the Great Northern resort.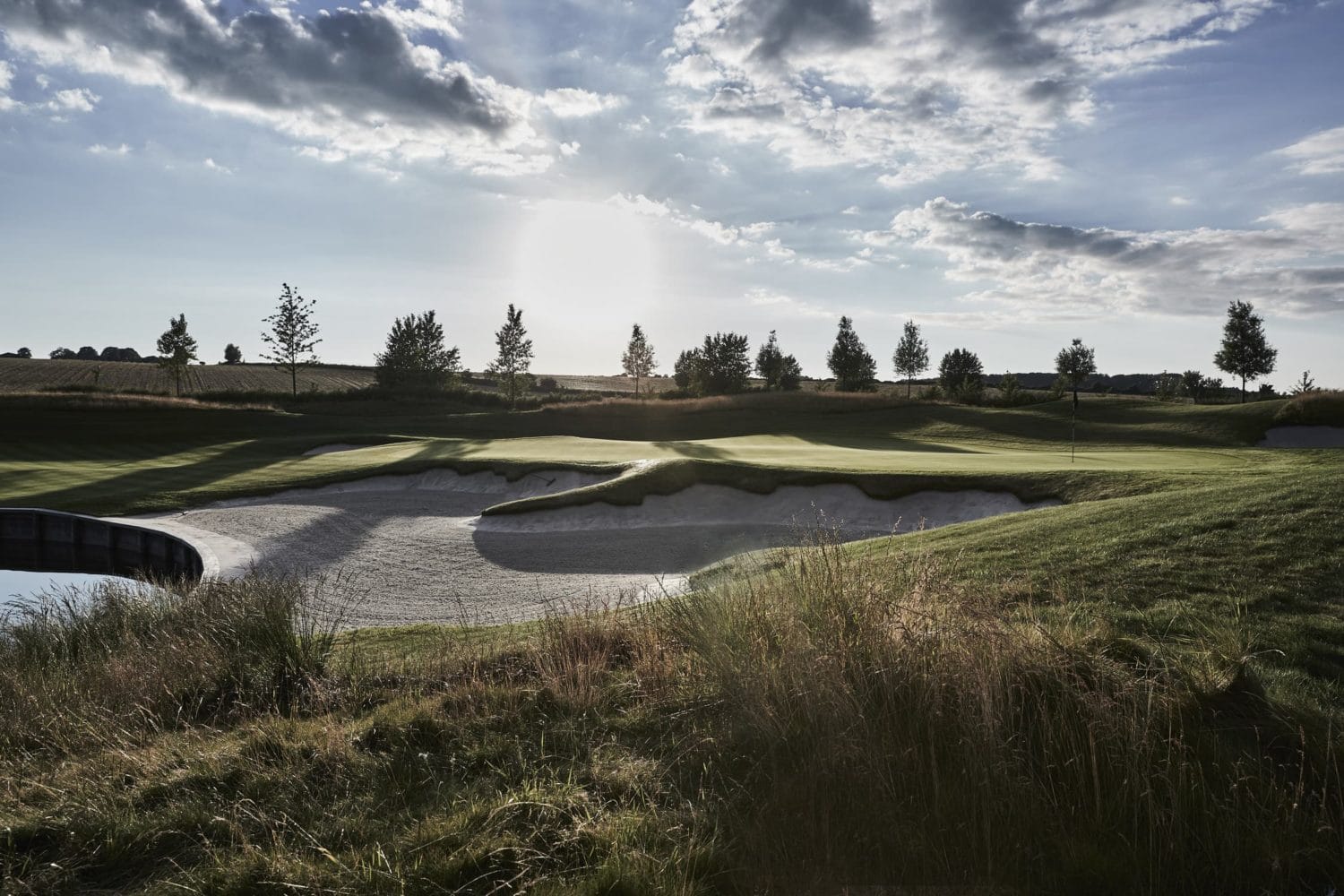 Water is a strategic feature at Great Northern
Seven artificial lakes were built during the construction of the Great Northern golf course, which officially opened for play in July 2017. It's no wonder water is a strategic feature on many of the holes. The sequence from the 4th to the 6th hole offers interesting variation both in terms of length and influence of water. The 4th, with water on the left, affects the drive on this brutal par four at 415 metres from the club tees. The slightly shorter 398-metre 5th is where the fairway pinch bunker and the greenside bunker cleverly frames the line of play with a lake on the right of the fairway. Then the short 6th where a pin long left offers an exercise of suspense for the approach shot.
An interesting feature from an architectural perspective is that the 7th and 13th are both short, driveable par fours, which are laid out in opposite directions in relation to the prevailing wind.
The other main feature of Great Northern is a 40-metre high hill on the west side of the course, where eight of the holes are laid out offering interesting challenges in terms of elevation change and spectacular views – the 3rd is a long downhill par three with the clubhouse area as an arresting backdrop. The delightful view of the Storebælt Bridge (the bridge between Zealand and Funen) is a splendid target for the tee shot on the long, downhill par five 14th hole.
Practice Facilities
Driving range
Putting green
Golf academy
Golf Club Amenities
Credit card accepted
Clubhouse
Bar & restaurant
Proshop
Spa
Rentals
Trolley for hire
Buggy for hire
Weather forecast