Set out along the chalk cliffs to the north of Le Havre, with spectacular coastal views of the English Channel, the original course at Golf d'Étretat extended to only thirteen holes which meant five of these had to be replayed in order to complete an 18-hole round.
Englishmen formed the club in 1908 and they installed Bernard Forbes, 8th Earl of Granard, as the first President. Prominent inaugural members included the likes of Lord Denham, a future deputy governor of Australia, and Lord Wodehouse.
Julien Chantepie and Arnaud Massy, who were based at La Boulie in Paris at that time, designed the initial layout. Massy, who was the first foreign golfer to win the Open, would eventually choose Étretat to retire to and he passed away there quietly in 1950.
The club didn't function during World War II but the course reopened for play in 1949 (once landmines had been cleared from the property) and Didier Fruchet further revised it in the early 1990s. Today, the layout extends to just over 6,000 metres.
Sitting directly above the cliffs and separated only by a small coastal path, the two nine-hole loops contain many dramatic and immensely scenic holes. Both nines start with a par-5, the spectacular 10th played from an elevated tee to elevated green, right alongside the clifftop path; definitely one of the most nerve-jangling drives. Your exciting cliff-edge journey continues with the par-3 11th, uphill par-4 12th, formidable, long par-3 13th, and fabulous par-4 14th, where a gaping void must be crossed from the tee.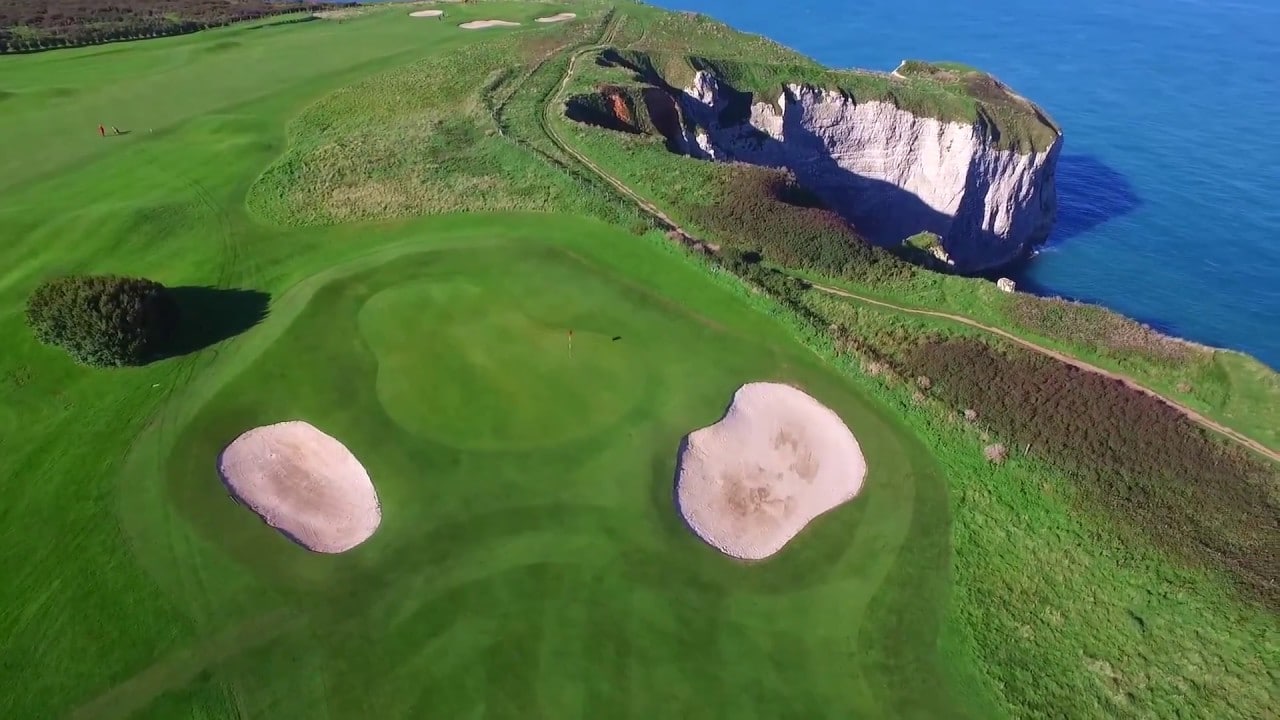 On the front-nine, the cliffs' edge is briefly reached at the par-4 4th green, although either side of this hole several others are distinctly more tree and bush lined. The inward loop of holes are gloriously open and linksy in character, with thick grassy rough lying in wait beyond the good-width fairways and generous band of semi-rough. The most exciting sequence of holes arrives at the back nine, between the par five 10th and the par four 14th, where these five fairways run along the edge of the cliffs. The par five 18th is also a fine finishing hole, doglegging left and downhill to the home green
Golf d'Étretat is one of the most stunningly scenic clifftop courses you are ever likely to play, and, especially with the wind blowing, this well-maintained layout provides an excellent test for every facet of your game.
If you play golf in Normandy you will find at Golf d'Étretat a demanding terrain when the wind blows, but whatever your score you will keep the memory of a magical moment.
Note that from November to march the Gold d'Etretat is open every day except Tuesday from 9:00 to 5:00 p.m
Practice Facilities
Practice
Putting Green
Pitching Green
Golf tuition
Golf Club Amenities
Credit card accepted
Clubhouse
Bar & Restaurant
Proshop
Nursery
Rentals
Trolley for hire
Weather forecast