Falcon Ridge Golf Club is located at Falcon Ridge Resort in Mesquite, Nevada (just 1 hour north of Las Vegas),which is a really good golf destination in the U.S.A.  The original 9 holes at Falcon Ridge opened in February 2004, and the final nine were added in September of the same year.  The property features a beautiful clubhouse with  restaurant/bar, banquet facilities and top notch golf shop.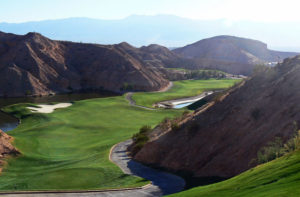 Falcon golf course is short but sweet, and extraordinarily spectacular like other course in Mesquite, Nevada, Falcon Ridge golf club  is a somewhat overlooked jewel among the nine layouts that make up the Golf Mesquite Nevada partnership. At a little more than 6,546 yards, this par 71 golf course offers not only a very enjoyable round of golf but some of the most spectacular scenery in the Virgin River valley.
The Falcon Ridge layout, designed by Kelby Hughes, is set high upon the cliffs overlooking Mesquite; it winds back and forth among the drifts, gorges and canyons and is one the most picturesque golf courses you'll ever see, a wild world where emerald strips of green are a stark contrast to the desert/mountain terrain; it's a world where elevated tee boxes on high plateaus provide panoramic views that have to be seen to be believed; a world where eye-popping white-sand bunkers guard tiered greens that roll and undulate and are never easy to read. Seen from the elevated tees, the fairways look deceptively generous; approach shots over vast sandy traps are intimidating; greens once gained offer new challenges but, all-in-all, Falcon Ridge offers one of those memorable rounds of golf people love to look back upon fondly, no matter how well, or not, they scored.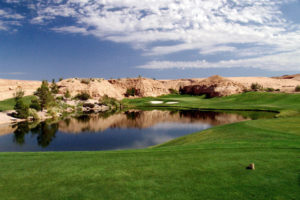 The front side is much shorter (3011 yards from the tips compared to 3535 on the back side) and affords golfers with an opportunity to get off to a good start. Number one is a pretty dogleg right par five that can be reached in two by long hitters whose tee shots approach the fairway bunkers on the left side . Those hitting short tee shots will have to arc their second shots over the corner of the mountain on the right side, leaving a reasonable uphill approach. Number two is a gorgeous par three that plays to a green surrounded by canyon walls. From here the terrain becomes increasing undulating, with frequently elevated tee boxes directed towards narrow fairways with mounding, moguls and swales framing the landing zones. Holes 6 and 7 are a good par four/par five combination that begin from extremely elevated tee areas. Golfers will also be confronted with challenging uphill tee shots and approaches – especially on number nine as it climbs steadily up a mountain from tee to green.
The back side features even greater elevation changes, beginning with the 462 yard par four 10th. This number two handicapped hole features a fairway split by a cascading stream that results from a beautifully landscaped waterfall situated atop the hill. Golfers can choose to cut some distance by risking a tee shot to the left fairway, or to play it safe with a lay-up to the wide landing zone on the right side. In either case, the approach is quite uphill, with the water hazard on the right and hillsides to the left squeezing the fairway – a very tough golf hole! The barber pole on the 11th fairway is situated about 85 yards from the tremendously uphill green complex, and indicates a good landing area.
Twelve is one of the most gorgeous golf holes in the Vegas area – as an elevated tee area plays to a sculpted fairway flanked by a water hazard short left and another one long right. A fairway wood that stops just short of the lake will afford good players with an opportunity to carry the hazard and reach this par five in two. A safer bet is to lay up in the ample landing zone along the left side of the fairway, and approach the green with a wedge or short iron on the third shot, effectively taking the water hazard out of play. Keep in mind that the extreme elevation change means added distance off the tee, making the water hazards very reachable.
Practice Facilities
Driving range
Putting Green
Golf academy
Golf Club Amenities
Credit card accepted
Clubhouse
Restaurant
Proshop
Private & corporate events
Rentals
Clubs for hire
Trolley for hire
Weather forecast