Diablo Grande Golf & Country Club ,"Great Devil" in English, boasts an excellent championship golf course : The Ranch course. A few years ago the country club was hosted another 18 hole golf course : The Legend designed by Nicklaus/Sarazen
The Ranch course provides a further opportunity for a peaceful round of golf amongst the rolling foothills of the Diablo Range. Also an out-and-back layout, the Ranch plays into three scenic, grassy valleys, with many enjoyable elevation changes along the way. Wonderful scenery aside, the intricacies of Denis Griffiths' challenging design will require your full concentration on the golfing job at hand. In this generally open and expansive environment, a scattering of oaks give some holes a slightly more tree-lined feel, while housing is also more in evidence than on the Legends West layout.
You may find some of the Ranch's fairways unnervingly tight, added to which Griffiths has ensured sand and water are also a constant threat. Salado Creek, winding its way through the course en route to the San Joaquin Valley, is reinforced by several small lakes and ponds. Water hazards feature on more than half the holes.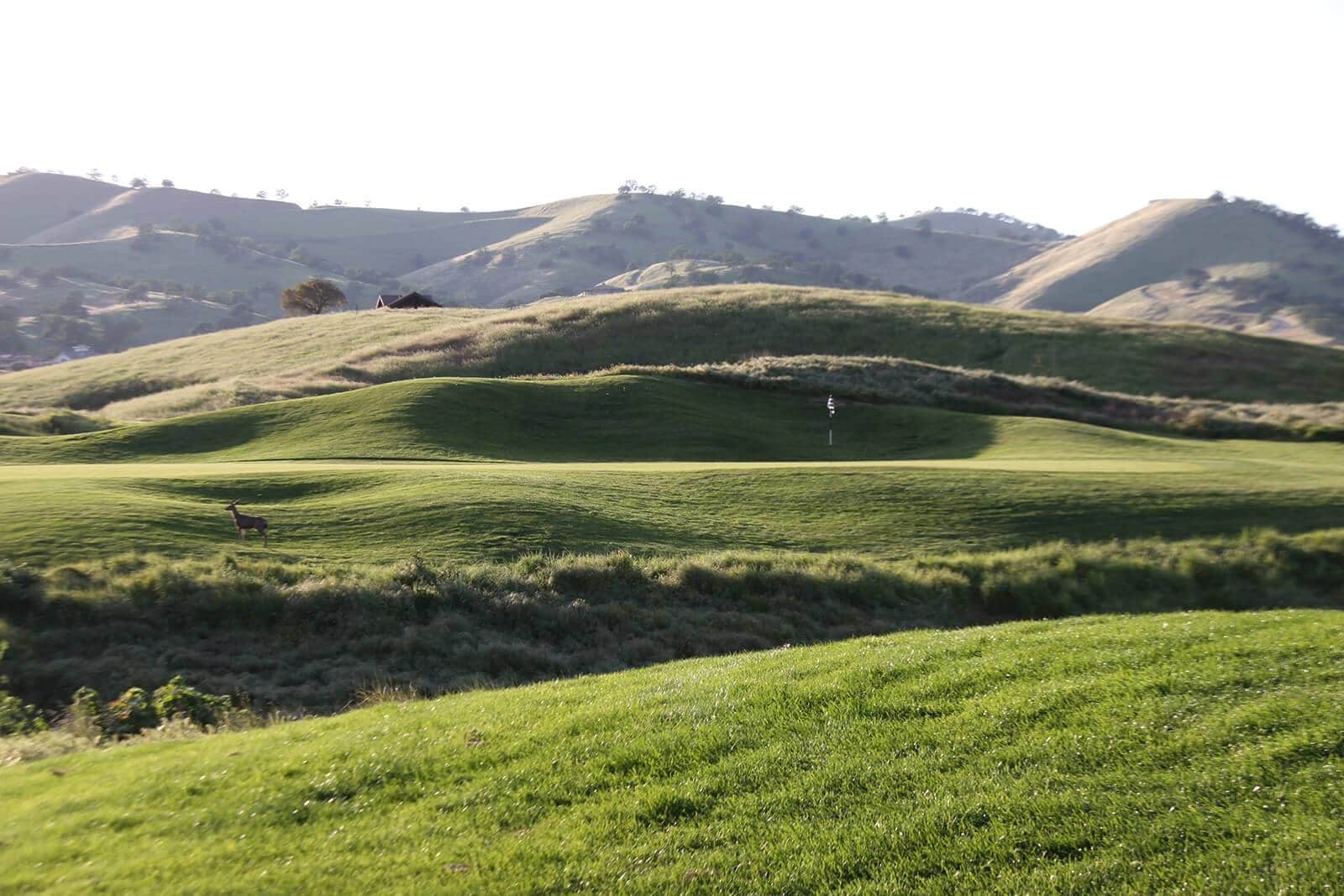 Among several technically demanding holes, the par-4 10th's sliver of fairway wriggles its way past water left and right. The par-5 12th and 16th holes and the par-4 14th will all require careful study of your yardage book before you attempt the required hop-skip-and-jump over creeks, large and small. The signature hole of the Ranch Course is the 650-yard, par 5 twelfth – The Mustang. This hole is one of the toughest holes since it requires a lay up off the tee to avoid the barranca. You will never have less than 5 iron in for your 3rd shot. One of the Ranch's best sections is "around the turn", where the 8th, 9th, 10th and 11th occupy one of the three grassy canyons.
Diablo Grande is located in the foothills of the Diablo Range, which is part of the Pacific Coastal Ranges in California. The Diablo Range is a largely uninhabited range of hills and mountains stretching almost 200 miles along the west side of the San Joaquin Valley. San Benito Mountain is the range's highest point at an elevation of 5,241 ft (1,597 m).
Practice Facilities
Driving range
Putting green
Golf pro
Golf Club Amenities
Junior discount
Credit card acccpeted
Clubhouse
Restaurant
Proshop
Private events & wedding
Swimming pool
Rentals
Trolley for hire
Golf cart for hire
Weather forecast