The western New York golf course of the Chestnut Hill Country Club is open to the public. Tee times are essential and may be made up to seven days in advance
Described as the "best public greens in Western New York" by Niagara Golfer magazine! Consistently rated among the top courses in Western NY by Golf Digest, Chestnut Hill's 18-hole golf course is noted for its scenic rolling hills and beautiful country setting.
Holes 7-9 at Chestnut Hill Country Club: 572, 440 & 360
The front nine closes with a massive, downhill roller-coaster of a par five, a hefty two-shotter and a Par 4. If you can manage to hit a nice drive down the left side of number seven, it just might roll until gravity has had enough. The hole continues downhill through the second shot space, to a green that offers little resistance to a good pitch and a well-struck putt.
Par should come as not surprise, if you play your shots crisply. Eight, on the other hand, is a beast. It's a dogleg right, so a running draw is not the ball to play from the tee. To make matters worse, a copse of tall trees guards the right corner, so there will be no cutting the short on this hole. Once you get to the corner, it's another smash to the green, whose right side is protected by a bunker. A rule of thumb regarding blind shots on a course is, one or two give character, while a relentless onslaught offers an insurance risk and frustration. The 9th at Chestnut plays its drive from a gully up to an elevated fairway, hence it is blind. The second shot is played ever so slightly uphill to a green guarded right by sand. Again, keep your wits and play within yourself, and you'll have a short iron approach, followed by a reasonable birdie putt, to close the front nine.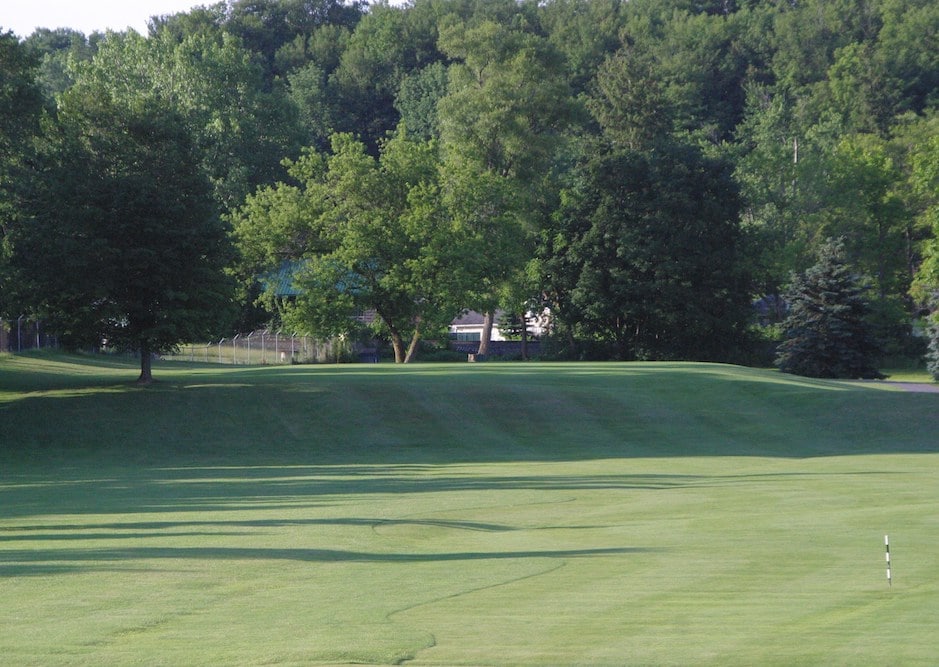 Holes 16-18: 385, 156 & 475
The sixteenth at Chestnut Hill Country Club is one of those great and subtle, natural holes that great architects know to simply leave alone. The tee ball is played over a distant rise, then the fairway runs ever-so-slightly downhill to an unprotected, fairway-level green. No distractions, no diversions, but it just might lull you into a docile state and whammo! bogey. Seventeen is a stunning par three hole. It plays a mere 156 yards over a wetlands reserve, but what an interesting shot. Parallel tees present a different tale. The left tee shows less obstruction and a sidehill, left to right cant.
The right tee comes straight over the wetland fauna and plays directly up the fall line. Unlike the last hole, where nothing appeared to be "going on," this one has a lot going on and provides a splendid counterpoint to its predecessor. The final hole at Chestnut Hill Country Club offers an opportunity for atonement; at 475 yards, it provides short and long hitters alike an opportunity to get on or near the green in two. The hole doglegs left around a small irrigation pond, rising as it moves toward port. The green is protected by a sand bunker front and left. After the last two challengers, this one is a nice welcome-back for every golfer.
Practice Facilities
Driving range
Putting Green
Pitching Green
Practice bunker
Golf tuition
Golf Club Amenities
Twilight discount
Credit cards accepted
Clubhouse
Restaurant
Pitching Green
Rentals
Clubs for hire
Trolley for hire
Buggy for hire
Weather forecast