Situated in the tranquility of the Central Drakensberg, boasting the most spectacular views of Champagne Castle and Cathkin Peak, lies Champagne Sports Resort. This cosy hideaway's unique combination of convenient location, country club atmosphere, luxury accommodation and friendly staff makes packing your bags to leave this eternal place a challenge.
The scenery of the dramatic Drakensberg Mountain range that surrounds Champagne Sports Resort will surely take your breath away. In fact the golf course, the resort and the facilities are bound to have the collective effect of ensuring the whole experience, in this sensational area of South Africa, will forever be imprinted on the visitor's mind.
The golf course undulates, sometimes severely and sometimes gently, up and around the natural contours of a valley that nestles under the dominant peaks of Champagne Castle and Cathkin Peaks Mountains. Hugh Baiocchi and Kevin Curren have upgraded the original 18-hole course, designed by Hugh Baiocchi. Their completed design has received deserved accolades for successfully blending the natural attributes of the terrain and the surrounding beauty with the modern demands of a quality golf course.
Champagne Sports Resort's golf course incorporates several holes with blind tee shots and it is on second playing that the charm and challenge is best appreciated. The weather patterns of the area have a marked effect on the experience to be encountered here. In summer everything is lush green, while in winter, due to the winter frosts, the mood changes to a rusty brown as (except for the greens) the grasses die. Apart from the visual differences this has little effect on the playing of the golf course (though there is more roll on the brown fairways in winter), especially as the quality of the greens remain constant throughout the year.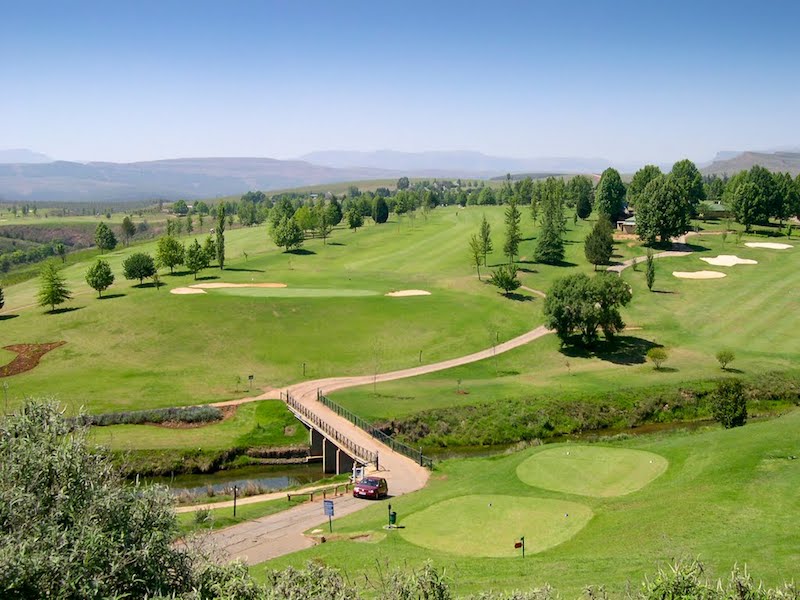 The first impression of the golf course is from the balcony of the charming thatch roofed clubhouse that sits high above the course. From there, there is a panoramic overview of the challenge to come, with the 1st, 9th, 10th and 18th holes as the forefront of a splendid canvas backed by the formidable mountain peaks of the Drakensberg Mountain range.
Though the drama of the mighty mountains dominates the eye, the course also enjoys gentle vistas where the lower hills create a kaleidoscope of colour and where the layout is blessed with trees, rivers and dams to add challenge to the visual aspects.
The signature hole belongs to the 1st – a sheer brute force affair with the tee-off standing higher than the clubhouse and at 605m in length, one of the longest hole in the country, and takes you across a ravine to boot!
Note that Champagne Sports Resort is one of the top 30 ranked championship golf courses, this Hugh Biaocchi Course has been rated as SA's most beautiful golf course in recent years with the clubhouse rated in the top 5 19th's holes in SA.
Practice Facilities
Driving range
Putting green
Chipping green
Golf Club Amenities
Junior discount
Credit cards accepted
Clubhouse
Bar & restaurant
Proshop
Weddings & special events
Wifi
Children's Playground
Swimming pool
Rentals
Clubs for hire
Trolley for hire
Buggy for hire
Weather forecast